Denise Vasi's Daily Wellness Essentials For Glowing Skin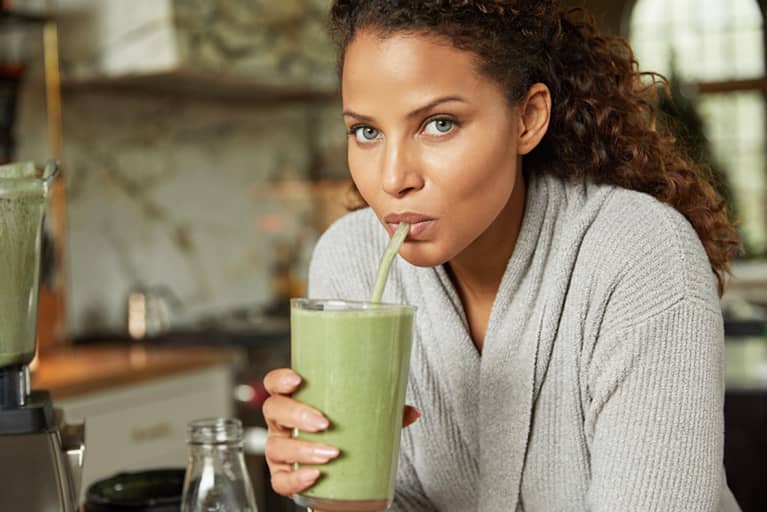 Scrolling through Denise Vasi's social media channels, it's impossible not to want to know her exact routine. With a complexion like hers, I'm left practically begging for tips. Luckily for all of us, the model, actress, beauty influencer, and entrepreneur has been sharing her best tips through her website maed, as well as her very popular Instagram page.
But if you're looking for her best, tried-and-true advice—we got the inside scoop. Not only did she appear on our most recent episode of the beauty podcast Clean Beauty School, but here she shared with us some of her must-do daily wellness routine.
For Vasi, skin care isn't some superficial "should-do," but a must. "I'm a beauty enthusiast, so my skin care practice is my time to unwind," she says. "I like to give myself 15 to 30 minutes a night to relish my routine."
In the morning, she sticks to her basics in an attempt to keep her routine streamlined and effortless. "I'll start with a cold jade roller or ice roller to wake my face up, then wash with a gentle hydrating cleanser, follow with a toner, a plumping serum, a caffeinated eye cream, and a moisturizing sunscreen," she says.
But at night, she takes time to evaluate her skin's unique needs—and lets that inform her choices: "My nighttime routine varies because I approach my skin with a 'what do I need today?' For example, if my skin feels like it's had an extra-oily day or maybe I can sense a breakout coming on, then I'll wash with a tea tree oil or salicylic acid cleanser."
Get a nutrition boost from the inside out.
A true glow starts with how you treat your body. Vasi says she follows the 80/20 rule ('I am super intentional with my choices, but I'm not so rigid that I ever feel guilty. Life is a beautiful dance of discipline and indulgence," she says). And one of the ways she feeds her body with intention is through being thoughtful with giving it dense nutrients. "Skin care starts with nutrition, so I eat for my skin. I try to eat high-quality meals rich in vitamins, minerals, antioxidants, and essential fatty acids," she says.
But Vasi is the first to note that life can get in the way, so a greens powder can be a helpful way to get an added dose of nutrients and bioactives. "I love mindbodygreen's organic veggies+ because it aids in detoxification, hormone balance and promotes a healthy gut microbiome, all of which support healthy, resilient, and glowing skin."
Invest in high- & low-tech tools.
"I'm big on facial massage and beauty tech, so I alternate between practicing gua sha, manual face massage, using my Nuface device and LED light therapy," she says. "Or I love an at-home face steam for instant supple, glowy skin."
We're big fans of facial tools around here—from cupping to rollers to high-tech numbers—as a way to promote circulation, improve texture and tone, and just take a moment for yourself. Facial practices don't need to be an indulgence or expensive, and we think it's important to connect with the skin you're in.