I Finally Decided To Try Cupping — On My Face

mbg Co-Founder & Co-CEO
By Colleen Wachob
mbg Co-Founder & Co-CEO
Colleen Wachob is Co-Founder and Co-CEO at mindbodygreen.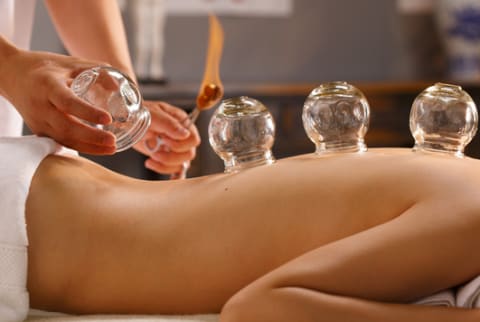 May 11, 2016
Cupping on your back isn't anything new—I've been following the traditional Chinese medicine treatment for the last five years, and it's been around way longer. But when I heard the therapy—known for the signature hickeys it leaves behind for days—is becoming a regular part of natural aestheticians' facials, my first question was, "What?!" Followed quickly by, "When can I give it a try?" Here's what I learned.
Advertisement
This ad is displayed using third party content and we do not control its accessibility features.
First, a refresher.
Cupping is believed to have been practiced since about 3000 B.C. by the Egyptians, but the practice has never gotten old. Christina Morris, diplomat of Oriental medicine, licensed acupuncturist, and owner of Element Natural Healing Arts says that's because of what the therapy is able to accomplish. "[It can] reduce fevers, decrease pain and vertigo, relieve menstrual stress, control appetite, and alleviate constipation," she says. So, a lot.
Not to mention that cupping has evolved quite a bit over the years, and now it's traditionally used to treat a myriad of more serious conditions, including "chronic pain, digestive ailments, anxiety and stress, asthma, pneumonia, fatigue, insomnia and chronic headaches," says Morris. How exactly is it done, though? "Cupping increases circulation to soften tight muscles, loosen adhesions, fix connective tissue, improve blood flow to the tissues, and drain excessive fluids and toxins by opening lymphatic pathways," she explains. In other words, practitioners often recommend cupping to release the stagnation of blood and energy from the body and to release internal heat.
And just like you've seen across social media, cupping jars—which can be glass, bamboo, or plastic—are placed on the skin and used as a vacuum to suction out the air. More traditional practitioners opt for glass, which oftentimes includes using a flame to help raise the tissue partially into the cup, and is left for up to 15 minutes.
But can you really get the same results on your face?
That's what I asked myself as I walked into Treatment by Lanshin for my appointment with senior aesthetician Britta Plug. Well, that and whether or not this treatment was going to leave hickeys all over my face. (Not a look I was going for, I assure you.) Plug quickly reassured me, though, saying there are no bruises—or flames!—involved in facial cupping. Phew.
So I got settled in and let Plug do her thing, starting with a series of soothing masks from natural skin care lines like Mahalo and Laurel. About halfway through, she started cupping. It felt like small suction cups—they were much smaller than the ones used in traditional cupping—were loosely grabbing parts of my skin, though they also moved easily along my face whenever I needed an adjustment. Basically, it felt like a light, five-minute facial massage. It was nice—no pain or bruising required.
Plug later explained that the "grabbing" sensation I felt was work being done. "The cups move fluids along lymphatic pathways, and from deeper layers of tissue to more superficial layers so toxins can be extracted," she explains. It's also helping to decrease facial puffiness, cleanse pores, and give skin an extra plump. And what does that all add up to? A radiant glow that I'm 100 percent in love with.
I left the treatment room more obsessed with my skin than ever before. Several days later, I still had a nice plump and glow ... which I'm convinced is due to the cupping itself.
Advertisement
This ad is displayed using third party content and we do not control its accessibility features.
Can I get the same results at home?
Obviously it'd be nice, but this practice isn't one to bring into your self-care routine, as Plug says there's significant training and practice required to perform the technique skillfully. That said, she does recommend gua sha as "a great alternative with many overlapping benefits that can be done at home."
So if you're interested in picking up the practice in your downtime, check out Facing East, which outlines how you can safely self-administer different facial rejuvenation techniques. Otherwise, go on and book that facial cupping appointment. It never hurts to try something new, right?
Related Reads:
An All-Natural Aesthetician Spills Her Secrets for Gorgeous Skin
Advertisement
This ad is displayed using third party content and we do not control its accessibility features.

Colleen Wachob
mbg Co-Founder & Co-CEO
Colleen Wachob is Co-Founder and Co-CEO at mindbodygreen. She graduated from Stanford University with degrees in international relations and Spanish, and spent 10 years working at Fortune 500 companies including Gap, Walmart, and Amazon. Wachob lives in Miami, Florida with her husband, mbg Founder and Co-CEO Jason Wachob and their two daughters, Ellie and Grace.