Could Coconut Oil Be Clogging Your Pores?
Contributing Wellness & Beauty Editor
By Lindsay Kellner
Contributing Wellness & Beauty Editor
Lindsay is a freelance writer and certified yoga instructor based in Brooklyn, NY. She holds a journalism and psychology degree from New York University. Kellner is the co-author of "The Spirit Almanac: A Modern Guide to Ancient Self Care," with mbg Sustainability Editor Emma Loewe.
Coconut oil has been touted as a natural beauty cure-all for ages. Specifically when it comes to skin care, many green beauty enthusiasts swear by coconut oil as their go-to: It's a hair treatment, face cleanser, face moisturizer, and body moisturizer all in one. It's the base of numerous beauty DIY products, and you can use it for oil pulling, too. What more can you ask for?
Recently, it's been a hot topic of conversation—this spring when the AHA declared it unhealthy for consumption, coconut oil enthusiasts rallied—and most functional medicine experts were quick to defend it. With so many people using coconut oil for beauty uses, too, we couldn't help but wonder if there's something we're missing. We spoke to two doctors, one who makes her own skin care line, Sarah Villafranco, M.D., and Cybele Fishman, M.D., one of NYC's top integrative dermatologists, to get the answers.
Dr. Villafranco is well-versed in the chemistry of skin care—both how ingredients work with each other but also how they work on the skin, thanks to many years in product development for her line, Osmia Organics. Her first clarifying point was that oils don't actually hydrate the skin. "Anything that hydrates must have a water component—that's the 'hydr' part—which means that lotions (70 percent water) hydrate the skin, but oils don't," she explained. So in order to properly gauge whether coconut oil is making you break out, you need to ensure you're using it effectively. Dr. V recommends moisturizing right after washing your face or right after a shower when your skin is still damp to seal in moisture.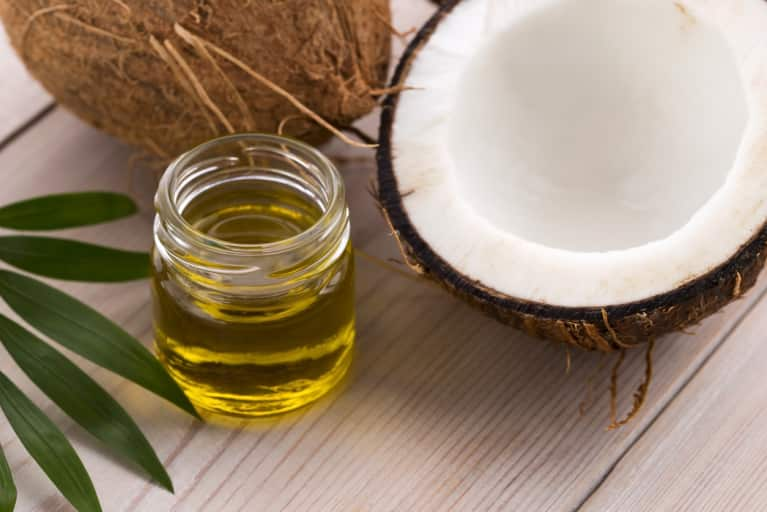 Coconut oil could be helpful for people with eczema, acne, or apoptotic dermatitis.
Because it's antimicrobial, coconut oil protects the skin from Staph bacteria, which has been linked to eczema, both Dr. Villafranco and Dr. Fishman agreed. The same antimicrobial properties also help protect the skin from an overgrowth of P. acnes, which plays a significant role in some cases of acne. It also helps with transepidermal water loss (TEWL) in patients with apoptotic dermatitis, a chronic condition characterized primarily by the skin's inability to properly absorb moisture. All things considered, it's pretty amazing for a singular, completely natural substance to have so many scientifically proven healing properties.
That said, it's high on the comedogenic scale.
Comedogenic refers to the pore-clogging nature of a substance. Typically in skin care you look for noncomedogenic ingredients, but Dr. Fishman mentioned that she and other derms she knows often question the validity of the comedogenic scale because they are tested on rabbits ears in many cases and not human skin. "While the improved barrier function and the antibacterial properties of virgin coconut oil (VCO) would seem to make it a great choice for cleansing or a moisturizer for patients with acne, in my day-to-day seeing lots of acne patients experience, it does cause breakouts in SOME, not all patients," she said. She postulates that it might be lauric acid.
If you do break out, try fractionated coconut oil or jojoba oil.
Fractionated coconut oil (when sourced alternatively) has been minimally processed—it's steamed, and the longer-chain fatty acids, including lauric acid, which is irritating to some skin, are removed, leaving the medium-chain fats behind. This is how it stays liquid at room temperature. "Compared to raw coconut oil, which can feel oddly greasy and dry on the skin, fractionated coconut oil soaks in quickly and does not leave an oily feeling on the surface of the skin," said Dr. Villafranco. Give it two weeks, which is enough time for your skin to adjust to something new. If it fails, Dr. Fishman recommends jojoba oil—she's never seen a patient break out from it.
Got coconut oil? Try using it to double cleanse your beautiful face tonight.