In the northern hemisphere, the tail end of winter has finally arrived. March 20, the official vernal equinox of 2019, is just shy of a month away, but it always seems to take much longer for true spring to arrive. Cloudy skies, gray landscapes, and chilly temps linger for what feels like an eternity, but it's simply a signal from the Earth. Even though we're ready for the clarifying and buoyant energy of the warm season, why not take this cue from Mother Nature to rest and fully charge up?
We're doing that the best way we know how—with a good, steamy bath. While hot water alone does a body good, these products uplevel the experience with skin and soul-soothing therapeutics, from salts to seaweeds and essential oils. Remember to drink lots of water whenever you're taking baths and to talk to your doctor about whether it's safe for you to use bath salts (yes, even the benign "bath salts" have some contraindications!). Happy soaking:
Salt by Hendrix Soak Infusion, Rose & Heather Flower
A mixture of magnesium flakes and stunning flower buds make this the most artful tub of bath salts you've ever seen—you'll feel like a goddess steeped in floral tea whose muscles and senses are equally appeased with a good soak. Rose, lavender, heather flower, and peonies evoke springtime, enlivening even the dullest of winter doldrums.
Soak Infusion, Rose + Heather Flower, Salt by Hendrix, $25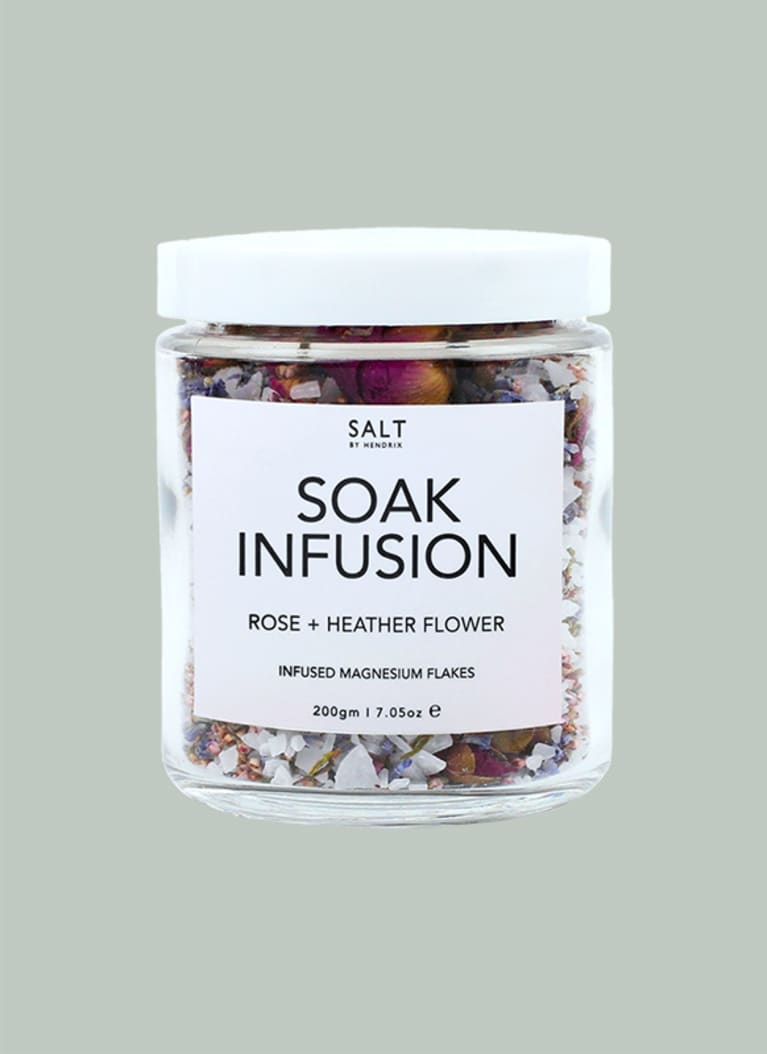 mbg creative x Hendrix
Wild Honey Botanicals Gem & Honey-Infused Bath Soak
You'll be hard-pressed to find soaking salts made with as much consideration and care as Wild Honey Botanicals'. The ingredients are simple but effective: Mediterranean sea salts charged with quartz crystals; Epsom salts; and organic, biodynamic honey (harvested according to lunar cycles), and they are all sourced sustainably. An infusion of Palo Santo and blood orange essential oils top off the single-use blend, making for a rejuvenating aromatherapeutic experience.
Gem & Honey-Infused Bath Soak, Wild Honey Botanicals, $5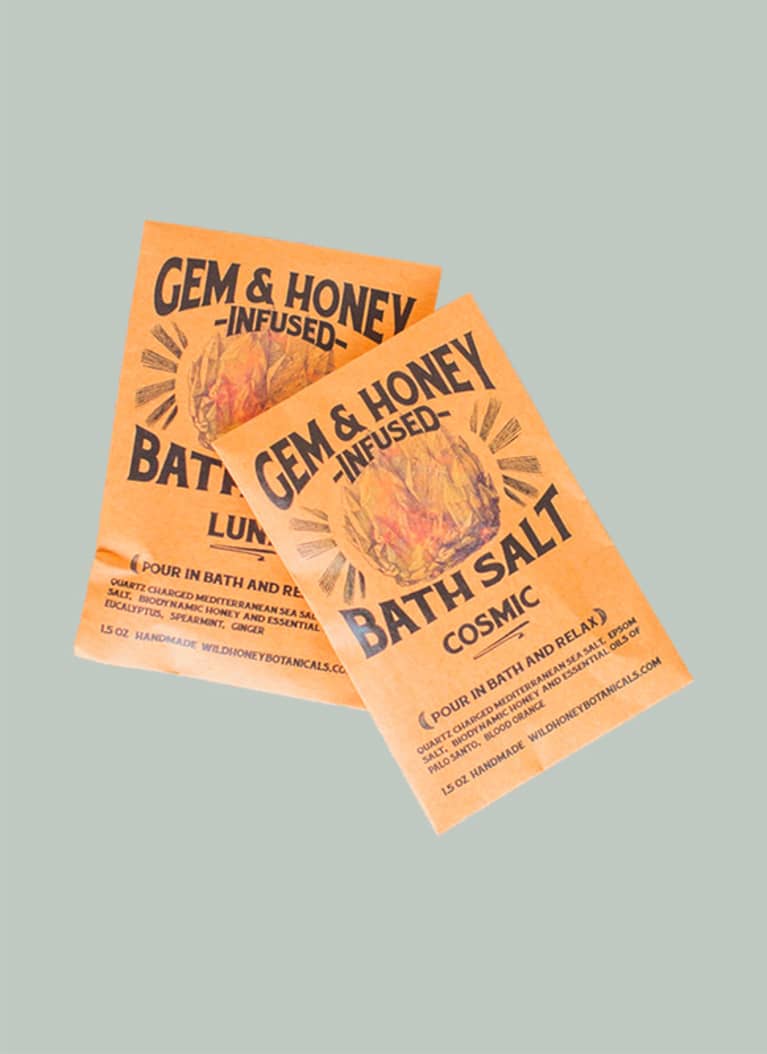 mbg creative x Wild Honey Botanicals
Osmia Organics Recovery Salt Bath
This formula gets to work on sore muscles and a punchy mind—fast. Sarah Villafranco, M.D., founder of Osmia, is queen of aromatherapy in the green beauty world, and her lavender-marjoram combo does not disappoint. This one is extra special because it contains lavender that's been grown and harvested by Sarah and her flock in Osmia's home state, Colorado.
Recovery Salt Bath, Osmia Organics, $29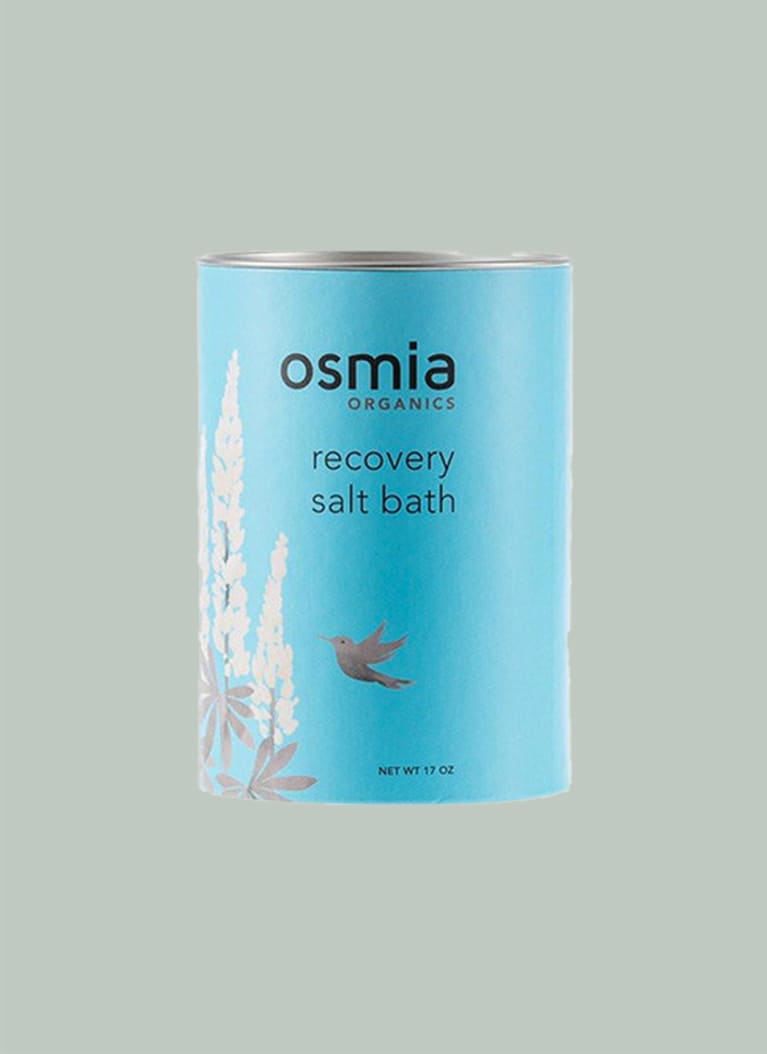 mbg creative x Osmia Organics
Seaweed Bath Co. Eucalyptus Peppermint Powder Bath
If you love the way your skin feels after a dip in the ocean, this powder bath is for you. Made with organic, sustainably harvested bladderwhack seaweed, it contains more than 60 naturally occurring vitamins and minerals that nourish the skin while argan and kukui oils lock in hydration. Don't worry; it doesn't smell like the beach—astringent eucalyptus and peppermint complement the sea salt. Each package can be used twice, making this the most wallet-friendly option on the list.
Eucalyptus Peppermint Powder Bath, Seaweed Bath Co., $4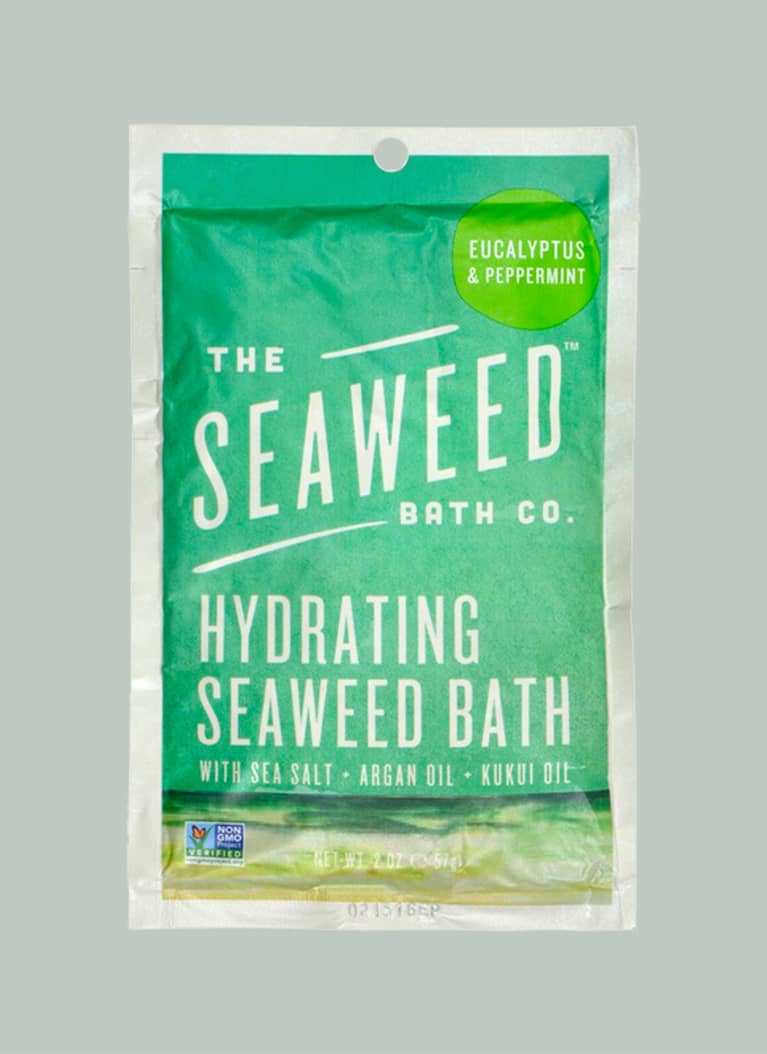 mbg creative x The Seaweed Bath Co.
UMA Oils Pure Calm Wellness Bath Oil
For the most luxurious bathing experience, look no further than this blend of sandalwood, jasmine, vetiver, chamomile, lavender, clary sage, and neroli essential oils. Like all UMA products, it's decidedly scent first—the lavender and chamomile are calming, vetiver and sandalwood are grounding, and jasmine lifts the spirits. Jojoba, rosehip, and grapeseed oil act as a carrier for the essential oils and infuse the skin with hydration.
Pure Calm Wellness Bath Oil, Uma Oils, $80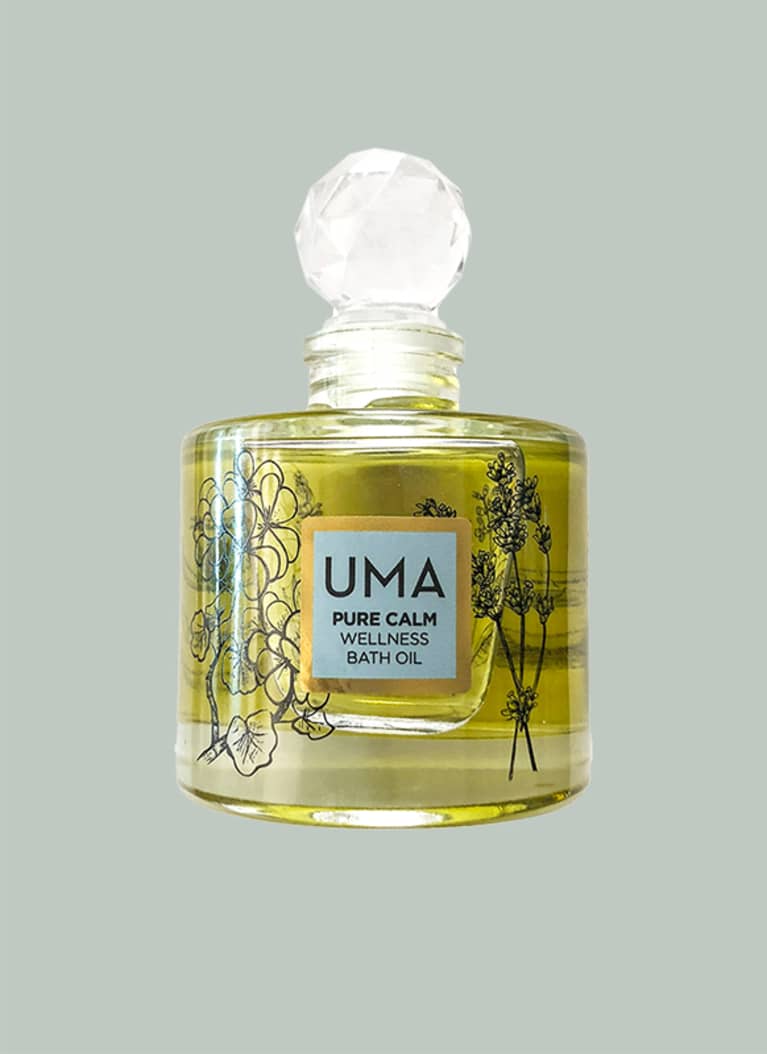 mbg creative x UMA Oils
EiR NYC Post Session Salts
Specifically designed to soothe hard-worked muscles, EiR's bath salts are made with Epsom and Himalayan sea salts coated with a blend of essential oils that are function-first but just so happen to smell fantastic, too. Ginger and rosemary boost circulation, and bergamot helps the body to relax after a tough day or sweat sesh. The star ingredient is arnica, a botanical known to help decrease pain, inflammation, and swelling.
Post Session Salts, EiR NYC, $20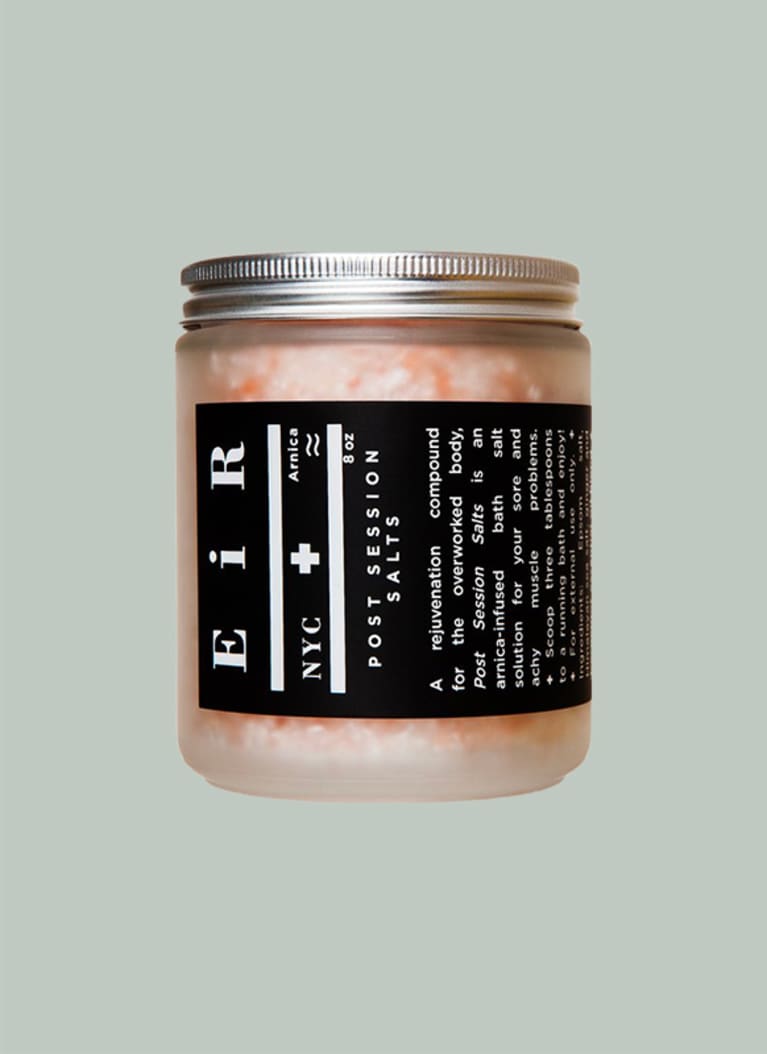 mbg creative x EiR NYC
Among the Flowers Moisturizing Bath Bomb
Finally, a grown-up version of your electric blue fizzy bath bomb that's just as fun! This decidedly cleaner five-ingredient soaking sphere is made with shea butter, baking soda (the fizz factor), citric acid, essential oils, and flower petals. It'll leave you feeling rejuvenated without having to worry about cleaning the tub afterward. Bonus—you can use it more than once!
Moisturizing Bath Bomb, Among the Flowers, $9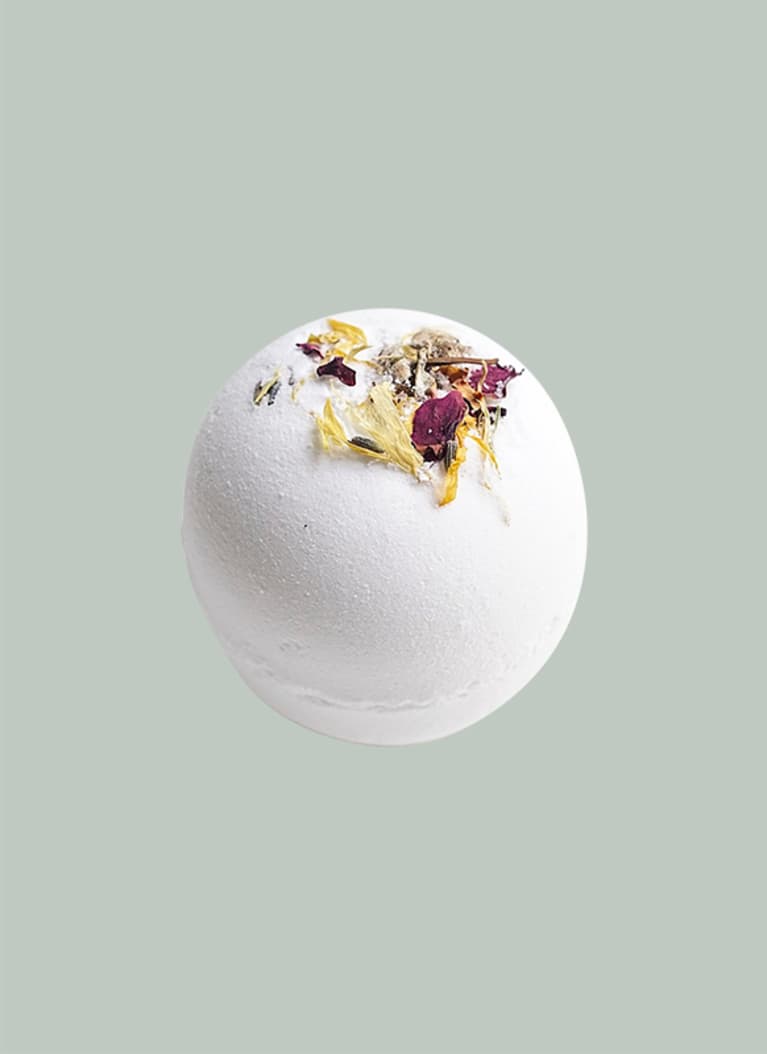 mbg creative x Among the Flowers