Best Blackhead Removers: 9 Clearing Treatments For Clogged Pores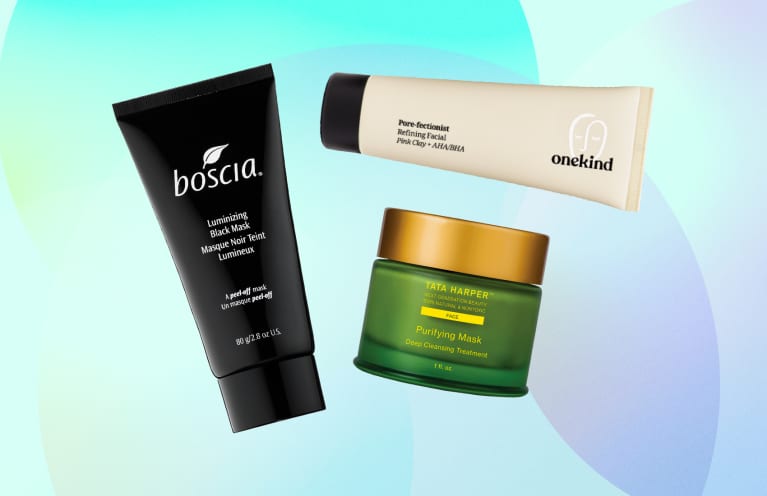 Our editors have independently chosen the products listed on this page. If you purchase something mentioned in this article, we may
earn a small commission
.
Notice little black specks on your face? Those are blackheads, a form of acne that happens when pores get blocked with dead skin cells, daily debris, and oil; then, the top layer of all that trapped gunk darkens from oxidation, resulting in an enlarged, clogged, black-looking pore. Let's get one thing out of the way: Blackheads do not mean your face is "dirty"—people with even the most pristine of skin care routines get blackheads. But if you find that you get them more regularly, you can find products—from daily gels and toners to weekly treatments—that specifically target these pesky spots. Here, our favorites to choose from.
Boscia Blackhead Luminizing Black Mask
Activated charcoal is a favorite ingredient for many acne- and oil-targeting products. Here's why: Activated charcoal is a porous substance that is able to suck in and hold oil, dead skin cells, and dirt in its pores, thereby removing it from yours. This also contains calcium montmorillonite clay, a cleansing agent that also acts as a mild physical exfoliator. Finally there's vitamin C to deal with any free radicals and maritime pine bark extract for moisture.
Blackhead Luminizing Black Mask, Boscia ($34)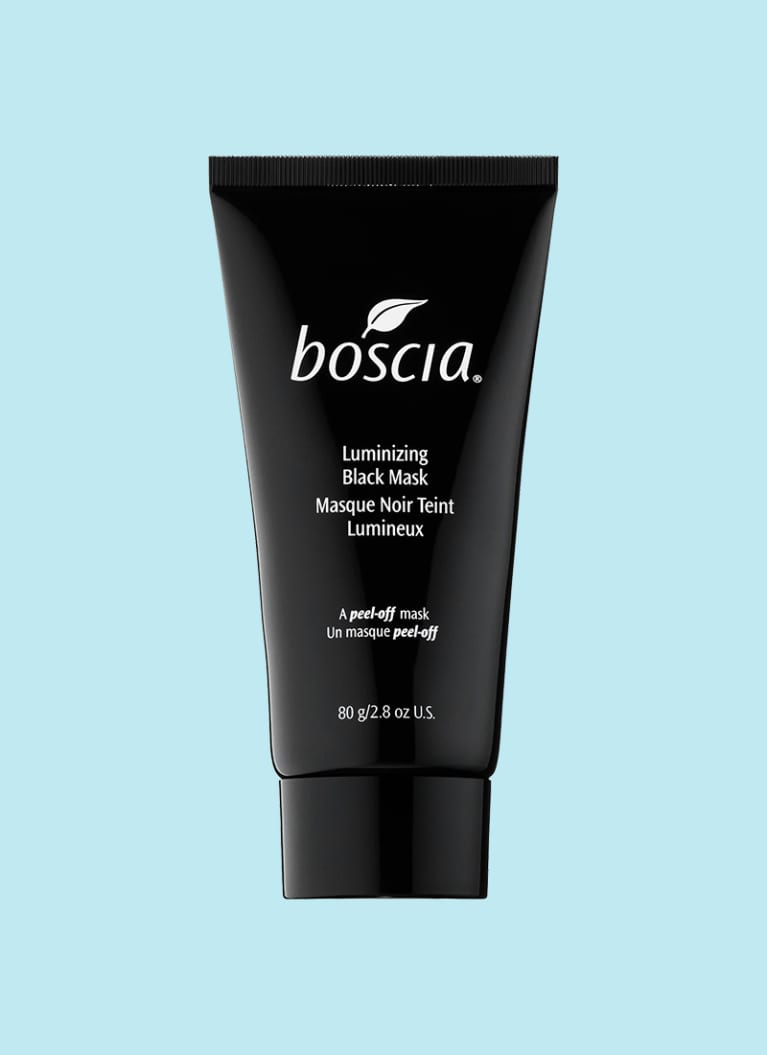 mindbodygreen
May Lindstrom The Problem Solver
A sensorial experience you have to feel to believe, this warming mask feels as indulgent as it does effective. The powder, when mixed with water, transforms into a thick mousse. Slather it on your face (and body, like your neck and chest), to let the blend of charcoal, cacao, and spices clear out pores, exfoliate, and feed your skin cells. As you're wearing it, you'll feel it ever-so-slightly warm your skin. You can leave it on for up to 45 minutes, too, so this really does feel like a spa experience—then step in the shower to rinse it off.
The Problem Solver, May Lindstrom ($100)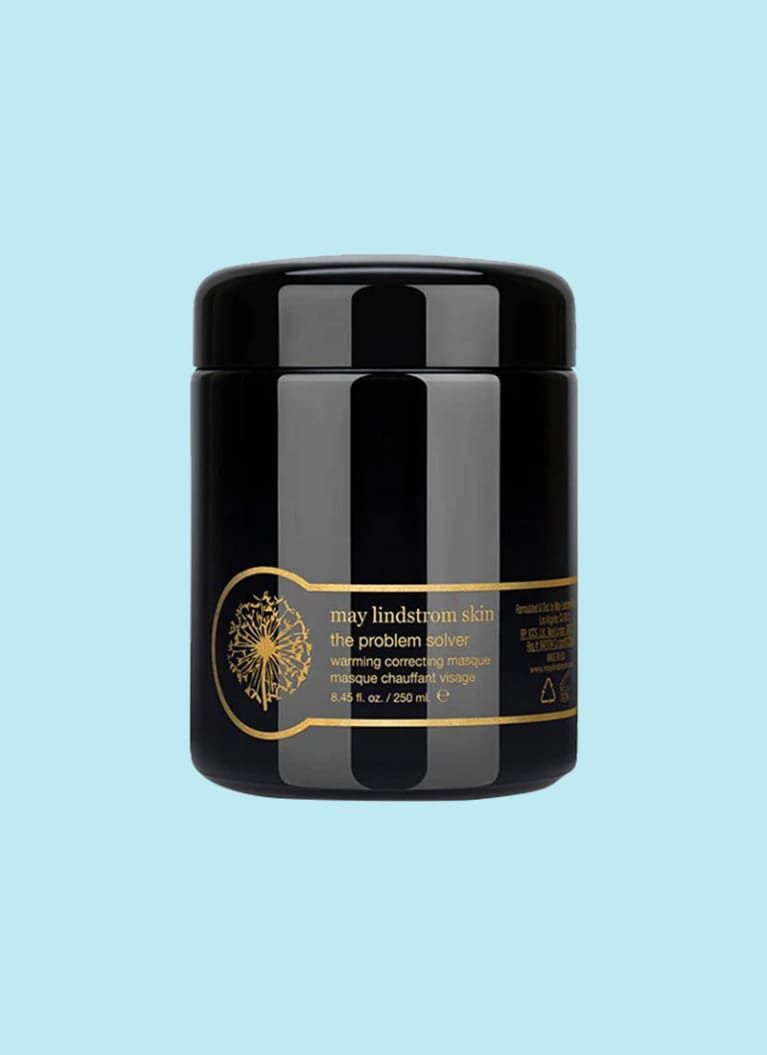 mindbodygreen
Perricone MD Intensive Pore Minimizing Toner
You may be looking for something that you can use daily rather than a weekly mask or exfoliator. In that case, a gentle yet purifying toner may be your answer. Toners go after a face wash and before your serums or moisturizers—and for years, the only options were really astringent, drying types. Now, toners come in many varieties and can offer a host of benefits. This one is formulated with salicylic acid (a beta-hydroxy acid that can effectively dissolve excess oil on the skin) and a copper complex to improve firmness (which can help pores appear smaller as sagging skin can lead to large pores).
Intensive Pore Minimizing Toner, Perricone MD ($45)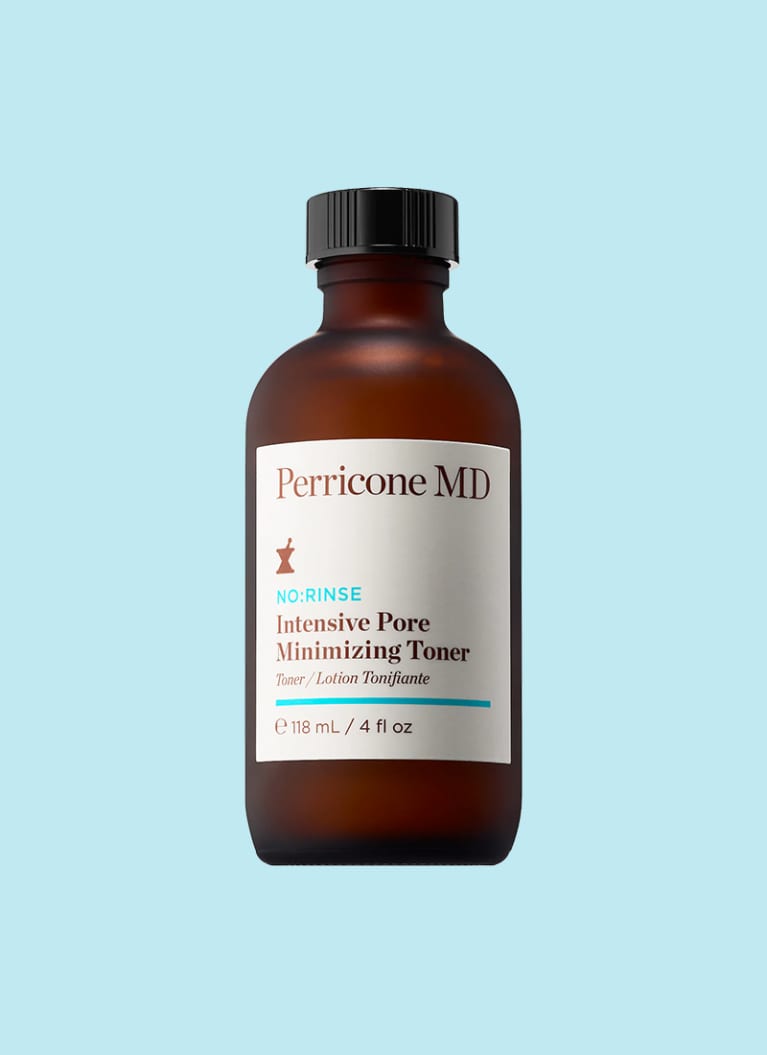 mindbodygreen
Tula Exfoliating Treatment Mask
This treatment is packed with good-for-skin ingredients. First up is the bentonite clay, a popular active to absorb oil and debris, as well as infuse skin with minerals and nutrients. Then there's the lactic acid, a gentle alpha-hydroxy acid that can help remove dead skin cells from the surface of the skin (leading to fewer clogged pores or sebum plugs). Finally, there's an antioxidant-rich blueberry extract for luminosity, turmeric to minimize inflammation, and a probiotic strain to help balance the skin and moisturize.
Exfoliating Treatment Mask, Tula ($48)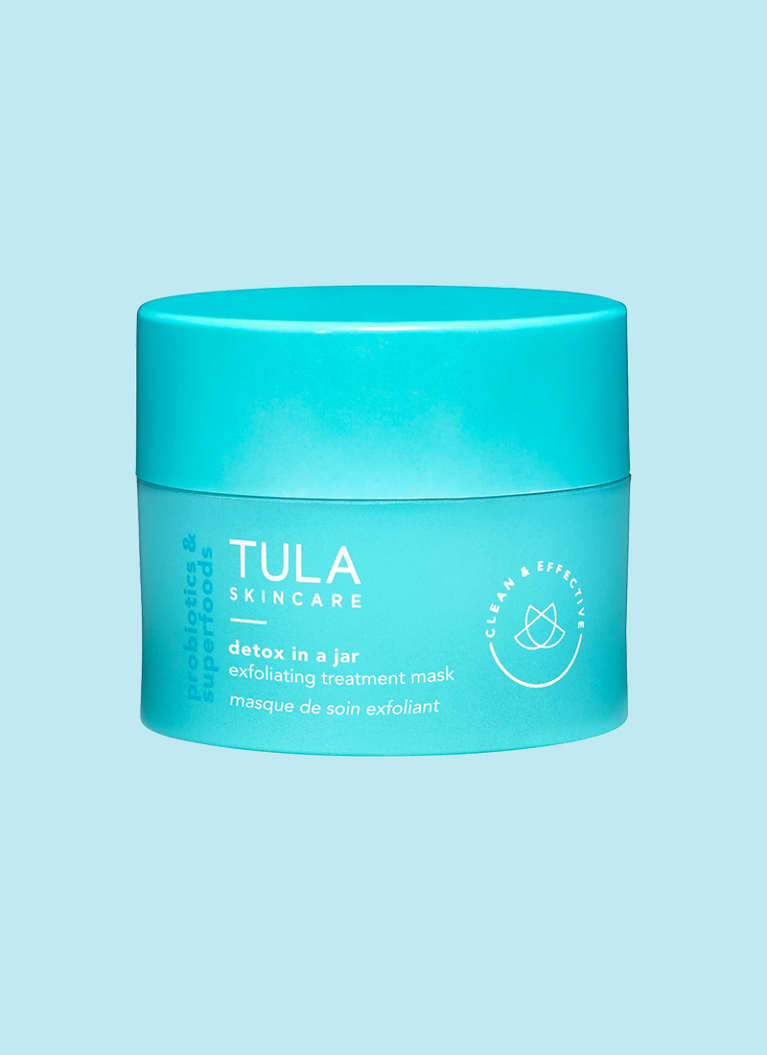 mindbodygreen
Ren Skin Care Clear Calm Non-Drying Acne Treatment Gel
If you have an area of your skin that is particularly prone to frequent blackheads (T-zone or around your nasal folds, for example), you may consider targeting the area with a gentle acne gel or treatment. This will mean the oil-prone area gets extra attention, without having to treat the entire face. This nondrying option is made with 0.5% salicylic acid as well as a host of anti-inflammatory agents like chlorella and thyme to soothe the skin as well.
Clear Calm Non-Drying Acne Treatment Gel, Ren Skin Care ($20)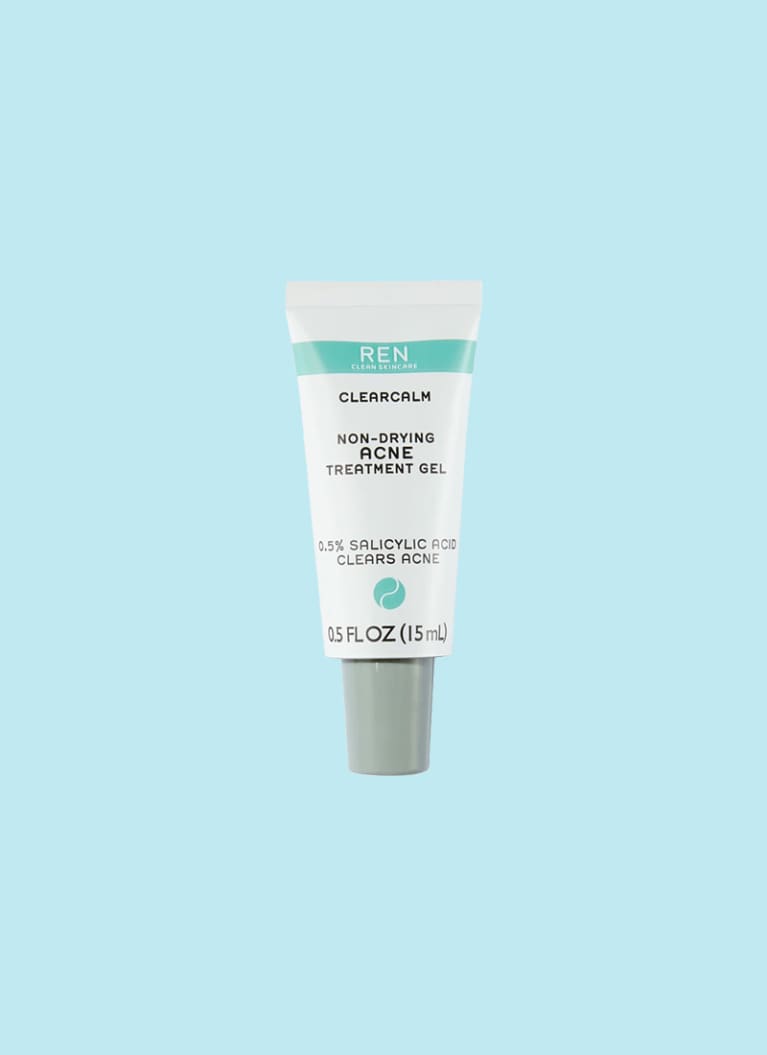 mindbodygreen
True Botanicals Clear Nutrient Toner
Another toner for your consideration: This option is better suited for those who experience both dry skin and blackheads (this is quite common for those with "combination" skin). This toner will hydrate the dry patches with olive leaf extract and sandalwood hydrosol and calm the oily areas with black willow bark extract, a natural salicylic acid.
Clear Nutrient Toner, True Botanicals ($48)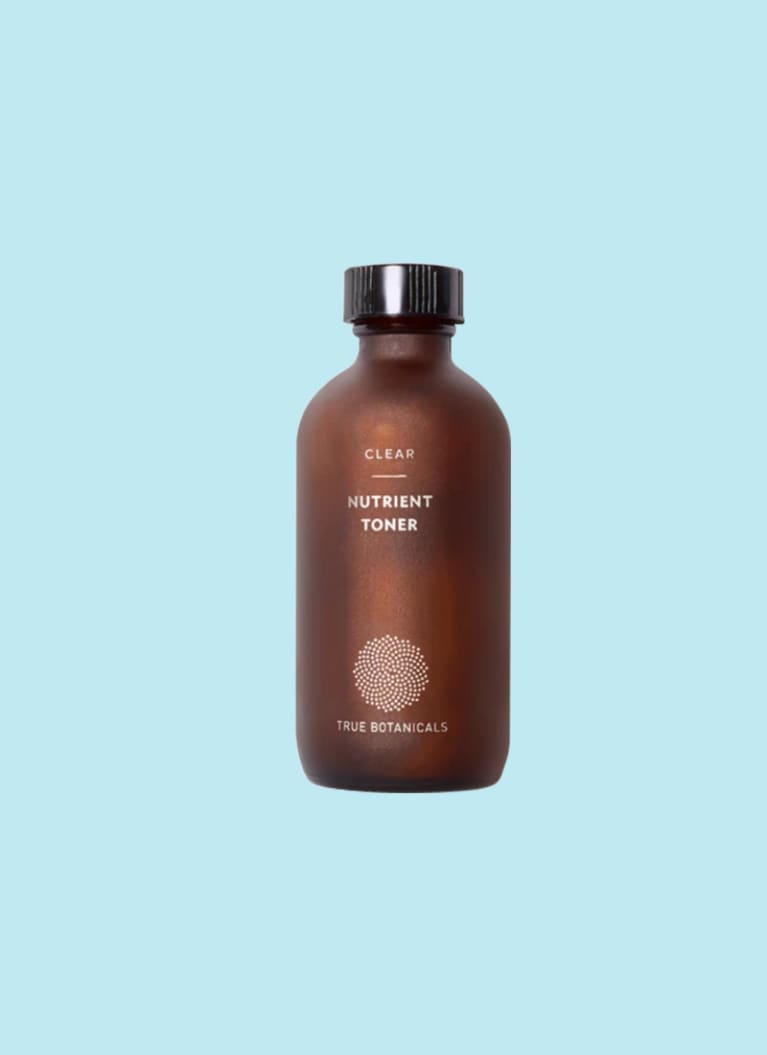 mindbodygreen
Peach&Lily Pore Proof Perfecting Clay Mask
This creamy clay mask uses kaolin and bentonite clay to clear out pores and gently exfoliate skin. But unlike other clay masks, this one doesn't harden or dry; instead, it remains creamy to the touch. This is because it's also infused with tons of naturally moisturizing ingredients, like wild cherry, strawberry, and licorice extracts. So when the mask is removed, the skin doesn't feel tight or squeaky—instead it feels nourished. Use this option if you have sensitive skin as well as blackheads.
Pore Proof Perfecting Clay Mask, Peach&Lily ($43)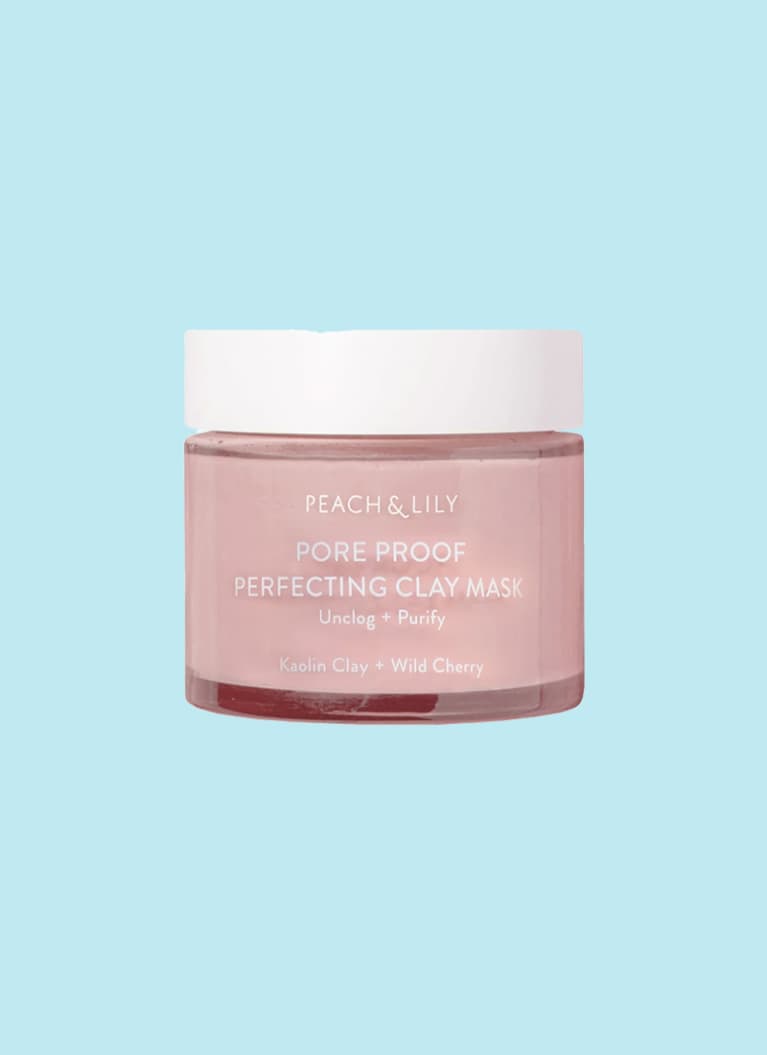 mindbodygreen
Tata Harper Skin Care Purifying Mask
This super natural option (100% natural ingredients and 59% organic) will help refine skin texture, zap blocked pores, and leave skin feeling oh-so-clean. It's made with a blend of clays, botanical oils, essential oils, and probiotics to really target a plethora of skin concerns that can lead to blocked pores, including excessive oil, pollutant buildup, and dead skin cells.
Skin Care Purifying Mask, Tata Harper ($72)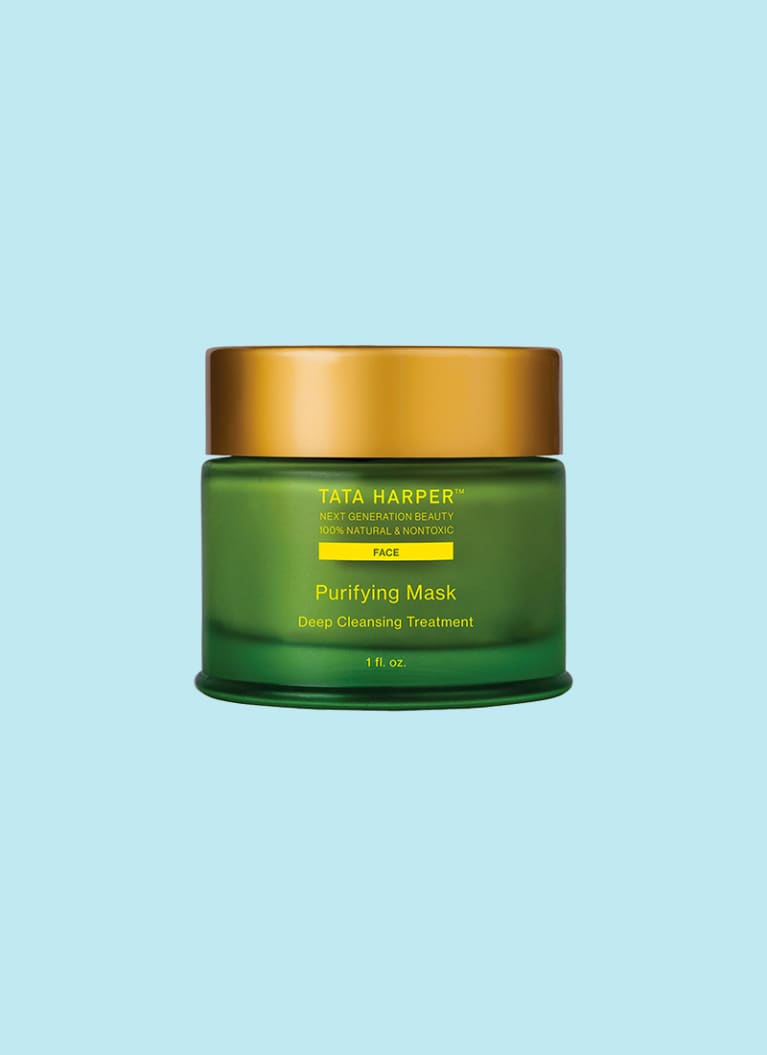 mindbodygreen
OneKind Pore-fectionist Refining Facial
This one will be particularly good for those with multiple types of acne, including blackheads. With oily- and acne-prone skin, it's common to a range of zits like whiteheads and pustules; in this case you may want to reach for a stronger acne treatment to tend to your breakouts. This powerful mask contains a trio of acne-targeting actives like pink clay, AHAs, and BHAs (from willow bark and lactic acid).
Pore-fectionist Refining Facial, OneKind ($23)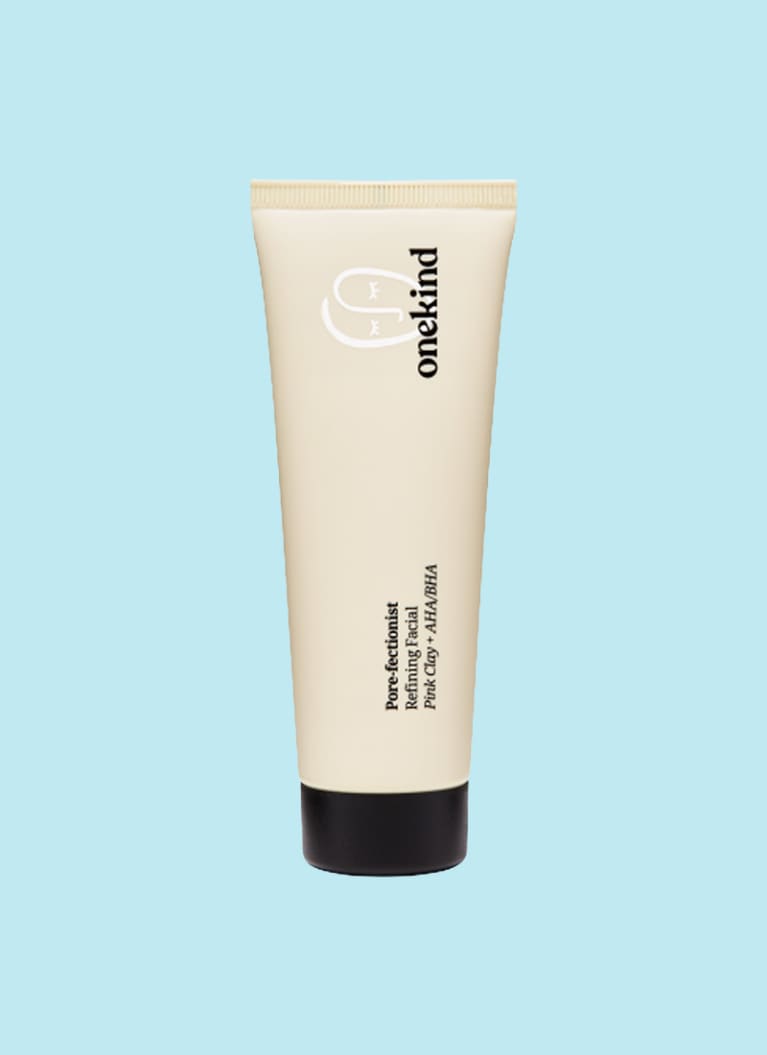 mindbodygreen
And do you want to turn your passion for wellbeing into a fulfilling career? Become a Certified Health Coach! Learn more here.