Why Your Sleep Schedule Might Be Off Right Now + How To Get Back On Track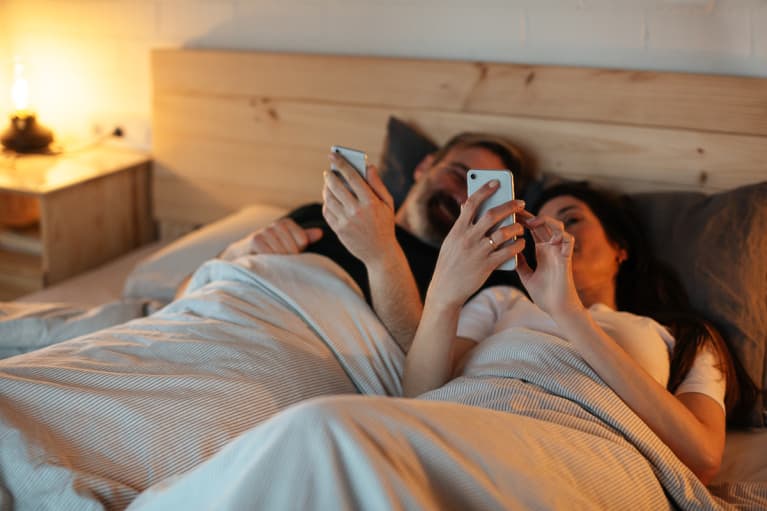 Our editors have independently chosen the products listed on this page. If you purchase something mentioned in this article, we may
earn a small commission
.
Last updated on November 11, 2020
Earlier this month, daylight saving hit with a vengeance in the U.S., further messing with sleep schedules that have already been thrown off by COVID-19. Here's the thing: During these darker days (literally and metaphorically), experts stress that keeping a consistent sleep schedule is especially crucial.
"For many people, all of the anchors to their schedule have changed or disappeared, so it is important to recreate as many as possible at home," says board-certified sleep medicine researcher W. Christopher Winter, M.D., of Charlottesville Neurology and Sleep Medicine and author of The Sleep Solution: Why Your Sleep Is Broken and How To Fix It. "We need to rebuild these markers in our lives."
Getting out of your normal sleep-wake cycle isn't just jarring to your sense of normalcy—it can also have a major impact on your body. Here's why setting a regular bedtime is so important, plus what you can do to get yourself back on track.
OK, why do I need a regular bedtime?
Backing up a moment here: You have a circadian rhythm, which is a 24-hour internal clock that runs in the back of your mind, the National Sleep Foundation (NSF) explains. Your circadian rhythm cycles between making you feel sleepy and alert at regular spans of time so that you get the rest you need.
Your circadian rhythm is controlled by the release of substances like the hormone melatonin, which can make you feel sleepy, says functional medicine doctor Heather Moday, M.D.
There's a whole cascade that happens when you get out of your normal circadian rhythm. It affects your light/dark schedule, which can put your mealtime and exercise routine out of sync, too, says Winter. Basically, something as seemingly minor as going to bed whenever you feel like it can throw a lot of things in your life out of whack.
Changing up your bedtime can also make you feel more tired, even if you're sleeping in the next day. "When you alter a sleep schedule more than an hour difference, your body feels tired because your circadian rhythm has not been synced," says double-board-certified integrative medicine doctor Amy Shah, M.D.
But fatigue is only one thing you might deal with if your bedtime is all over the place. "Everything from our digestion, immune system activity, and hormones are regulated by our sleep-wake cycles," Moday says. Getting out of a good sleep rhythm when you're also stressed out (like most of the world is at this moment) can even increase your risk of getting sick, Moday points out. And that's really not something you want to mess with right now.
So, how can I actually get myself to stick with a regular bedtime?
It's one thing to say you'll go to bed at a certain time, but actually making it happen is a totally different story. That's why experts recommend setting yourself up for success with these tricks:
The most important thing is to commit to a bedtime—it might be different from your old bedtime, and that's OK. To calculate this, you'll want to figure out what time you usually need to get up and count backward. The NSF recommends that most adults aim to get between seven and nine hours of sleep. You might have to initially set an alarm to make sure you wake up at the right time, "but eventually, your body will fall into a normal sleep-wake pattern," Moday says.
2.
Try a sleep-promoting supplement.
OK, sure, it's one thing to set a bedtime...but it's easier said than done to actually stick to it. One solution to make sleep more seamless: Natural sleep aids like magnesium.* Moday is a fan of adding mbg's sleep support+ to your bedtime routine, particularly because it can help you fall asleep, without feeling groggy in the morning.*
Plus, it features PharmaGABA, which can promote increased relaxation and deeper sleep, along with jujube, which has calming and relaxing properties.*
3.
Create a bedtime routine.
Doing the same thing every evening helps signal to your brain that it's time for bed, Moday says. She recommends keeping it simple, like reading with a cup of herbal tea, using aromatherapy, or writing in a journal. This is also a great time to take your sleep support+.
4.
Get up when you're supposed to. For real.
Again, setting an alarm can help. When you wake up, Moday recommends really waking up versus lounging in bed. "Immediately open the blinds, getting some bright light exposure," she says.
It might take a little while to get into your new bedtime routine, and that's OK. But once you're back into a rhythm, you'll be surprised how much better you'll feel.