The 5 Beauty & Well-Being Trends Of 2020, According To Whole Foods Market
mindbodygreen Editorial Assistant
By Sarah Regan
mindbodygreen Editorial Assistant
Sarah Regan is a writer, registered yoga instructor, and Editorial Assistant at mindbodygreen. She received her bachelor's in broadcasting and mass communication from SUNY Oswego, and lives in Brooklyn, New York.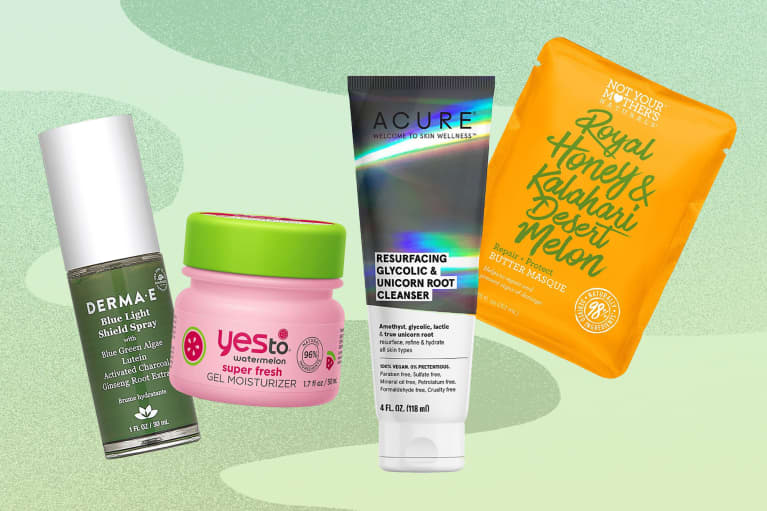 Our editors have independently chosen the products listed on this page. If you purchase something mentioned in this article, we may
earn a small commission
.
Whole Foods Market has once again unveiled their beauty and well-being predictions for this year—and we're here for it.
Last year's list predicted the rise of vegan cosmetics and microbiome-friendly beauty, just to name a couple. And given the accuracy of those picks, we had to check out what Whole Foods Market's global beauty buyers picked to be on the rise in 2020.
From blue light blockers to glycolic acid, here are the trends to watch for this year:
First up on the list is something called bakuchiol (pronounced either "back-uh-heel" or "buh-koo-chee-all," depending who you ask). It's an extract from the seeds of the babchi plant, and if you've never heard of it before, it's a natural alternative to retinol.
Retinol is, no doubt, a powerful component of many skin care regimens. But it can lead to dry skin, redness, and sensitivity to the sun. Bakuchiol is milder on the face while still providing the plumping and smoothing people expect from their retinol cream.
Try it: To try bakuchiol for yourself, ACURE's Radically Rejuvenating Bakuchiol Mirror Mask is a good one to start with. There's also cocokind's Resurfacing Sleep Mask, as well as Burt's Bees Renewal line, which includes a cleanser, firming moisturizer, and intensive firming serum.
We all know the importance of wearing sunscreen and minimizing UV exposure. But another kind of light has been in the hot seat lately: blue light.
As such, lots of brands have been taking that into account and creating products to tackle the effects of blue light, from blue-light-blocking glasses for eyes but also skin care products like serums and detox sprays. Some key ingredients Whole Foods Market has looked for include carotenoid lutein, blue-green algae, charcoal, and ginseng root extract.
Try it: For some blue-light-blocking action, give DERMA E's Blue Light Shield Spray or Blue Light Shield Concentrated Serum a go next time you're posted in front of your computer!
When you hear "watermelon," it probably evokes fond memories of summertime, not your skin care routine. But with its high content of natural antioxidants like vitamins A, B, C, and E, watermelon is being incorporated in lots of new products.
Next time you're out browsing, "Citrullus lanatu" is how watermelon will likely show up on the label of your fruit-infused hair care products and face masks.
Try it: To test the watermelon hype for yourself, try Yes To Watermelon's Super Fresh Line that includes masks, moisturizer, face wipes, and more. ACURE also makes a watermelon and blood orange shampoo and conditioner specifically for "oily, environmental stressed, and workout-heavy hair."
4.
Just add glycolic acid
Next up, we have glycolic acid. You've likely heard of this alpha-hydroxy acid (AHA) before, as it's used in more and more skin care products. Glycolic acid has been known to help with facial exfoliation and smoothing, revealing fresh skin and an enhanced glow. And this year, glycolic acid is going mainstream as the main ingredient in new cleaners, masks, and exfoliants.
Try it: ACURE has a bunch of glycolic acid products, including their Resurfacing Glycolic + Unicorn Root cleanser and Dewey All-Day moisturizer. Pacifica also makes these Glowing Glycolic Acid, Orange & Vanilla Makeup Removing Wipes, and for some exfoliating action, Yes To Grapefruit makes a Glow-Boosting Daily Exfoliating Tonic.
And last but not least, the final beauty trend Whole Foods Market is calling for 2020 is body masks. That's right—our faces aren't the only thing that deserve a little TLC! (Please note this review of a sheet mask for your literal bottom.)
Masks can be a great addition to your skin care routine, and we love taking care of those often underappreciated areas like our feet and hands. From deep conditioning hair treatments on your head down to moisturizing masks for your feet, 2020 is the year we're masking everything (literally).
Try it: BioRepublic's Lost Baggage Under-Eye Emergency Repair Masks are perfect for those mornings you could have used a little extra sleep. For your hair, Not Your Mother's Naturals' Royal Honey & Kalahari Desert Melon Butter Masque will leave your hair nourished and revitalized. And, of course, if you're curious about those butt masks, there are these Tighter and Lifted Booty-ful masks by Yes To.