3 Things That Could Be Messing With Your Sleep Right Now + What To Do

mbg Senior Sustainability Editor
By Emma Loewe
mbg Senior Sustainability Editor
Emma Loewe is the Senior Sustainability Editor at mindbodygreen and the author of "Return to Nature: The New Science of How Natural Landscapes Restore Us."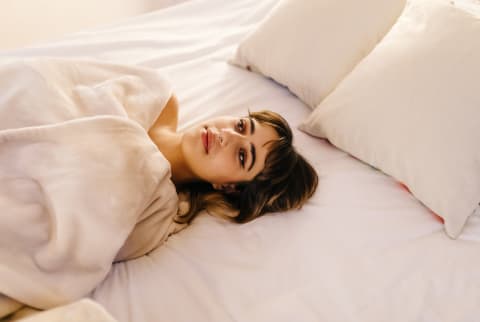 Image by Javier Díez / Stocksy
Our editors have independently chosen the products listed on this page. If you purchase something mentioned in this article, we may
earn a small commission
.
July 15, 2021
In the rush of an action-packed summer, winding down is probably the last thing on your mind. It's no surprise that sleep quality can decline with the long days and hot nights of the season. We reached out to sleep and energy experts for their opinions on the biggest barriers to sleep during the summer months, and how to overcome them:
Advertisement
This ad is displayed using third party content and we do not control its accessibility features.
Most of us sleep best in rooms that are around 65 degrees Fahrenheit. These chilly conditions support the body's natural temperature dip as it prepares for bed. Part of our circadian rhythm, this drop also causes many people to feel cold when they get tired.
"If the ambient temperature is very hot, it makes it difficult for our bodies to experience that natural cue to fall asleep," Wendy Troxel, Ph.D., a senior behavioral and social scientist at the RAND Corporation and author of Sharing the Covers: Every Couple's Guide to Better Sleep, tells mbg. "With temperatures warming around the globe, many people are struggling with very warm temperatures at night." (And yep, climate change makes this trend even more concerning.)
What to do:
To keep your bedroom as cool as possible, Troxel recommends firing up those air conditioners or fans at night if you have them. She adds that taking a shower or bath before bed can help, too: "Your body temperature will drop after getting out of the water, which can facilitate sleep onset."
Of course, swapping out your thick flannel and jersey sheets for lighter ones made from percale or linen is a good idea during summer, as is wearing lightweight, moisture-wicking pajamas. (Just be sure to be extra diligent about washing all your fabrics this season.)
Jeff Kahn, the CEO and co-founder of Rise Science, which created a new app that monitors sleep and energy to make daily productivity recommendations, adds that—though controversial—wearing socks to bed might also help with temperature regulation. "An increase in blood to your feet helps reduce your core body temperature and thus helps the body prepare for sleep." According to early data from the app, people get 20 minutes less sleep and carry around two hours more "sleep debt" in June/July as compared to January/February, in part because of these higher temperatures.
Finally, Troxel says that cooling pads or mattresses that have individual temperature controls can satisfy couples who have different nighttime temperature preferences.
Advertisement
This ad is displayed using third party content and we do not control its accessibility features.
"Exposure to light is the single most important external cue that regulates the internal biological clock or circadian rhythm," Troxel tells mbg. "Therefore, the longer daylight hours of summer mean more exposure to light, especially in the evening hours, which can push bedtimes later and make falling asleep and staying asleep more difficult."
Summer's morning light can also wake you up earlier than you'd like. ("Late natural light can challenge early risers, while early morning light can challenge night owls," says Kahn.)
Stacie J. Stephenson, D.C., a functional medicine practitioner and author of Vibrant: A Groundbreaking Program To Get Energized, Own Your Health, and Glow, adds that later sunsets can also lead to later dinner schedules, which can further disrupt sleep.
What to do:
While you can't control the sun, you can control how much of it enters your bedroom during summer. Invest in a pair of blackout curtains (and/or a good eye mask) to ensure that your sleep space stays dark through the night.
Stick to an electronic sundown (a time of the evening when you shut off your devices and dim any harsh indoor lighting) to help the body wind down in darkness, and try to keep evening meals at the same time all year round. Stephenson recommends "allowing at least two hours between your last bite of food and bedtime, so your body can focus on repair and restoration, rather than digestion, while you sleep."
Come morning, "try to get as much light as possible to cue the circadian clock that it's time to be awake and alert," Troxel suggests.
Advertisement
This ad is displayed using third party content and we do not control its accessibility features.
3.
Busier schedules and lifestyle changes.
The hot and sunny days of summer tend to fuel richer social lives: This is a season that tempts us to drop our pre-bed reading in favor of late-night drinks out with friends and loved ones. These outings, while totally worthwhile, can disrupt sleep by throwing off our sleep-wake patterns. Once booze gets involved, REM sleep can also suffer.
"Alcohol may make you fall asleep more quickly and sleep more soundly during the first half of the night but is generally disruptive to sleep quality during the second half of the night," Stephenson explains.
What to do:
Keeping a consistent bedtime and wake-up time will improve your ability to fall asleep quickly and stay asleep for longer. It's easier said than done during the summer, but setting a bedtime alarm—one that goes off an hour or so before you should be tucking in—can help keep you accountable.
Taking a sleep supplement like mbg's sleep support+ can also help your body ease into bedtime.* Its targeted combination of magnesium bisglycinate, jujube, and PharmaGABA® is designed to calm the overactive mind and promote relaxation—even after the buzziest of beach days or park picnics.*
Advertisement
This ad is displayed using third party content and we do not control its accessibility features.
The bottom line.
Sleep is one of life's great pleasures, so why miss out on it during summer? Use these tips to rest up and enjoy all this season has to offer even more.