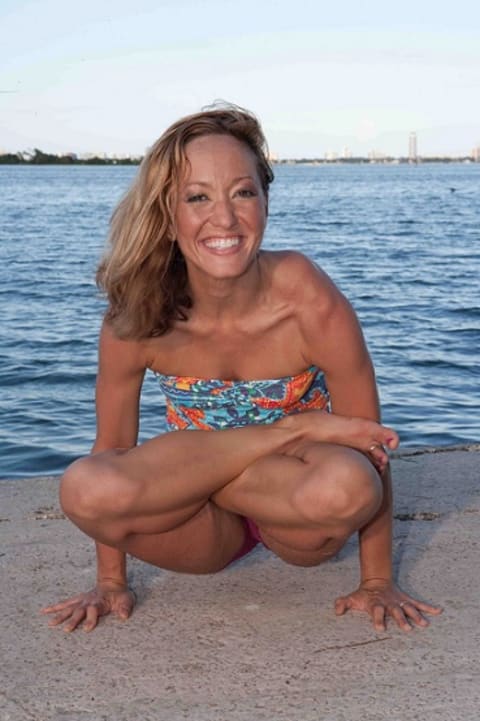 When you're new to yoga and see an experienced practitioner hoist their body in the air it looks like magic.
When you try and then your body feels absolutely glued to the ground, it's easy to get frustrated. I still remember the overwhelming feeling of impossibility that I faced when I first started to lift up and jump back in the Ashtanga Yoga method.
Advertisement
This ad is displayed using third party content and we do not control its accessibility features.
I though my arms were too short and, since I was 22 years old, I knew they were not getting any longer.
So I gave up and didn't try for nearly a year. It was only when a friend told me that she thought I'd be able to really lift up did I actually start trying.
When I finally started to try to lift my body off the ground, I felt desperate, unhappy and I very often told myself that it would be easier if my arms were just a few inches longer.
That story wasn't new to yoga.
I'm a small person at 5 foot, 2 inches and have spent many daydreams pondering how to get a few extra inches added onto my height. Nothing succeeded.
My journey into strength in Ashtanga Yoga lead me directly up against my preconceived limitations about myself. It is through the lessons of strength in yoga that I learned to believe in myself. What I thought were short arms was really the obstacle of doubt.
My arms weren't too short, but my belief in myself was. Every magical lift in the yoga practice is the result of years of dedication and devotion. It's the living proof of commitment to the transformative power of the Ashtanga Yoga method.
Through my practice and teaching, I found a really easy way to "test" to see if arms really are too short or if it's just a matter of physical strength that needs to be cultivated.
Watch the video below to see if your arms really are too short or if you just need to be stronger.
Advertisement
This ad is displayed using third party content and we do not control its accessibility features.

Kino MacGregor
Kino MacGregor is an international yoga teacher, author of two books (The Power of Ashtanga Yoga and Sacred Fire), producer of six Ashtanga Yoga DVDs, writer, vlogger, world traveler, co-founder of Miami Life Center, founder of Miami Yoga Magazine, and star of her popular YouTube channel, which has over 15 million views. Kino is one of a select group of people to receive the Certification to teach Ashtanga Yoga by its founder Sri K. Pattabhi Jois in Mysore, India and practices through the Fourth Series of Ashtanga Yoga. Get a signed copy of Kino's book here. You can also follow her on Instagram.