When It Comes To Tattoos, Is Handpoking Safe?
Contributing Wellness & Beauty Editor
By Lindsay Kellner
Contributing Wellness & Beauty Editor
Lindsay is a freelance writer and certified yoga instructor based in Brooklyn, NY. She holds a journalism and psychology degree from New York University. Kellner is the co-author of "The Spirit Almanac: A Modern Guide to Ancient Self Care," with mbg Sustainability Editor Emma Loewe.
Medical review by
Heather Moday, M.D.
Allergist & Immunologist
Heather Moday, M.D. is the founder of the Moday Center for Functional and Integrative Medicine in Philadelphia, where she practices both traditional medicine and integrative medicine.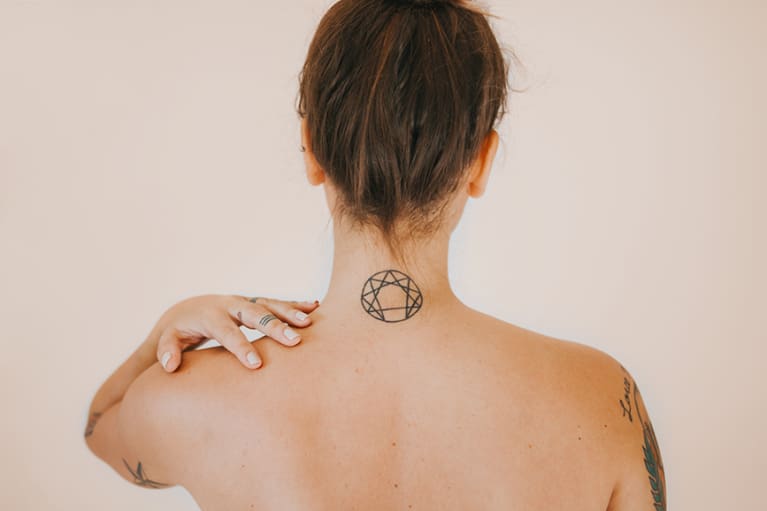 Last updated on January 28, 2020
Handpoke tattoos, also called stick-'n'-poke tattooing, are seriously trending.
This is in part due to Dr. Woo, an LA-based tattoo guru who is often dubbed the most in-demand artist in the world. He's known for his intricate, small-scale, single-needle designs and works on celebrities like Cara Delevingne, Miley Cyrus, and Drake. The designs have a distinctively different feel from any others—the minimalist approach and sophisticated placement make them feel less pervasive, modern, and even demure.
While Dr. Woo doesn't do much handpoking, his style gave rise to new kind of tattoo aesthetic that can be achieved by handpoking. Handpoke tattoos take much longer than gun tattoos because the needle is moderated by someone's hand instead of an automated gun, which lends itself to a more delicate look.
There's a mystique that surrounds handpoke tattoos. For one, many handpoke artists are hobby tattooists, doing handpoke work on the side—their flash appointments, limited availability, and spur-of-the-moment nature have led to a (growing) niche within the world of tattoos.
The problem with handpoke tattoos that no one talks about.
The DIY aspect of stick and poke is what's concerning. Videos like this one, with more than 3 million views, give people an understanding of how to do stick and poke on their own—but it's a process that can go horribly wrong according to New York City holistic dermatologist Cybele Fishman. M.D. "Unhygienic tattooing can lead to really bad infections with fungus, gram-negative bacteria, gram-positive bacteria, and organisms called atypical mycobacteria. Some of the latter require months of oral antibiotics and sometimes IV antibiotics," said Fishman, which is obviously something we want to avoid in the name of good gut health. To be sure, this can happen with a botched gun tattoo as well.
"My point is, you should take the same approach with a tattoo artist [as you would when choosing a doctor]. You want a professional who takes his or her work seriously and your safety seriously. You want someone who takes sterile conditions seriously. And don't be afraid to ask questions."
The other thing to note about all tattoos: ask about the ink. While there isn't a ton of research in this arena yet, we know from people sharing their personal stories about heavy-metal toxicity that getting too many tattoos in quick succession can be damaging to the body. It makes sense: an article in Scientific American discusses how most colored inks are made from heavy metals, "including lead, antimony, beryllium, chromium, cobalt nickel, and arsenic." Fishman pointed out that it's tough to say whether heavy metals can lead to long-term health problems but did mention that blood chelation, a treatment to get rid of heavy metals, is more common in the integrative medicine world now than ever before. One recent study showed that tattoos can actually change the way you sweat, leading to increased salt concentrations and decreased sweat on tattooed skin, which is proof of another impaired detoxification pathway.
But handpoke tattoos are so beautiful, and I want one. How can I make sure it's safe?
Let's be clear, we love tattoos and agree they are beautiful and can be a meaningful addition that brings joy and personality. Here's how to make sure they're safe:
Make sure your handpoke tattoo artist is licensed. Requirements for this vary by state and even by city. In New York City, for example, tattoo artists are required to take a three-hour course on hygiene and pass a related exam in order to get licensed.
Choose black vegan ink, and ask about other nontoxic options for colors.
Ask them about their process: specifically what tools they use, how they sterilize, the aftercare they recommend, and whether they've had any clients who have contracted infections in the past.
According to Fishman, if you have a tattoo, you can have a reaction with an MRI, something else to be aware of.
Will Cole, a functional medicine expert, especially monitors his patients with autoimmune conditions, MTHFR mutations, and other methylation impairments who don't detox very well. He recommends choosing vegan ink for less likelihood of exposure to toxins.