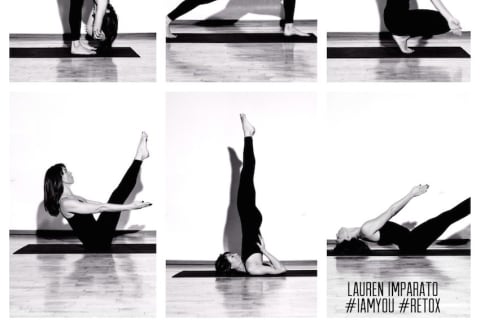 February 13, 2015
Sequence begins clockwise at top left.
1. Start hanging over your legs, holding your elbows. Relax your head, close your eyes and breathe into your upper back for a nice deep Forward Fold. Hold here for 5-10 breaths.
2. Come into an angled lunge from Forward Fold, by stepping your left foot back and keeping the heel lifted. Keep your front knee bent at 90 degrees and hover your torso over your quad. Breathe into your back body and continue reaching your torso forward. Hold for five deep breaths and switch sides.
3. Come to a little squat, with your thighs parallel to the floor. Twist to the right opening through the chest and sending the left arm skyward. Hold for five deep breaths then repeat on the other side.
4. Let your butt come to the floor and lift your legs up into Boat Pose. Optionally, you can bend your knees. Reach your sternum towards your toes and breathe from your back thoracic spine to your sternum. Engage your core as you hold for 5-15 breaths.
5. Lie down flat and lift your feet over your head on an inhale, bringing your palms just above your sacrum, drawing the elbows in closer to the sides of your body. Exhale and extend the legs skyward, keeping the chin tucked and palms pressed into your back. Extend through the legs all the way out the soles of the feet. Place your hands on your thoracic spine and breathe into the heels of your hands. Hold 20-60 breaths.
6. Lower to the ground and place your forearms to the floor. Press down and lift your torso up until you get the top of your head to the floor. Lift your legs and arms to 45 degrees and draw your palms together. Hold five breaths before you rest.
Image courtesy of the author

Lauren Imparato
Founder & CEO, I.AM.YOU.
Lauren Imparato — author of RETOX and one of the "100 Women in Wellness to Watch" and Elle's "This is 30" — resigned her job as a vice president on the Wall Street trading floors in 2009 to launch I.AM.YOU, a wellness lifestyle company based on yoga, nourishment and music. In NYC and across the globe, she is renowned for her straight up, real approach to wellness and life. Imparato's yoga classes are known for their attention to anatomy, sweat and tradition within the chaotic modern lives we lead, and are always paired with signature MusicMixes including genres like rock, salsa, jazz, hip hop and more. She has been featured in Vogue, The Wall Street Journal, Elle, New York Magazine, Harper's Bazaar, Marie Claire, Self, The Financial Times, Bloomberg News, CNN and countless others and writes for MindBodyGreen, PositiveMed and her own blog with a social media following of over 250,000. Imparato has led I.AM.YOU. classes for tens of thousands of people in Spain, Cannes Film Festival, Ibiza Opening Weekend and, most recently, all of Times Square and the great lawn of Central Park. She graduated from Princeton University.