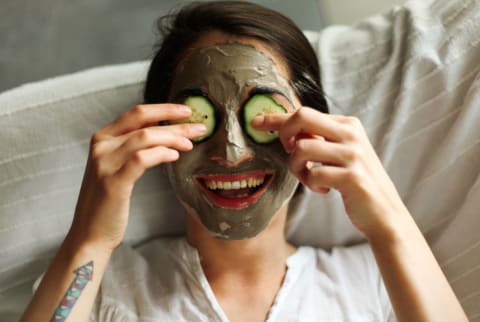 July 28, 2015
This is an amazingly refreshing face mask that's great for the summer and those times we accidentally overdo it in the sun. It works beautifully for all skin types and is especially effective for Pitta (fire element skin types: those with reddish undertones or prone to breakouts and inflammation). Keep some in the fridge to get the most out of its cooling effects.
Want to know why each of these ingredients is so good for your skin?
Cucumbers are mostly water but they contain natural acids (ascorbic and caffeic) that help to soothe skin and reduce swelling(there's a reason cucumber slices are placed over the eyes at the spa!). They also have the exact same ph balance as skin so they're perfect for helping to balance any skin type.
Aloe is extraordinarily effective at healing all sorts of skin woes, from eczema to sunburn to acne. It contains betacarotene, Vitamins C and E, salicylic acid, amino acids … it's just great. I definitely recommend using fresh aloe, but if you're using store-bought aloe, make sure to read the ingredients: aloe vera gel will often contain alcohol which will dry the skin.
Parsley helps to balance oil production. It's naturally anti-inflammatory, works great as a skin brightener and is high in a wide range of vitamins and minerals (betacarotene, zinc, calcium, potassium and so much more) that help to keep skin looking its most radiant.
Soothing Cucumber, Aloe + Parsley Mask
2-3 inches of fresh cucumber (wash it, but there's no need to peel)
1/4 cup aloe vera (preferably fresh)
1/4 cup fresh parsley
Combine all ingredients in a food processor and mix until smooth. Apply to the face, avoiding eyes. Leave on for 10-15 minutes then remove with a cool washcloth. Follow with a soothing toner and moisturizer.

Clara Williams
Clara Williams, founder of skinnyskinny Organics, is a certified aromatherapist and esthetician who integrates science and nature to formulate an exceptional and effective line of organic skin, body, hair care and aromatherapy goods. A successful scholar and artist, she received her MFA from Yale and was also the recipient of the renowned Guggenheim Fellowship in 2004. Williams' love of nature, stemming from her upbringing on a rustic farm in Tennessee, combined with her experiences witnessing unsustainable practices in the art world have cultivated her lifelong dedication to using organic ingredients to create products using environmentally conscious practices. Clara currently lives and works in Brooklyn, NY.