Summer Sizzling Your Hair? This Creamy Mask Promises Soft, Glass-Like Strands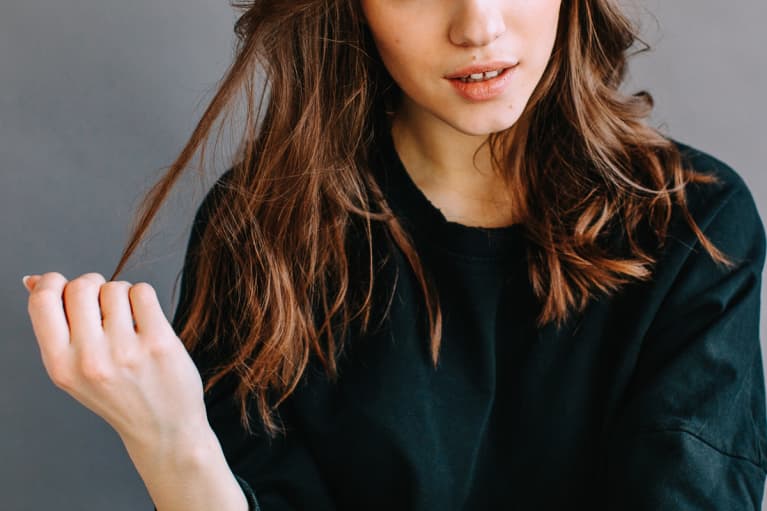 Now, I'd be the first to declare that summer is not over (nope, no way), but as the season starts to draw to a close, it's the perfect opportunity to take stock of your strands: After all that UV exposure and pool time, you may be dealing with sizzled, straw-like tresses. To breathe some life back into your mane, might I suggest a nourishing hair mask?
Hair masks, whether you opt for market or DIY versions, help deliver moisture and nutrients back into the strands—think of a five-star meal paired with an ice-cold beverage for your parched hair. So if you've neglected your hair's needs for the better half of the summer (you've got things to do and people to see!), a hydrating mask can send some much-needed TLC to the strands.
Convinced yet? What if we told you that you could make your own concoction with just four simple ingredients? Ahead, NYC-based hairstylist Jenna Pitocco shares her go-to recipe for soft, luscious hair.
A creamy DIY hair mask for soft & moisturized hair.
1 ripe avocado
1 to 2 dollops coconut oil
¼ cup coconut milk
Few drizzles of honey
Optional: 2 to 3 drops CBD oil (if you want to massage your hair mask into your scalp, some love this relaxing massage oil)
Place all ingredients into a blender and whir until smooth.
"Once blended, take the creamy mixture and comb it all through your hair," says Pitocco. You can either rake with your fingers or use a wide-toothed comb; just make sure you coat the hair from root to tip.
Gather your hair into a clip or shower cap and let it sit for 30 minutes.
Rinse thoroughly and follow with your usual shampoo routine.
To coax summer-fried hair back to life, a hair mask can punch up the moisture and soften the strands. Pitocco's recipe is especially nutrient-rich, and you can easily whip it up whenever you want to give your hair some extra love.