This Concealer Hack For Wide-Awake Eyes Has A Surprising Double Benefit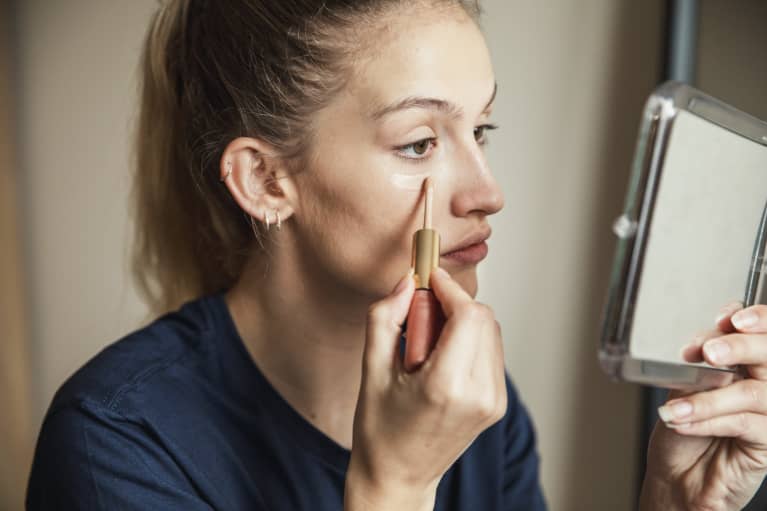 This article was produced to support the mindbodygreen supplements+ line. Our supplements adhere to the highest standards of ingredients and quality. We hope you enjoy these products, for more information
click here
.
Have a zit you'd like to cover up quickly? Want to blur fine lines or make your eyes appear wide-awake? A trusty concealer can do it all, it seems, with a few strategic sweeps. It's a little mind-boggling something as simple as a doe-foot wand or pot of cream could carry so much fanfare—and yet, if you spend around five minutes scrolling through TikTok, chances are you'll come across a famed concealer hack that promises to elevate your face beat (well, depending on your algorithm).
All that to say, there's a chasm of concealer content out there, a video for every skin type, concern, and level of expertise—why not comb through them all? Here, fashion, beauty, and travel content creator Brittany Xavier shares a trick to make your eyes appear more lifted, but it has an unexpected benefit: It also serves as an outline for the perfect winged liner.
A concealer hack that helps you land the perfect liner.
I've said it before, and I'll say it again: Nailing winged liner is hard. Even if you opt for a small flick or kitten eye (the cat-eye's subtler sister), things can still go awry for the novices among us. Maybe the line reads more shaky than sharp, or it juts out at an odd angle—whatever your gripe, this concealer hack can quite literally keep you on the right path:
"First, I have my skin prepped only with foundation," Xavier says in her recent video. We love this breathable option by ILIA, but peruse our list of foundations for oily, sensitive, and dry skin if you're in the market for a new number.
Next, Xavier cuts the corner off a piece of paper to make a small, handheld triangle. Call it makeshift eyeshadow tape. (You can also use a tissue, she notes, but it might not feel as sturdy.) She holds the paper up to the outer corner of her eye to make a straight, lifted line.
She fills in her crease with a bronzy shadow, using the paper as a guide. "You can see the eyeshadow looks sharper already," she says.
Then she grabs her concealer (Tarte's Tape Shape is her product of choice; we concur) and sweeps the wand right under the sharp line of her eyeshadow. The concealer and shadow should meet at the corner of your eye, but they shouldn't fuse together.
With a beauty sponge, she taps the product to slightly blend. Slightly is the operative word here: You want to keep some of the contrast to achieve that lift and create an outline for your liner.
Finally, she takes a brown eyeliner and adds a small flick along the sharp concealer line. She adds, "Finish with the rest of my makeup, and done!"
The trick does double duty: Not only are you creating lift and contrast with a precise concealer application, but you're also creating a stencil of sorts for your liner—by not thoroughly blending the concealer, you create a stark contrast between the two products (the concealer and your shadow). The liner serves as a bridge between the two, and you simply trace right along where the two formulas meet.
Your humble concealer has an impressive set of skills, but who knew it could help you land the perfect liner? You may already use the product to clean up a jagged wing, but Xavier suggests you apply it before, too, to outline exactly where to draw the flick.