Do This 1-Hour Power Clean And Count Your Spring Cleaning Done & Dusted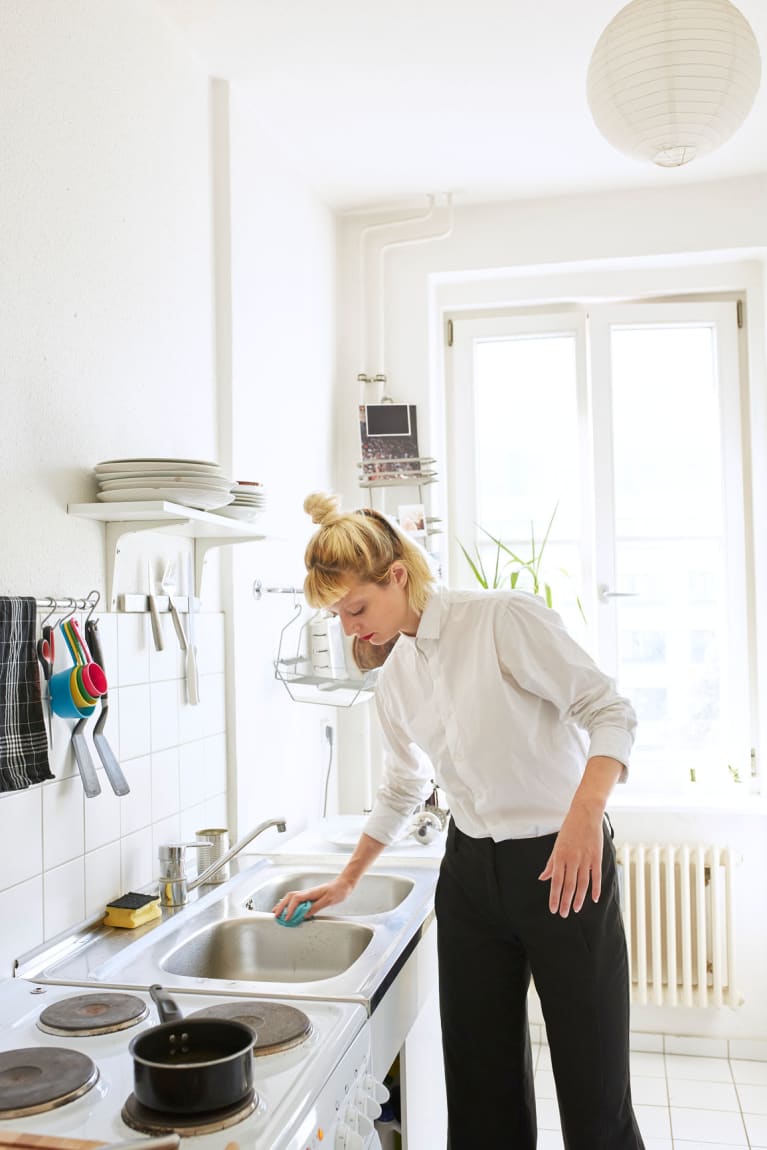 Our editors have independently chosen the products listed on this page. If you purchase something mentioned in this article, we may
earn a small commission
.
Spring cleaning season is upon us! In the coming weeks, mbg will be sharing some of the easiest, most effective tips and tricks we've heard for nixing germs at home. (Check out what we've run so far here.) Today, we're sharing a quick home refresh for people who just don't have the damn time to deep clean.
The "spring cleaning" craze has humble beginnings. Spring was historically considered a time to open the windows and let in the fresh air after a winter spent burning firewood for warmth. "In this day and age we don't necessarily need to do the traditional spring cleaning anymore because the dirt in our homes is different," says Becky Rapinchuk, the author of Clean Mama's Guide to a Healthy Home: The Simple, Room-by-Room Plan for a Natural Home. However, she adds that there's nothing wrong with a quick-and-dirty (er, clean?) touch-up at home when warmer temps hit.
If you want to welcome the new season with a refresh but can't commit to a full day of scrubbing, here's Rapinchuk's favorite hourlong cleaning routine. Basically, it will help you get big results for minimal effort—without any chemical-packed cleaners. It's split up into 5-, 10-, and 15-minute increments by room, so grab your phone or a stopwatch and get to it!
The ultimate hourlong spring cleaning routine:
Empty the sink and/or dishwasher
If you have a dishwasher, set one cup of white vinegar in the bottom rack and run it to clean it out
Wipe down the counters with a cloth and soapy water
Wipe the front of your appliances
Put out a fresh dish towel
Throw your throw blankets and pillows in the dryer to freshen them up, or spray them with a natural fabric refresher if you don't have a dryer
Do a quick dust of surfaces with a wand duster
Vacuum the floor and the edges, baseboards, and vents
In-between areas: 5 minutes
Do a whole-house pickup for 5 minutes, picking up anything noticeable that you can quickly put away
Spray the surfaces (sinks, counters, toilets, and tubs) with a natural cleaner and let it sit
Wipe down the mirrors
Go back and scrub the toilets and the other surfaces where the cleaner has been sitting
Make the bed
Do a quick dust of surfaces with a wand duster
Vacuum floors
Note: If you're looking for a new nontoxic cleaner to put to use during your cleaning session, these 14 are tried-and-tested. Or, if you'd rather make your own, Rapinchuk has a recipe that's powerful enough to use on tougher spaces like bathrooms:
Simply combine one and a quarter cups of water, one-quarter cup of white vinegar, one-quarter cup of vodka or rubbing alcohol, and 15 drops of essential oils (Rapinchuk usually opts for 10 drops of lemon and 5 drops of peppermint or lavender, depending on her mood) in a spray bottle and shake it up.
While this basic clean will give your home a nice refresh, if you have some more time and would like to go deeper, here are Rapinchuk's next recommendations:
Clean your light fixtures
Clean baseboards
Wash doors and clean handles and knobs
Clean heating vents (you can quickly run over them with a vacuum cleaner nozzle, or you can remove them and soak them in warm soapy water, dry them completely, and then put them back)
Clean your air filters (make sure you do this after you dust!)
Clean window treatments and wash windows
Rotate mattresses and washing bedding
May your spring be peaceful, productive, and dust-free.