5 Ways You Can Make The Most Of Doctors' Appointments & Improve Your Health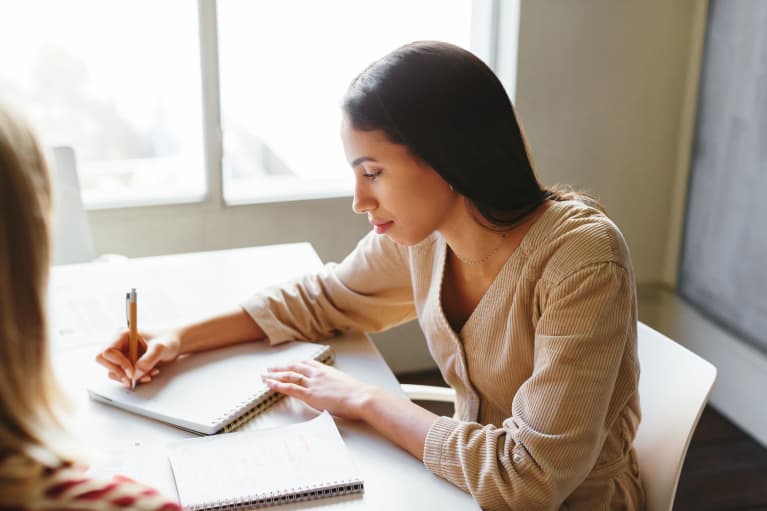 Our editors have independently chosen the products listed on this page. If you purchase something mentioned in this article, we may
earn a small commission
.
Many of us are familiar with the feeling of leaving a doctor's appointment with unanswered questions, and this can be frustrating as one-on-one time with your practitioner is valuable. I consulted Sana Goldberg, R.N., author of the new book How To Be a Patient and public health advocate on how to make the most out of our doctors' visits and, in turn, improve your health:
One of the first steps Goldberg recommends taking is investing time in finding a doctor that you feel at ease with, meaning you feel comfortable communicating with them and asking questions. With long waiting lists, insurance coverage complications, and a variety of options, finding the right person can take some time, but it's well worth it, points out Goldberg, who likened it to not compromising early on in a relationship.
Whether you've found a doctor you click with or are still looking, you'll want to show up at your appointment with some talking points that you've written down ahead of time, said Goldberg. "Even if you're going in for a routine appointment, it's a good time to fit things in like talking about preventive screening for instance." She recommends walking in with a written list of things you want to talk about (consider your notepad on your phone); this could be questions you have, concerns about new symptoms, or general health inquiries. This way, you're co-setting the agenda with your doctor and spending less time reactively answering questions.
3.
Think about what you want to communicate.
When people don't know what's wrong with them, there's a tendency to get tongue-tied or provide information that is irrelevant to the issue, said Goldberg, and this can make it difficult for your doctor to understand your narrative. Before going into the appointment, perhaps in the weeks leading up to it, think about the story of your symptoms and ask yourself the following questions:
How frequent is my pain?
What sets it off?
What have I used to alleviate it that has and hasn't worked?
What's the duration of the pain?
What makes it worse?
This way your doctor can spend more time looking at the bigger picture and filling in missing pieces rather than trying to digest sporadic pieces of information, explained Goldberg.
4.
Talk about how your health concern is affecting your quality of life.
Clearly stating how your symptoms are affecting your quality of life is particularly important, explained Goldberg, as it helps connect the dots and highlight critical aspects of the life cycle of your symptoms. You can frame this as "Before this, I was doing this...and now I..." It's a helpful way for you and your doctor to pinpoint how your symptoms are impeding your life and which changes to prioritize immediately.
5.
Don't leave without knowing the next step.
Before leaving an appointment, you'll want to establish accountability, she explained. Consider asking clarifying questions such as "Should I call you or will you call me?" and "How long should I wait to follow up after taking this medication?" Likely, there will be a period when you are trying out a new medication or monitoring your symptoms, and you can be proactive about what this time will be like if you ask the questions before you leave. Remember as a patient the more equipped you are with information, the better you can advocate for your needs. For example, if your doctor recommends a medication, ask about the potential risks and benefits and get all your questions answered so you can make an informed decision that works for your body.
We know finding the right doctor, getting an appointment promptly, and effectively communicating your symptoms is not easy, but we hope these tools help you feel more prepared to make the most out of your time.