Airports Are Trashy: Here's How To Be More Eco-Friendly Next Time You Fly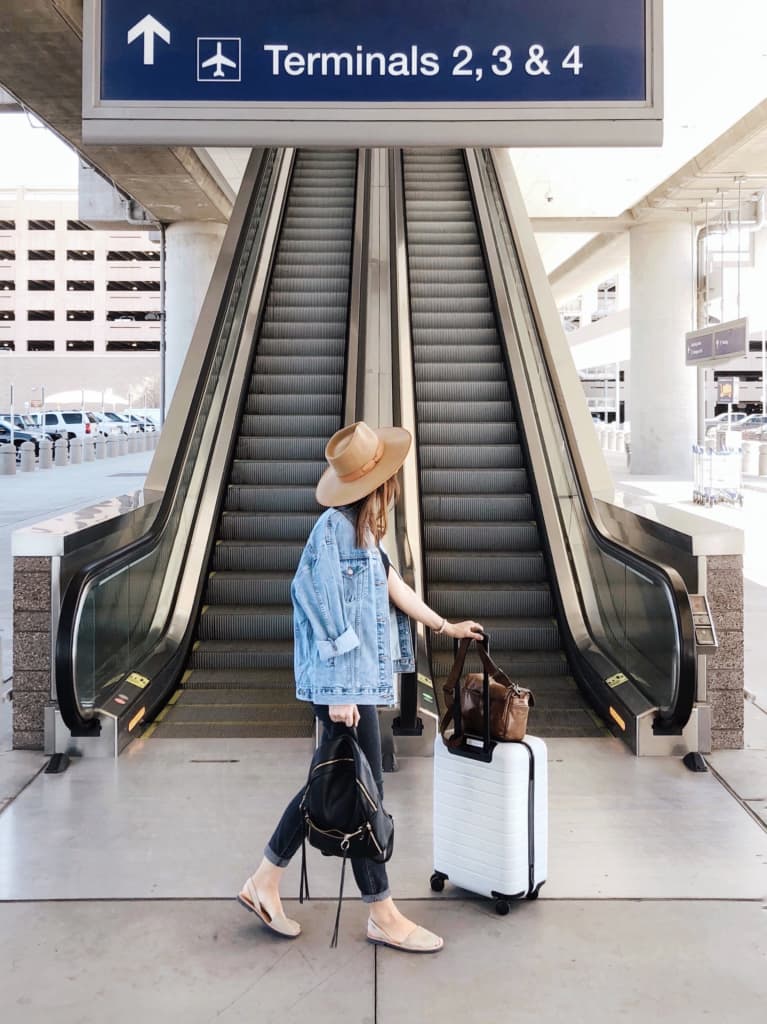 Our editors have independently chosen the products listed on this page. If you purchase something mentioned in this article, we may
earn a small commission
.
Thanks to Earth Day on the 22nd, April is always chock-full of new books with ideas on how to live a little greener. Today, we're sharing an excerpt from
101 Ways to Go Zero Waste
by sustainable living excerpt Kathryn Kellogg.
"Flying" and "zero waste" in the same sentence is kind of an oxymoron. However, that doesn't mean we can't take strides to make travel less wasteful.
Several airlines are working to cut emissions by using biofuels, and changes are happening, but they're happening slowly. For now, we should try to limit our emissions and reduce the amount we fly because telling people to stop traveling or visiting their family is just not viable.
Instead of skipping travel altogether, let's focus on doing it less and doing it better. Here are a few ways to get started during your next visit to the airport:
1. Use your vacation time wisely.
Opt for fewer trips that last longer periods of time instead of frequent, shorter trips. Remember the five-hour rule: The sweet spot for flying while considering how to lower your emissions expense is around four to five hours. Emissions increase on longer flights due to the weight of the additional fuel the plane must carry. On shorter flights, a higher proportion of the fuel is used for taking off and taxiing.
2. Don't forget your empty water bottle.
Empty is the very key word here. DO NOT bring a bottle full of water through security. You will get stopped. You will be unable to pour your water down a drain. You will have to choose between chugging it or throwing the water in a trash can.
Sticking to your zero-waste principles, you'll obviously have to chug it. Then you'll have to go through security again. Worst-case scenario, the TSA will tease you. You will be late for your flight. This will result in a middle seat, and you will have to pee the whole way.
All of this can be avoided if you just bring an empty water bottle.
3. Bring a snack (or three).
I don't know what it is about flying, but it makes me hungry. Luckily, you can bring your own food to an airport. Pack your own snack based on the amount of time you'll be gone and your hunger level. I bring a small Mason jar full of dried blueberries and nuts. I keep the blueberries and nuts in separate Mason jars, in case someone on my flight has a nut allergy (passengers with serious allergies will often alert the flight crew who will make an announcement to alert the other passengers).
4. Stock up on reusable travel bags and bottles.
You can buy a TSA- approved reusable, quart-sized, clear bag with a zipper. They're sold online and in most stores with a pharmacy section. They typically come with three or four 3-ounce bottles. Fill these with the products you already have. No need to waste plastic buying travel-size bottles! If you take good care of it, it should last you for many years to come. (I've had my TSA-approved bag-and-bottle set since I was in high school!)
5. Remember that there's no need to buy new entertainment.
I try to hit the library to grab a new book before I go on a trip. Checking a book out from the library is a great way to utilize the sharing economy. Most libraries have digital collections, too, so you can check out e-books and load them onto your phone or e-reader.
Based on an excerpt from 101 Ways to Go Zero Waste by Kathryn Kellogg, with permission from the publisher.
And do you want to turn your passion for wellbeing into a fulfilling career? Become a Certified Health Coach! Learn more here.