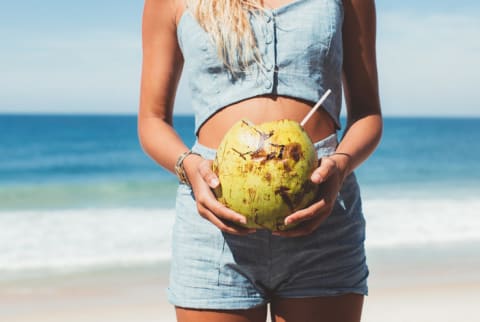 January 28, 2016
This is a tough time of year. I'm sure you're glad that the holidays are over, but it's typical to still feel some inflammation or bloat in the body. Bloat can be swollen fingers, bags or puffiness under your eyes or in your face, swelling in your belly, and an overall feeling of lethargy or heaviness.
It's time to flush out your lymphatic system, which is like your body's waste removal system. Here are six natural fixes I use to fight inflammation and bloat:
1. Make a morning elixir (lemon and apple cider vinegar).
First and foremost, one of the best things you can do for overall health and belly bloat is to consume a small glass or mug of room temperature water with 1 teaspoon of raw apple cider vinegar and a squeeze of lemon in the morning.
The apple cider vinegar acts as a probiotic rich in enzymes that will aid in digestion. It will rehydrate you immediately, which is essential upon waking. Your lymphatic system will wake up and start its job of flushing and cleansing. Lemons are also high in alkaline and will correct your body's pH level and start things moving in the right direction. Goodbye bloat!
2. Fennel tea
Fennel tea is something that I recommend to all of my clients if they are feeling bloated. Fennel has been used for thousands of years in many ancient cultures. The fennel seed contains several volatile oils that help with inflammation, kill bacteria and microbes, and are also antispasmodic. They have been known to increase digestion and rid the body of gas and bloating. They're also immune boosting and have been known to protect cells against damage.
There are many brands of fennel tea on the market, or you can simply buy the seeds, crush, and boil.
3. Asparagus
Asparagus is another amazing food to include in your diet that will help with bloating and inflammation. Asparagus is a natural diuretic, so it will help move things along quickly and push out waste. Here is an asparagus soup recipe that I love and is easy to make!
4. Ginger
Ginger should be a staple in your home. So versatile, so delicious. Ginger has a little spice, a little kick with a refreshing lemon yumminess. You can add it to any smoothie or juice, grate into salad dressing or stir frys, or simply cut it up and add to a small little pot of boiling water: ginger tea. It's a strong anti-inflammatory with tremendous medicinal properties that are healing to the gut. Ginger is a metabolism booster and a thermogenic food, which means that it helps to heat the body up from the inside out and will help with weight loss and bloat.
5. Cucumber water
Drinking water is one of the best things you can do. Rule of thumb: Drink half of your body weight in ounces of water. So, for example if you weigh 120 pounds you should be drinking 60 ounces of water per day. To make it more effective, cleansing, and de-bloating, fill up a few mason jars with water and slices of cucumber water. Pop them into the fridge and wow! Huge results from this little trick. Cucumber water is another natural diuretic; it contains silica, which helps pull the bloat out of your body.
Want to turn your passion for wellbeing into a fulfilling career? Become a Certified Health Coach! Learn more here.
Mia Stern
Mia Russo Stern is CEO of Brooklyn Culinary Arts,an online wellness/cooking school. As a certified health coach, raw food chef, recipe developer and food blogger, she graduated from the Institute of Integrative Nutrition in NYC, and is raw-food certified with David Wolfe and holds a certificate in plant-based nutrition with Dr. T. Colin Campbell through Cornell University. She also has advanced knowledge in the field of detoxification and has studied detox with Natalia Rose. She is certified by the American Association of Drugless Practitioners (AADP). Mia works with clients one-on-one or through group coaching to help them reach their wellness and weight-loss goals. Check out her website.