11 Creative Ways To Use A Sheet Pan For Any Meal
Chef
By Kristin Cole
Chef
Kristin Cole is a chef, educator, and coach who inspires others to think confidently in their kitchens and adopt the practical skills of simplicity and resourcefulness. She is a graduate of Williams College and ALMA Culinary School in Italy.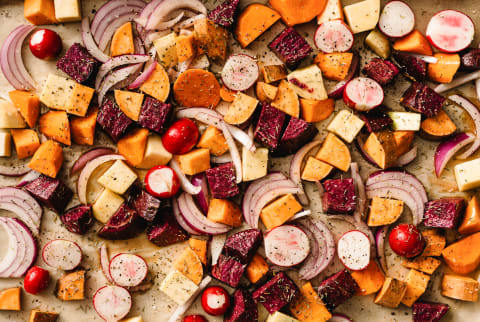 Image by Cameron Whitman / Stocksy
November 27, 2020
Having intentionally pared down my kitchen to the absolute essentials has led to an unexpected sense of creativity as I determine how best to multipurpose items through a lens of resourcefulness.
For example, while living tiny, I reduced my collection of eight nesting metal bowls down to just a single one (the 4-quart size has proved most versatile), which has created lasting benefits. I've enhanced my skills as a cook, maintained a calmer cooking environment, and freed up mental space now that I no longer need to select the proper size for a bowl. It's amazing to see the power in small, conscious decisions.
Same goes for a quality chef's knife and cutting board that, if carefully maintained, can take on any task that a gadget might do. I'd venture to say that resourcefulness is a quality we could all use more of this year as we learn to value what we have. After all, the notion of home and material possessions has taken on a new definition in 2020. We are all learning to treat our items lovingly, repair them, and as a last resort, replace them with a gently used version. Circularity should be central to our way of thinking.
With this mindset, I invite you to consider a humble kitchen item—the rimmed baking sheet or sheet pan—with a wider lens. And be sure you see and use it daily, not letting it collect dust as so many extraneous kitchen items tend to do when they're out of sight.
Here are some out-of-the-box ideas for how to multipurpose your pan—from the oven to the stovetop to the freezer and even right to your dining table!
1. Prepare and serve a family-style meal directly from the oven.
Talk about simple one-tray cooking for the win! I love this time of year when I can roast anything and everything, permeating the house with rich smells and disseminating some heat through the space. When selecting a sheet tray meal, it's important to pick veggies with a similar cooking time and to chop them in consistent shapes (who wants overly mushy and crisp oily carrots side by side?)
Colorful root veggies are usually at the base of my tray where I roast them simply in coconut oil, salt, and a touch of coriander. I leave the middle area empty for a protein like salmon or chicken thighs, determining the best time to add them so that everything comes out perfectly crisp and tender from the oven. Certainly an art and science. Check out these recipes to get your taste buds inspired!
2. Line with parchment paper and you've got a blank canvas for appetizers.
This is one of my favorite and most artistic ways to display ingredients! Cut a piece of parchment paper to fit your pan, and then get the creative juices going to create a masterful work of culinary art. Create a few visual focal points with a bowl of colorful dip, a wheel of cheese, or a piece of whole fruit.
Then spiral around and use varied colors, textures, and shapes when arranging your board. You will be amazed at how beautifully you can showcase a tray of cheese, salumi, antipasto, or mixed fruit. Plus, with just a piece of parchment to remove, cleanup is a cinch!
3. Turn it into your personal room-service tray.
When the morning dining room table routine calls for disruption, my wife and I will lay a blanket on the living room floor or patio and switch out the vibe. While she prepares the ambience with candles (yes, even in the a.m.), I'll dish out a simple meal that I can carry over. My sheet tray, lined with a beautiful dishtowel, small flower bud, freshly brewed coffee, and a hardy skillet to share, is the perfect vessel for safely transporting the meal and whisking us away to faraway hotels. The year 2020 is all about mind travel, right?
4. Cover your cast-iron pan with this snazzy lid.
Since these all-purpose pans rarely come with a lid, the sheet pan saves the day again for simple steaming of veggies or finishing a fried egg. Just add a small amount of water to the base of the pan with whatever you're steaming, and once it starts to lightly bubble, top it entirely with a sheet pan to trap in all the moisture. As a bonus, you can even place whatever needs warming (like your plate) directly on top of the pan for that short wait while you are steaming. Multipurposing to the max. When you're done, just wipe the water droplets off the bottom of the pan, and it's good to go for its next task.
5. Keep the stovetop splatter-free.
Speaking of next task, let's say you wanted to transition from steaming to shallow frying in the same cast-iron pan. Simply empty out the water you just used, heat your pan to dry it fully, and add in the cooking fat until it gets nice and hot. Carefully arrange your piece(s) of meat or sliced baby eggplants with plenty of space between them, then be patient as the magic happens. In order to avoid an oily mess of my stove area, and because I don't own a splatter screen (minimalist here), I'll partially cover the pan with my sheet tray. But here's the key: Don't forget to leave a small opening so that you don't accidentally steam the meal and miss out on that crispy, caramelized goodness we're all after!
6. Flip it over for an instant trivet.
If I'm going to be serving a family-style feast or buffet, I find it much more efficient to invert a sheet pan and use the whole surface for hot platters, casseroles, or whatever I just concocted in that cast-iron pan. I love how this keeps the dishes more centralized versus on individual trivets scattered around the place settings where you might just miss that crucial one. Plus, hot and bulky cookware is always awkward to pass and serve from, so why not make this easier for all?
7. A handy shortcut for the perfect risotto.
One of the best hacks I learned while working in a restaurant is how to shorten the cook time for risotto once it's ordered a la carte. A true risotto requires 20 solid minutes and a lot of attention from the cooks. However, if you find yourself wanting to make this special rice dish at home to impress a special someone, you can partially prepare it ahead of time—up to halfway—and then finish it and serve right from the pot (see No. 6).
To do so, follow your favorite risotto recipe for about 10 minutes, and then spread all of the par-cooked rice onto an oiled sheet tray for an immediate zap in the freezer to stop the cooking process. Remove after 3 to 5 minutes (any longer and your other freezer items will suffer) and either store in your fridge or on the counter. As soon as you're ready to impress, just pour the rice back in the pan and finish the process, using a little extra hot broth to make sure it's fully rehydrated. This trick's a keeper.
8. Try your hand at a gluten-free polenta pizza.
So you've stirred your way to a huge pot of soft, creamy polenta. You serve yourself a bowl topped with some roasted veggies, lemon zest, and a poached egg. What to do with the rest? It's time to repurpose this porridge into the base for a perfect weekday pizza!
Using a rubber spatula, transfer the polenta to a greased baking sheet and smooth the top, letting it rest in the fridge to set for a couple of hours or overnight. When you're ready for an easy dinner, pop the tray into a 450-degree oven for 20 minutes, then pull out and decorate with your favorite toppings. Cook for another 5 minutes, for a healthy pizza the whole family will crave.
9. Seal the seasons.
At the peak of peach and berry season, I'll tend to haul as much as I can carry home from the farmers market (and also usually get a good deal for buying in bulk). I spread the berries or sliced peaches (no need to peel) out individually on a sheet pan and place it directly in the freezer. Once the fruit is frozen and free of clumps, I'll transfer these summer gems to a reusable silicone bag and store in the freezer.
You never know when you'll crave a strawberry shortcake in the middle of winter or a balsamic blueberry compote to top those pancakes. Frozen fruit is also an easy, natural sweetener for your smoothies any time of year. (P.S.: It also works with tomatoes!)
10. Become a chocolatier.
It's simple to make your own healthy chocolate bark at home where you can control the ingredients and adjust for sweetness or crunch levels. I mix together 100% cacao powder, melted virgin coconut oil, and coconut sugar and spread onto a parchment-lined sheet pan, finishing with a sprinkle of salt. Once cooled in the fridge, it'll break off easily for a healthy chocolaty treat. And for an earthy, grounding taste, give this chocolate tahini bark a whirl.
11. You thought I'd forget oven cooking?
The humble sheet tray is ideal for a spectrum of temperatures and functions:
Low and slow heat (170ish or the lowest setting): Rehydrate overnight-soaked nuts for optimal health benefits, or dehydrate thinly sliced fruit (persimmons are a winner in our home).
Medium heat: granola, your standard baked goods, and perfectly tender potatoes of any variety–from traditional Russet to vibrant purple-fleshed Japanese sweet potatoes. Or DIY kale chips! Be sure to save the stems for later (a fine chop and sauté is all they need to prevent them from going to waste).
High heat (broiler): Crisp up sausages and lightly oiled and salted veggies like smashed baby potatoes (pre-boiled) for a crunchy treat.
However you use your sheet pan, chances are it's helping you save time and energy—or just somehow making your day easier.
Kristin Cole
Chef
Kristin Cole is a chef, educator, and coach who inspires others to think confidently in their kitchens and adopt the practical skills of simplicity and resourcefulness.
She encourages her students to lead with intuition and connect with nature in a world of overwhelming choices. It is through small lifestyle shifts that she sees the potential for change to our wellbeing and that of the planet. The reduction of food waste is at the core of Kristin's work—from selecting and storing ingredients to preparing healthy meals and reinventing leftovers. She is a graduate of Williams College and ALMA Culinary School in Italy.