3 Herbs That May Help Soothe A Stubborn Cough
RYT 500
By Amy Jirsa
RYT 500
Amy Jirsa, LMT, is a master herbalist, E-RYT 500 yoga teacher, forager, and writer from Maine. She is the author of Herbal Goddess: Discover the Amazing Spirit of 12 Healing Herbs with Teas, Potions, Salves, Food, Yoga, and More and the founder of Quiet Earth Yoga.
Medical review by
Heather Moday, M.D.
Allergist & Immunologist
Heather Moday, M.D. is the founder of the Moday Center for Functional and Integrative Medicine in Philadelphia, where she practices both traditional medicine and integrative medicine.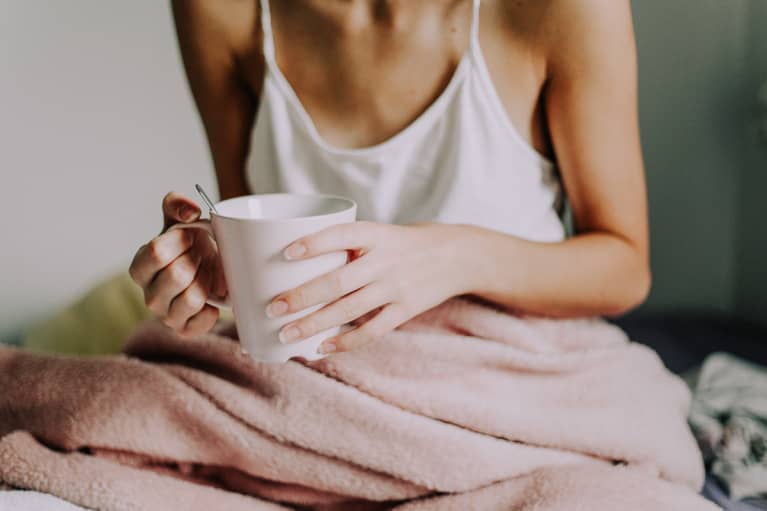 Last updated on November 30, 2020
Have you ever noticed how quickly an illness can descend upon us once the holidays are over? It's not all that surprising, since we may have more decadent meals, less physical activity, maybe late nights and less sleep than we're used to all add up to a fatigued immune system.
Plus, the flu season tends to peak from December to February, as well as the common cold, making people even more exposed to infections. Runny nose, headaches, and coughs are common symptoms of both cold and flu.
If the illness is not serious enough to need antibiotics, but you want to quell that nasty cough, there are a few herbs that can help manage the symptoms. Always check with your physician first, but if they give the go-ahead, consider some of these natural remedies:
Horehound is a member of the mint family, but unfortunately didn't inherit any of mint's sweetness. "The herb is used to prepare the well-known horehound candy, which, due to its pleasant taste is used to relieve cough, hoarseness, and bronchitis," a Molecules study says.
Traditionally, horehound is prepared as a cough drop, but could also be brewed as a tea with honey and lemon added. Again, this is generally not recommended for those who are pregnant.
If you buy over-the-counter herbal cough syrups, you'll probably find wild cherry bark as a key ingredient—and for good reason. Wild cherry has traditionally been used for its analgesic (pain-relieving), antiseptic, and anti-inflammatory properties, studies show.
You can use wild cherry as a tea, but it's most often found as a syrup. This remedy is commonly not recommended for small children, nursing mothers, pregnant women, or people with severe kidney or liver disease. It's also not recommended for long-term use.
If after a few days these herbal remedies aren't helping or if you develop more severe symptoms such as worsening sore throat, shortness or breath of fever, contact your doctor to see if something more serious is going on.