3 Herbs That May Help Soothe A Stubborn Cough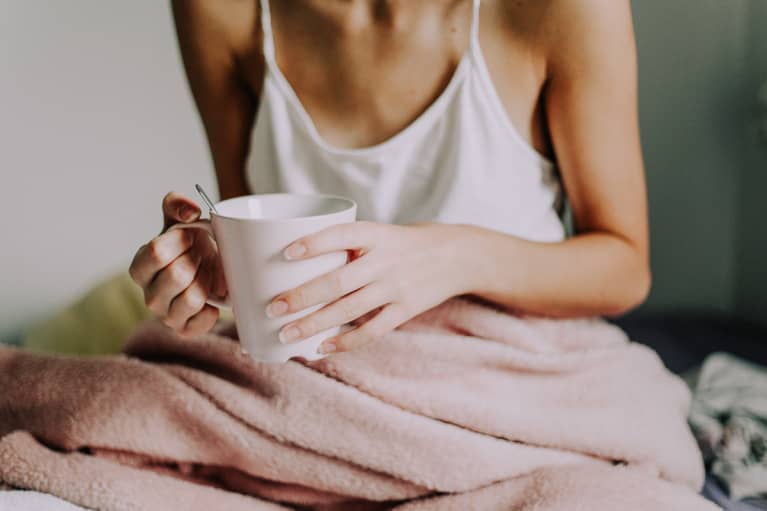 Our editors have independently chosen the products listed on this page. If you purchase something mentioned in this article, we may
earn a small commission
.
Last updated on July 28, 2021
Have you ever noticed how quickly a cold can sneak up on you? Sometimes it arrives after periods of less physical activity, late nights and less sleep than we're used to, or maybe a bit of extra traveling. Whatever the trigger for a weakened immune system, the end result (think: runny nose, headache, and cough) is less than ideal.
If the illness is not serious enough to need antibiotics, but you want to quell nasty symptoms (such as a cough), there are a few herbs that can help manage. Always check with your physician first, but if they give the go-ahead, consider some of these natural treatments:
Horehound is a member of the mint family, but unfortunately didn't inherit any of mint's sweetness. "The herb is used to prepare the well-known horehound candy, which, due to its pleasant taste is used to relieve cough, hoarseness, and bronchitis," a Molecules study says.
Traditionally, horehound is prepared as a cough drop, such as Ricola's natural herb cough drops (which also feature sage, along with lemonbalm and peppermint). Horehound can also be brewed as a tea with honey and lemon added.
Again, this is generally not recommended for those who are pregnant.
If you buy over-the-counter herbal cough syrups, you'll probably find wild cherry bark as a key ingredient—and for good reason. Wild cherry has traditionally been used for its analgesic (pain-relieving), antiseptic, and anti-inflammatory properties, studies show.
You can use wild cherry as a tea, but it's most often found as a syrup. This remedy is commonly not recommended for small children, nursing mothers, pregnant women, or people with severe kidney or liver disease. It's also not recommended for long-term use.
If after a few days these herbal remedies aren't helping or if you develop more severe symptoms such as worsening sore throat, shortness or breath of fever, contact your doctor to see if something more serious is going on. It's also worth noting that to keep your body healthy and feeling great, remember to make immune support part of your daily practice—not just when you catch a cold. Make herbs part of a consistent practice, or consider these crucial immune-supporting strategies.