How These 8 Yogis Exercise When They're Not Doing Yoga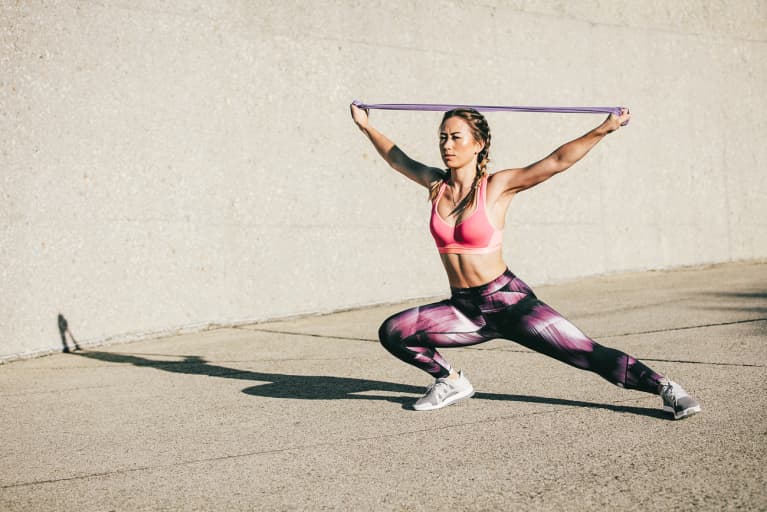 Our editors have independently chosen the products listed on this page. If you purchase something mentioned in this article, we may
earn a small commission
.
Reduced stress and improved circulatory and cardiovascular health are only two of the many benefits of a regular yoga practice. But the self-care rituals of yogis are hardly limited to time spent on the mat. In addition to a healthy diet, sufficient sleep, and consistent meditation, yogis dabble in other forms of exercise as well.
Here, eight famous faces in the yoga world reveal how they work out when they're not doing yoga.
"When I am not doing yoga and I need to move around a bit I either go for a 4-mile run (headphones in), or The Class by Taryn Toomey—which I also teach—or Pilates Platinum, which is the hardest for me to commit to but exactly why I need it the most. I have been leaning toward a good old-fashioned African dance class, too, time to shake up the fitness studio vibe a bit. " —Heather Lilleston, Yoga for Bad People co-founder
"My friends Marisa and Lauren teach a dance class called MOVES that meets every other Thursday in the SKY TING building, and it's my church! I never miss this class. We dance for 90 minutes to fun music and learn a combination at the end. It's cheesy to say it, but I really do leave my stress out on the dance floor. When I'm not dancing, I love going to see my friend Joe Holder at S10. He's my friend from the Nike community and we trade classes—he comes to yoga at SKY TING, and I get my ass kicked at S10, which is a high-intensity and strength-training workout. When I'm on retreat or vacation I love swimming in the ocean or running on the beach." —Krissy Jones, SKY TING co-founder
"When it's temperate, I love running outdoors (especially in Central Park) and Rollerblading with my son and partner. When it's super cold, walking at a steep incline on the treadmill at the gym and my 'Sweat with Kayla' app gets me warmed up and feeling fresh and new every time." —Elena Brower, yoga instructor and Art of Attention author
"When I'm not doing yoga, my go-to workout routine is HIIT. It's typically a 30-minute workout with seven moves repeated four times. Each move is performed for 45 seconds with a 10-second rest in between. This workout involves anything from lunges to push-ups to burpees or squats. It's pretty intense, but I love cardio. I used to be a runner before I hurt my knee in a marathon in 2015, so now I try a lot of different ways to make me sweat. It's also a great way to get warmed up if you're planning on improving your flexibility with a good stretch afterward." —Megan Lawing, yoga instructor
"Balance is key for me, and trying new, fresh ways of movement are a necessity to keep me interested for fitness. After 33 years, I actually started running a bit! In the gym, I do a mix of mild cardio along with weights for core stabilization, coming up with creative sequences using props like a stability or medicine ball, and TRX bands for strengthening and stretching (it's the gym version of an aerial swing). Also, living in Miami Beach, fitness outdoors is always easy to find, so you can catch me walking or biking to many nearby locales." —Sara Quiriconi, yoga instructor and retreat leader
"When I'm not practicing yoga, you can usually find me on a rock wall, at the ballet bar, or on an acro green. Each one of these activities forces me to come face to face with a boundary and expand beyond it. I rock climb because it challenges the limits of my flexibility and strength. The full-length mirror in a ballet class summons me to show up, to accept and love myself just as I am. The acro green teaches me to grow to new levels of trust within myself and with another person. Exercise is great for the body, but if we all look a little deeper it's not difficult to find activities that feed the body and expand the soul." —Chelsey Korus, yoga instructor
"When I'm not doing yoga I love to do high-intensity interval training (HIIT). It speeds up my metabolism and sculpts my body in all the right places! I spend about 10 minutes, four or five times a week for best results. I also run or walk a mile every day to get out in nature and keep my cardiovascular health on point. And I love dancing as much as possible." —Koya Webb, yogi, health coach, and motivational speaker
"When I'm not doing yoga, I love to take barre classes at my Pure Barre studio in Beverly Hills. These classes are fun for my body and mind because they are challenging but fused with awesome, high-energy music and motivating teachers that help me push myself in a new way and get me out of my head.
I also love to hike. My husband and I often travel to new places where we can immerse ourselves in nature and spend several hours a day hiking. In fact, we just came back from a two-week trip to Patagonia!
When I'm in a crunch for time or in the mood to really sweat and move some energy or anxiety, I love to go to the gym. I put on some awesome music and go nuts with about 45 minutes of cardio, then abs and some barre work and light weights. You'll even catch me dancing and moving all of my limbs on the elliptical and the treadmill." —Kelsey Patel, yoga instructor