Organize Your Life In Time For The New Year With This 3-Day Overhaul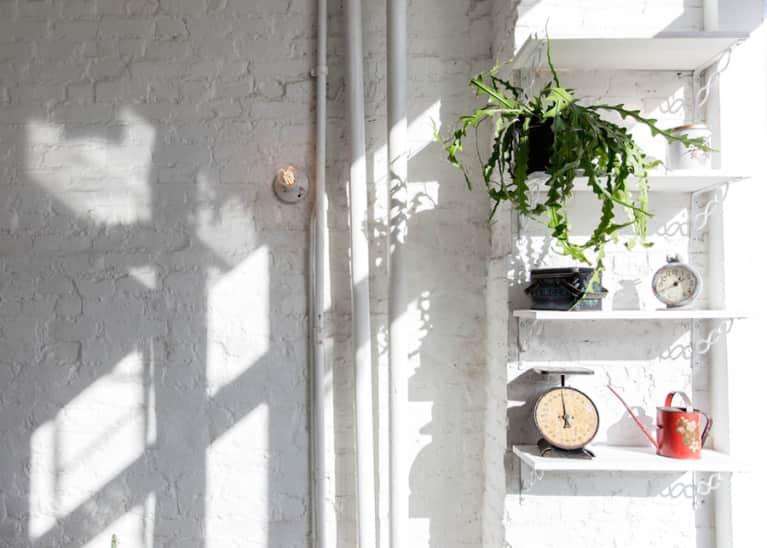 This time between Christmas and New Year's is reserved for dreaming up what we want to welcome into our lives come January 1. Crafting a clean outward space can help deepen this inward reflection, so organizing our surroundings before the ball drops is a great idea.
This quick plan will help you start 2017 with a cleaner slate on which to paint those deeply rooted intentions. Decluttering doesn't have to be clinical; these three activities are as enjoyable as they are effective. So set aside a few moments in between finishing off those holiday leftovers and bingeing on your latest Netflix obsession to set up your space for purpose.
Day 1: Set the stage for routine.
The right morning routine equips you with energy and positivity, while a great nighttime routine will put a full stop on the day that's passed. Today, organize a space that inspires the routines you want to keep up with in 2017.
That could mean unleashing a mat in your bedroom corner for a morning yoga practice, reserving a shelf for the natural skin care products you want to start applying every night, or placing all of your soothing essential oils in a pretty box next to your bed. Craft a prominent, visual reminder of your commitment to start and finish your days with intention in the new year.
Don't have a morning or evening routine nailed down yet? Here are some resources to help you build the perfect one:
Day 2: Tackle your personal space.
Tomorrow, pinpoint one room in your home that deserves your attention. It could be the place you spend the most time in or the one that feels the most personal. Then, make it as clean and conducive to productivity as possible using these tried-and-true methods:
Before you dive into the space with trash bag in hand, take a cue from The Minimalists and try out the 10-10 exercise: Take a sheet of paper and write down the 10 things you spent the most money on in the last decade on the front. Flip the sheet over, and write the 10 most meaningful experiences you've had over the last decade. Then, see how the two sides relate to each other. This quick activity will likely remind you that money can't buy meaning and make you more comfortable with the act of letting go of the material.
Once you're in this minimalist frame of mind, you can embark on a Kondo-inspired tidying festival. Marie Kondo's simple cleaning philosophy is universally resonant for a reason, so set aside an hour or so to give it a real shot. Take every item in the room in your hand, ask yourself if it sparks joy, let your answers guide you, and see what sort of clarity comes up.
Day 3: Shine a light on 2017.
Harness all that New Year's Eve excitement by marking up your 2017 calendar a day early. But instead of highlighting deadlines and to-do's in red ink, only call out the moments you're eagerly awaiting. Think of this of a proactive way to check in with yourself and your happiness peaks.
It could mean doodling a sun on the spring solstice to symbolize a return to light, framing a best friend's birthday in a colorful display, or highlighting a trip you just booked. Make it a fun opportunity to think up as many celebrations as you can and feel a wave of gratitude for the opportunity to relive your favorite occasions and hopefully welcome a few new ones.