A Trick To Clearing Negative Energy From Every Room In Your Home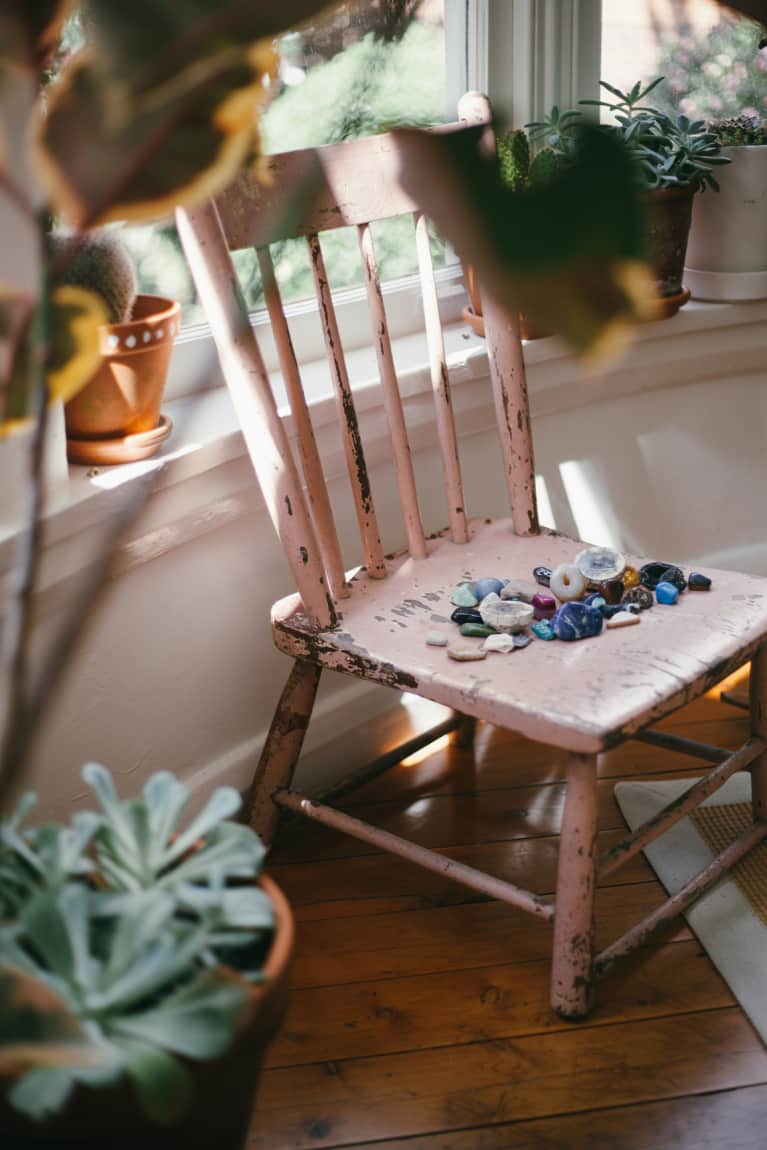 A leading voice on modern spirituality, Emma Mildon has traveled the world studying everything from auras to aromatherapy. This week, we're sharing her expertise in a series on harnessing healing crystals to attract a more vibrant life. To learn more, check out her new mindbodygreen course, Crystals 101: How to Use Crystals to Clear Negativity, Attract Love & Heal Yourself Naturally.
When you walk into your house, you should instantly feel the weight of the world lift and any worries melt away. Achieving this type of cleansing space can seem like a major task, but bringing in good vibes doesn't have to be so hard.
Healing crystals could be just the thing you need to shift your energy and create a holistic home sweet home. Here are the top crystals to add to each room:
If you want to bring in wealth and good luck (and who doesn't?), place a jade stone by your door or in your front window to attract abundance. While you're at it, place a coin or two next to it for an extra boost of feng shui.
For you bedroom: Amethyst
Place an amethyst crystal under your bed, on your bedside table, or beneath your pillow (but if you go this route, make sure it's a polished one!). Amethyst is the ultimate dreamer's stone, as it supports calm, balance, and peaceful energies that can help you connect to your higher spiritual self as you sleep.
For your kitchen: Rose Quartz
Up your cooking game and create a loving eating environment by placing a rose quartz in your kitchen. This crystal comes equipped with healing, nurturing energy, so it can help you become the master chef behind some serious soul food!
For your bathroom: Clear Quartz
Step away from the scales and back off from that wrinkle or pimple cream. Clear quartz is a great stone to support confidence and self-love in the bathroom. It clears the energy that surrounds it so it's perfect for when you're stripping down and cleansing yourself of any negative toxins from your day.
If you're looking to boost your concentration, focus and mental stamina, citrine is the go-to crystal to keep on hand in your study or place of work. It's also known as the success stone, so it comes in handy when on the job!
For your children's room: Obsidian
Protective stones can help ward off the nightmares, fears, or anxieties that might haunt little ones at nighttime. The obsidian crystal works like a black sponge and soaks up anything that isn't loving, positive, and safe. This is a great stone to leave watching over your little ones while they visit dreamland.
For your sitting room: Amber
The space you visit to put your feet up and unwind needs to be blanketed in a relaxing energy. Amber is a great stone to keep near the couch, for it brings positivity, purifies the space, and also brings in a splash of romance.
It is important that you focus on the crystals that speak to you and resonate with your energy. So if the color, shape, or size of a certain crystal jumps out at you, get that one! It appeals to you for a reason, and you know your energy better than anyone else.