Prepare To Be Surprised By Ronda Rousey's Swimsuit On The Sports Illustrated Cover
January 9, 2016 — 16:41 PM
2015 was a big year for Ronda Rousey.
We watched in awe as she dominated competitors in record time and served up badass comebacks to anyone who doubted her or women in general. She was undefeated until November, when a knockout by competitor Holly Holm left her unable to enter the ring for six months due to a mandated medical suspension.
But America's favorite fighter clearly isn't letting the blow hold her back. She's already making waves in 2016 with her unconventional cover shoot for the Sports Illustrated swimsuit edition.
Instead of traditional covers celebrating thin models in revealing bikinis, this year's will feature Rousey's athletic frame highlighted by a painted-on one-piece. That's right — her suit will be made entirely of body paint.
In a behind the scenes SI video, the UFC champ said that she had no hesitations about signing on for the shoot.
"There shouldn't be just one cookie-cutter body type that everyone is aspiring to be," she said.
Sports Illustrated editor, MJ Day, posted a teaser photo of Rousey's curve-hugging suit to Instagram earlier this week, but you'll have to wait until next month to see the final product hit stands.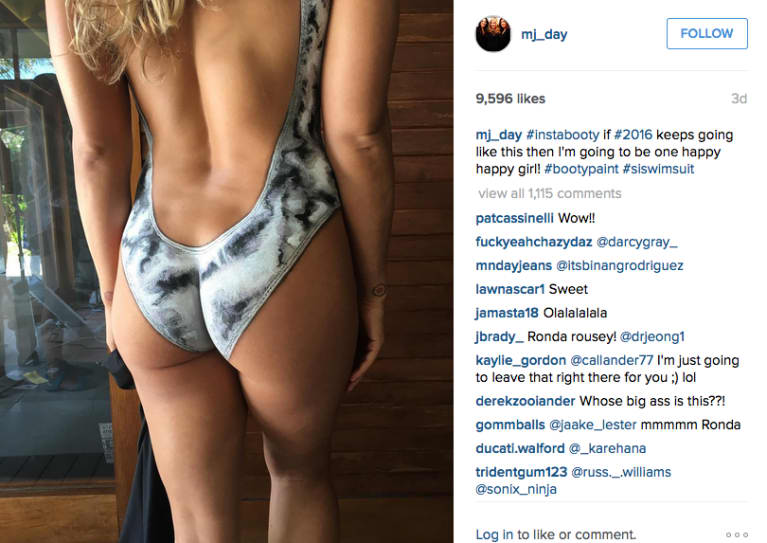 Previous swimsuit issue covers have been called out for objectifying women, so it's refreshing to see one that celebrates a powerful, in-control female. Strong really is the new skinny. And body paint really might be the new cotton.
OK, maybe not. While we won't be gracing the beaches in acrylic this summer (the sand and paint combo seems pretty troublesome), we applaud Rousey for doing so and proving that a knock-out body can take on many shapes and sizes.