The 13 Best Vegan Lip Balms For Your Juiciest Pout Yet (Thank Us Later)

mbg Beauty & Wellness Editor
By Jamie Schneider
mbg Beauty & Wellness Editor
Jamie Schneider is the Beauty & Wellness Editor at mindbodygreen. She has a B.A. in Organizational Studies and English from the University of Michigan, and her work has appeared in Coveteur, The Chill Times, and Wyld Skincare.
Last updated on January 10, 2022
Our editors have independently chosen the products listed on this page. If you purchase something mentioned in this article, we may
earn a small commission
.
You'd be surprised by how many lip balms call on animal-derived ingredients to top off moisturizing formulas. This is not a bad thing—when ethically sourced, of course—as many of these ingredients have emollient properties to butter up parched lips (more on that point in a moment).
Advertisement
This ad is displayed using third party content and we do not control its accessibility features.
That's not to say you can't get those same properties from other botanicals. If you follow a plant-based lifestyle, simply look for vegan lip balms: They're just as luxurious and decadent as their animal-based counterparts, with plush textures that melt into the skin. Plus, many come loaded with soothing, hydrating players to heal a flaky, chapped pout. Well, our picks below certainly do.
Advertisement
This ad is displayed using third party content and we do not control its accessibility features.
What makes a lip balm vegan?
Let's chat ingredients: While many brands may include vegan-friendly marketing to ease you along on your search, it's also helpful to become familiar with some of the most common watch-outs. And on the subject of labels, just remember: A product marked cruelty-free isn't always vegan, and vice versa.
Beeswax: A super-common ingredient in lip balms (you may also see it listed as cera alba on the label), as beeswax coats the lips in moisture and adds a nice occlusive shine. It's a natural wax produced by bees to make their honeycomb—so, alas, it's not vegan.
Honey: On that note, honey is also (usually) not part of a vegan lifestyle. It's a wonderful humectant (which means it can draw water from the environment into your skin), but vegan lip balms tend to focus on other hydrating, plant-based ingredients.
Lanolin: A waxy occlusive, lanolin seals moisture into the lips, which can help heal the cracked and dried skin. It's a fine and safe ingredient; however, lanolin is actually a yellow fat that comes from sheep's wool1, which is decidedly not vegan.
Carmine: A red dye derived from beetles (yes, beetles) that gives lip balms a cherry pigment. If you have a tinted balm, it's something you might want to look for.
Advertisement
This ad is displayed using third party content and we do not control its accessibility features.
Best vegan lip balms. 
These lip balms don't just skip the animal-derived ingredients—they're also full of good-for-you butters and oils to soften your pout.
mindbodygreen lip balm
We chose sunflower seed wax for our vegan base, as it provides a protective barrier over the skin without a too-sticky texture. Another great perk? Sunflower seed wax leaves a very slight glaze on your pout—it's the perfect satin-like finish, never too glossy or dull. Of course, we can't forget about the other skin-softening actives in the formula: There's shea butter to soften lip cracks, moringa seed oil to soothe flaky areas, and hyaluronic acid for a subtle plumping effect.
lip balm, mindbodygreen ($12)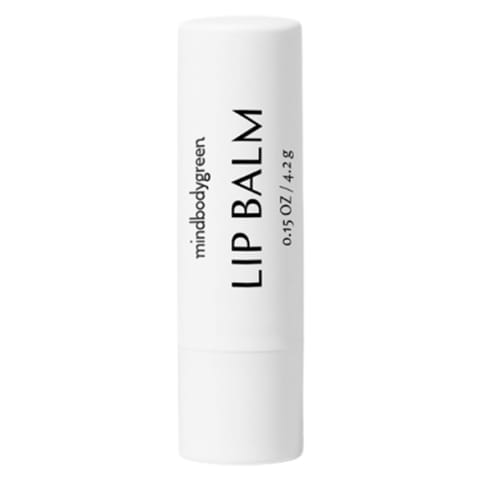 mindbodygreen
Advertisement
This ad is displayed using third party content and we do not control its accessibility features.
Milk Makeup KUSH Lip Balm
Shea, cocoa, and mango butters give this salve a luxurious, creamy feel, while the hemp-derived cannabis seed oil soothes and hydrates. It also includes sage extract and peppermint oil for a subtle yet refreshing sensation. And if you're looking for a kiss of color? Take your pick from four stunning tinted shades.
KUSH Lip Balm, Milk Makeup ($16)
Milk Makeup
LANEIGE Lip Glowy Balm
This grapefruit shade delivers the juiciest, kissable pout, providing a glossy finish that never reads sticky with a natural pink flush. It's the little sister to the brand's cult-favorite lip sleeping mask—it locks in hydration (thanks to murumuru and shea butters), yet it's lightweight enough to wear all day long.
Lip Glowy Balm, LANEIGE ($17)
LANEIGE
Tatcha Camellia Gold Spun Lip Balm
If you're looking for luxury, well, allow us to introduce you to this gold spun number. Yes, it actually contains flecks of crushed 23-karat gold for a subtle shimmer; it's also rich in Japanese camellia oil, which contains a host of vitamins and fatty acids (namely oleic acid) to truly protect and nourish the lips with moisture.
Camellia Gold Spun Lip Balm, Tatcha ($30)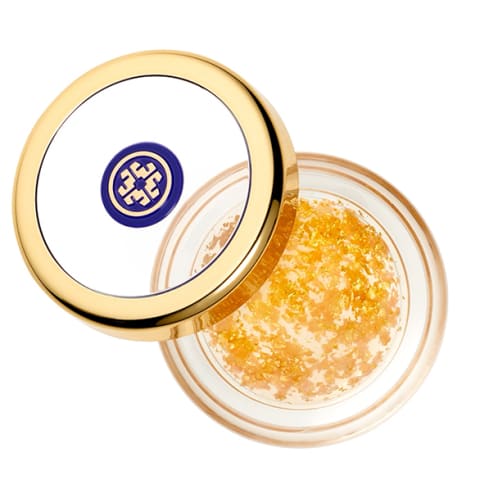 Tatcha
Advertisement
This ad is displayed using third party content and we do not control its accessibility features.
Biossance Squalane + Rose Vegan Lip Balm
Instead of beeswax, this balm calls on rose wax—a rich and creamy (yet surprisingly fragrance-free) botanical that coats the lips in moisture. Ceramides, hyaluronic acid, and sugar-cane-derived squalane also drench the lips in hydration, while wakame algae subtly plumps and softens. Essentially, it's a formula that delivers healthy lips from multiple angles.
Squalane + Rose Vegan Lip Balm, Biossance ($14)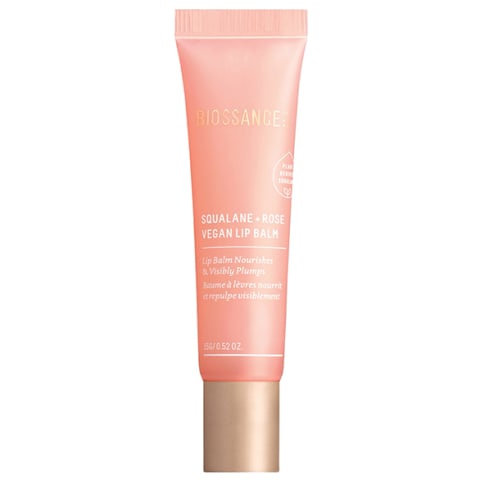 Biossance
Vertly Lip Butter
We often use the term "soft as butter" to describe creamy balms, but this one truly fits the bill. Ingredients like shea butter, cacao butter, and kokum butter add to the silky formula, while jojoba, apricot, coconut, and hemp seed oil moisturize and soothe. A bonus? The tinted option boasts the perfect shade of rose.
Lip Butter, Vertly ($20)
Vertly
BITE Beauty Agave Lip Butter Balm
Agave nectar is a common alternative to honey, given its rich flavonoid content and skin-soothing abilities. (Agave was traditionally used 2to treat cuts and burns and speed up wound healing). In addition to the nurturing ingredient, this balm includes shea and mango seed butters and avocado oil to send much-needed moisture to dry, cracked lips.
Agave Lip Butter Balm, BITE Beauty ($22)
Bite Beauty
tarte SEA Quench Lip Rescue Balm
This balm delivers an intense splash of moisture, whether you choose a clear, high-shine finish or one of the subtle "my lip, but better" shades. Coconut oil, jojoba oil, and murumuru seed butter condition the lips, while a blend of algae and marine flower extracts put in the work to plump and soften fine lines.
SEA Quench Lip Rescue Balm, tarte ($19)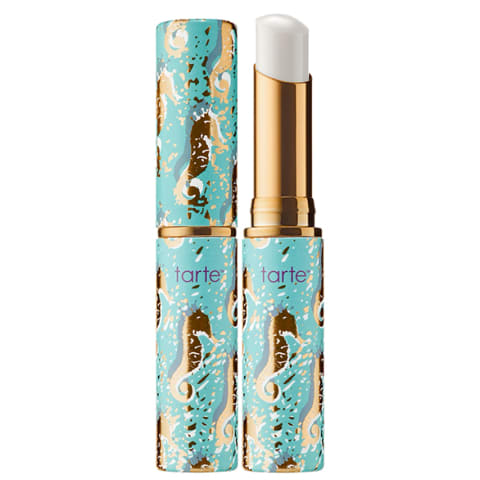 tarte
Honest Beauty Tinted Lip Balm
Sunflower seed wax is the beeswax alternative in this here lip conditioner; paired with avocado oil and cocoa seed butter, the stick glides across the lips oh-so-effortlessly. Antioxidant-rich acai and pomegranate extracts also protect the pout, keeping the skin kissable and smooth.
Tinted Lip Balm, Honest Beauty ($8.99)
Honest Beauty
Pholk Beauty Werkacita Allover Balm
We love a multitasking moisturizer, and this one has only a handful of simple ingredients: mango butter, jojoba butter, hemp seed oil, glycerin, and soothing essential oils. Feel free to apply this triple-whipped, velvety balm from head to toe, including a dab on extra-parched lips.
Werkacita Allover Balm, Pholk Beauty ($14.40)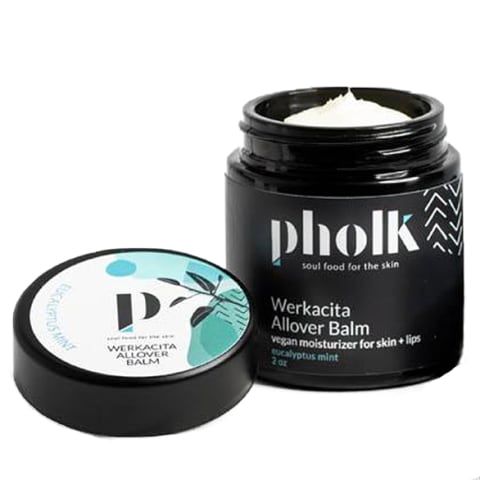 Pholk Beauty
EleVen by Venus Williams Perfect Form Lip Balm SPF 15
Yes, your pout needs sun protection, too. (We have a full SPF lip balm guide, if you're in the market.) This glossy vegan balm contains zinc oxide, as well as shea butter and bayberry fruit wax for a silky, moisturizing texture.
Perfect Form Lip Balm SPF 15, EleVen by Venus Williams ($19)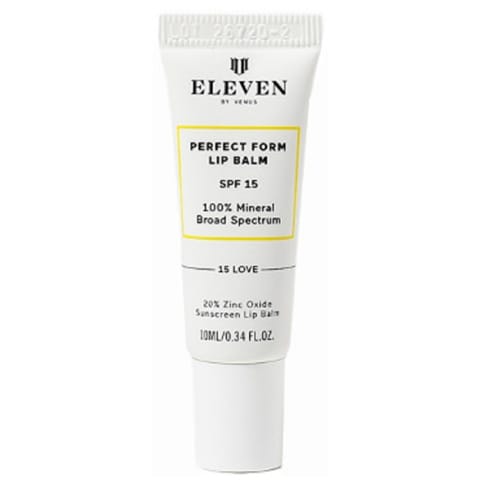 EleVen by Venus Williams
PYT Beauty So Extra Tinted Lip Balm
This juicy salve has such an easy glide, thanks to the moisturizing properties of olive oil, coconut oil, and grapeseed oil. Hyaluronic acid and aloe vera extract also make an appearance to help the lips appear plump and supple, and the soft wash of color offers a smooth satin finish.
So Extra Tinted Lip Balm, PYT Beauty ($16)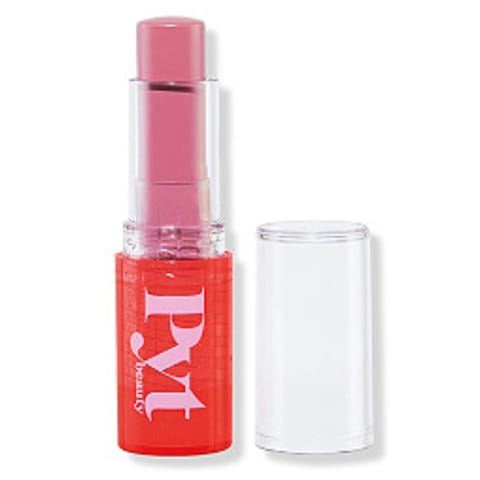 PYT Beauty
BYBI Beauty Babe Balm
Another multipurpose balm that's superb for flaky cuticles, eyebrows, and, of course, cracked lips. It has a menu of antioxidant-rich ingredients to repair and soften the skin—think shea butter, castor seed oil, camellia seed oil, CoQ10, and carrot root extract. We also love the sugar-cane packaging, as it's a carbon-neutral material that's 100% recyclable.
Babe Balm, BYBI Beauty ($19)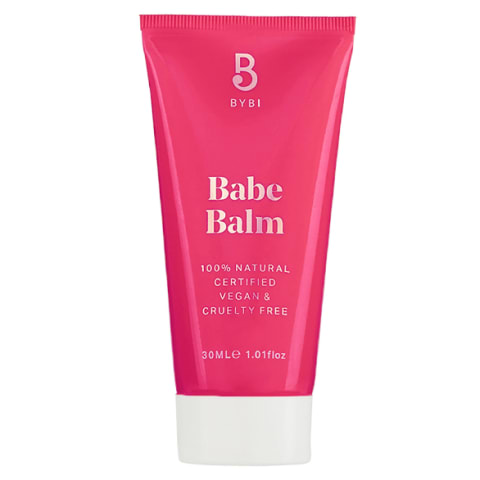 BYBI Beauty
mbg's review process
At mbg, high standards are earned—and there are no shortcuts. Our beauty editors stay up to date on the latest ingredient research and innovation. It's a dynamic, continuously evolving space, and it's important we look into the science so we can make informed choices about which formulas earn our stamp of approval (figuratively speaking).
Our high standards also come from testing products—many, many products. Our editors and writers rigorously test and research the products featured in our roundups to offer you the best, most informed recommendations. When we write reviews, you can trust we spend quality time with the formulas: We don't simply rave about products we've slathered on the back of our hand. We endorse products we've tried and loved.
Learn more about our testing process and clean beauty standards here.