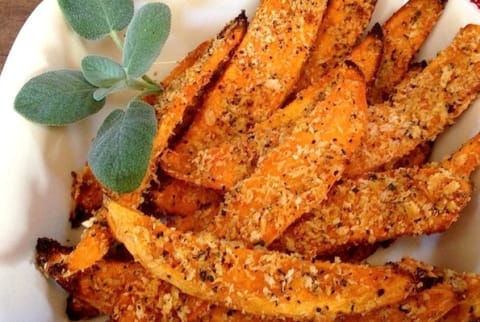 October 3, 2013
These sweet potato fries are so good the potato lover in me may just become a convert... especially if they're crispy, coated in gluten-free panko, and an aromatic mix of parmesan, sage and garlic.
They're so easy you can make them in minutes. Your kids, friends and family will adore you, and you can rest assured that you've given them a healthy snack or side dish.
1 sweet potato per person
1/2 cup of gluten-free panko
1/4 cup freshly grated parmesan
2 garlic cloves, finely chopped
4 or 5 leaves sage, finely chopped
1 Tablespoon olive oil
Sea salt and pepper to taste
Preheat oven to 450 degrees Fahrenheit.
Cut potatoes in half and then in 1/4-inch steak fry slices.
Place in a large mixing bowl, add the oil and toss until all are well coated (add more if needed).
Season with salt and pepper and toss.
Mix together the panko, parmesan, sage and garlic and place on a plate or leave on the cutting board.
Dip each fry into the mixture on both sides. Press the mixture down with your hands to help it stick.
Place fries in a single layer on a baking sheet that's been lightly coated with olive oil or place a sheet of parchment paper on the tray and then layer.
Bake for about 20 minutes or until cooked through.
Silvia Bianco
Live a vibrant, connected, physically and spiritually nourished life.
As a native Italian, connection is in my DNA. As a holistic professional chef, good nutrition and great taste go together.
We've sacrificed cooking for convenience and lost the sacredness of sharing a lovingly prepared meal. I'm on a mission to change that.
For 20 years, I've taught thousands of people (regardless of their dietary choices or restrictions) how to cook whatever they want to learn using simple, fresh, everyday ingredients along with practical, easy techniques.
Now I've gathered the tools and inspiration for you to make cooking simple and meeting at the table a meaningful and memorable experience. Get them by
SUBSCRIBING to chefsilvia.com and LIKE my FB page to get my latest divine, Mediterranean inspired recipes and cooking tips. Subscribe to Miracles & the Chef for some Sacred Sustenance - based on the teaching of ACIM.