Why You Should Be 'Grouping' Your Houseplants, According To A Plant Stylist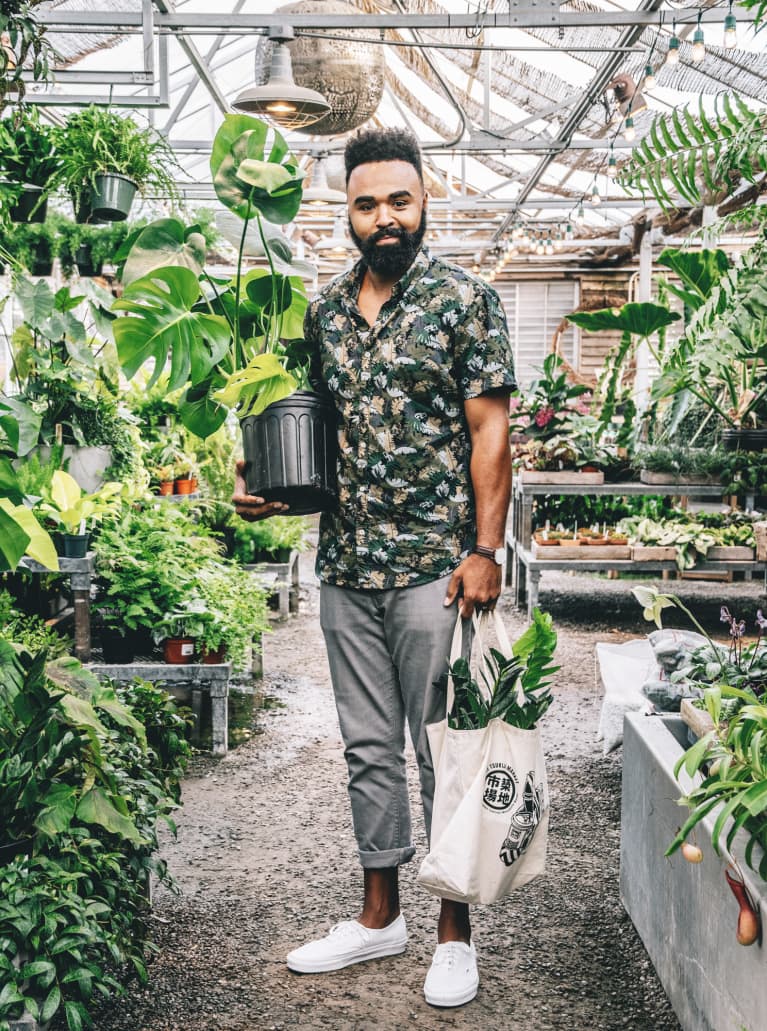 Our editors have independently chosen the products listed on this page. If you purchase something mentioned in this article, we may
earn a small commission
.
Hilton Carter has amassed a huge following thanks to his greenery-filled loft in Baltimore that shows off his creative approach to plant styling. Here, the artist and green thumb behind the new book
Wild at Home: How To Style and Care for Beautiful Plants
, shares some of his favorite ways to arrange plant pals at home.
Creating an indoor jungle isn't just about bringing in a lot of plants and placing them randomly throughout your home. There should be a reason behind the decisions you make regarding the plants you bring in and where you place them. Approaching plant styling in this way will benefit you, your space, and, most of all, your plants. There should be a method to your green madness.
To start with, I always consider the light in a room and the types of plants that will thrive there. Once that decision has been made, I then use these three design techniques to help me position the plants:
Think of the way a group photo is taken. Based on height, the photographer places taller individuals to the back and then everyone gets smaller as you move closer to the front. This guarantees that everyone's face will be seen in the photo. The same goes for layering plants.
Layering your plants in this way guarantees that each plant will get its time in the light but also face time with you. You don't want to place a large plant right next to the window and then smaller ones behind it. What you should do in this case is place the larger plant to one side of the window, so it's not blocking the window completely, and then stagger the smaller plants on the window ledge next to it. This is not only a good look for your space and style but also helpful for the well-being of your plants.
I also use the layering technique by making decisions based on plant foliage. There are so many different types of foliage in a range of colors, shapes, and sizes. Using these to create a particular feel in your home is a must. In my case, mixing these up is what helps create that "wow" factor. In my studio bedroom, for example, I decided to showcase this method of layering with my plant throne. What makes this sitting area so nice is the interplay between the shape of the Ficus lyrata (fiddle-leaf fig), the large leaves of the Strelitzia reginae (bird of paradise), and the dramatic leaves of the Livistona chinensis (Chinese fan palm).
These three plants have such different shapes and textures that, even though they play in the background, they instantly pop to the front.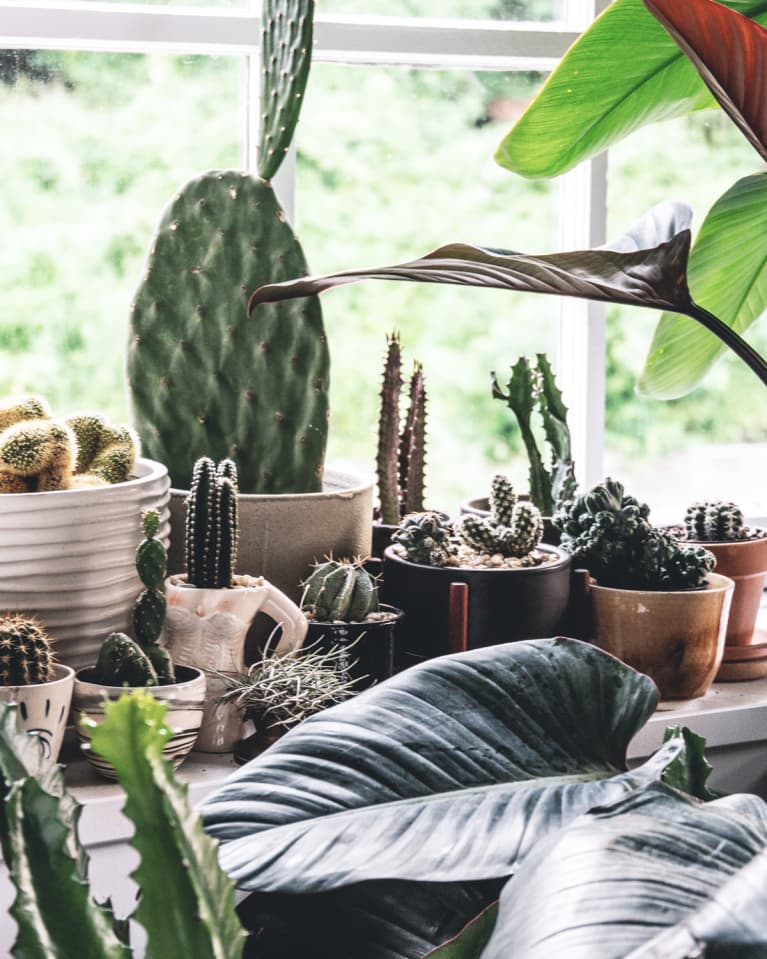 Grouping plants is a good design technique but can also be helpful from a practical point of view. When you group plants based on their care needs, it helps you manage your time more efficiently. For example, let's say you have a lot of plants and most of them are on an every-seven-days watering schedule, but 10 of your plants are on an every-three-days schedule. Grouping the every-three-days plants together will make it easier for you to remember which plants require attention every three days and keep you from overlooking a plant or overwatering another one.
Grouping plants according to type can be great fun and also visually appealing because it helps give your home a distinctive look and feel. In my home, for example, I decided to group most of our cactuses and succulents in one window. Doing so not only makes it easier to water them, but it also gives the window such a warm appearance and brings another mood to our home. We've created a little desert indoors.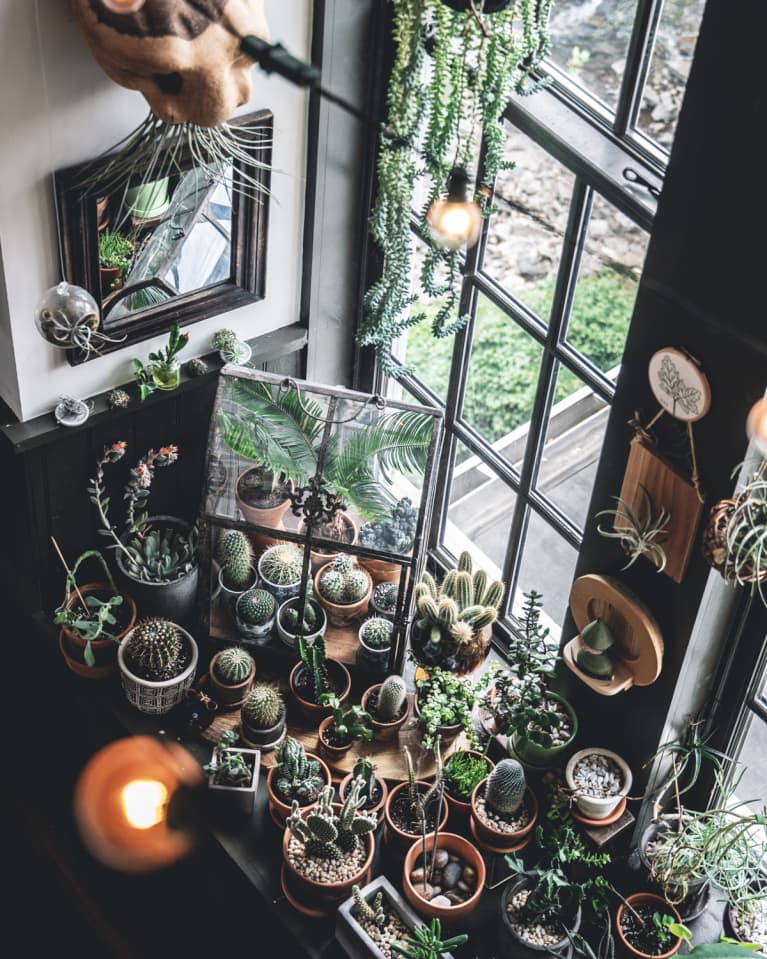 Regarding your living space as a whole and using not only the floor space but also the tables, counters, and walls as plant stands brings uniqueness and individuality to your home.
Viewing the center of a dining table as only suitable for an arrangement of flowers is limiting. If you have the necessary light, why not place a large potted tree in the center of your table? If you have the ceiling height, why not utilize the space above the table by hanging an oversize wreath made of nothing but air plants? The key here is to spread out the green love so that when you step back from it and take a look, the indoor jungle you were looking to create can be actualized. But, to do this, you have to get creative and not limit your options.
When I want to give a grouping of plants a fresh look, I like to create levels by stacking wooden boards or stone slabs to make platforms for my plants to sit on. In my desert window, I used cutting boards to create different levels between the smaller plants. It is small things like this that take your styling to the next level. And yes, pun intended.
Excerpted from Wild at Home: How To Style and Care for Beautiful Plants by Hilton Carter ($19.95) with permission from the publisher, CICO Books.