Want Glowing Skin Tomorrow? Experts Share The Nighttime Routines They Swear By
Contributing Wellness & Beauty Editor
By Lindsay Kellner
Contributing Wellness & Beauty Editor
Lindsay is a freelance writer and certified yoga instructor based in Brooklyn, NY. She holds a journalism and psychology degree from New York University. Kellner is the co-author of "The Spirit Almanac: A Modern Guide to Ancient Self Care," with mbg Sustainability Editor Emma Loewe.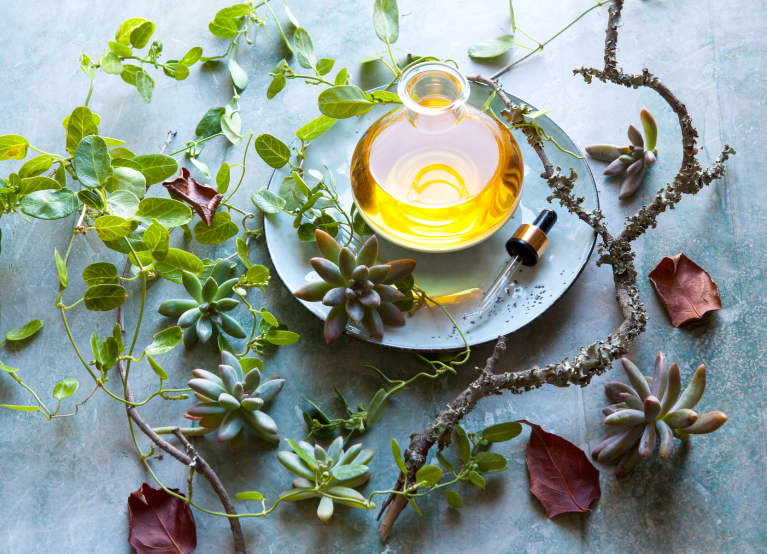 Our editors have independently chosen the products listed on this page. If you purchase something mentioned in this article, we may
earn a small commission
.
When it comes to skin care, there are some products, routines, and techniques that stand out as true fail-safes—the old (or new) reliables you can trust to work every time without having to worry about whether they'll cause irritation. And within this fail-safe category, there's a special subcategory that works especially well overnight for better tone, texture, and clarity in the morning. We asked mbg's skin care experts what they do the night before a big day or special event to get their skin glowing. Here are the products and routines they swear by:
2. A light home peel and hydrating mask.
"The night before a big event, I like to do a mask containing hyaluronic acid (as long as you have tried it before, to mitigate any allergic reactions, that is the last thing you want!) will make the skin appear well-hydrated and plumped in a good way. And if there's time, about five days before, I do a light home peel—I like the M61 Daily Glow peel pads, for example." —Cybele Fishman, M.D., holistic dermatologist
3. Gua sha and facial cupping.
"I'm extra thorough with each step when I'm prepping for a big day the next day. I also try to take extra time to settle my mind, through a bath, meditation, or gua sha, since I notice that I always wake up puffy when my mind is spinning all night!" —Britta Plug, mbg Collective member, holistic esthetician, and health coach
4. Balance salt and water intake, plus a good mask.
"Avoid any procedure you have not done before, any topical product you have not used. The last thing you want is an allergic reaction. I am a huge retinoid fan, but as there is a period of adjustment for the skin where it may flake, don't start a retinoid for the first time within two weeks of the big event." —Cybele Fishman, M.D.