Close Banner
Advertisement
This ad is displayed using third party content and we do not control its accessibility features.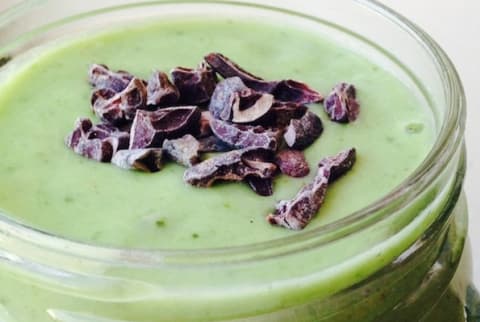 Every time I make this smoothie I am amazed by how good it is. Great for an afternoon refreshment or a late night dessert, this healthy smoothie is sure to please children and adults alike! For those of you that can't have bananas, feel free to substitute yogurt or just completely omit the bananas altogether.
Brace yourself, you're about to be amazed!
Mint-Chocolate Chip Smoothie
1 1/2 cup vanilla almond milk
1 banana
1 avocado
2/3 cup fresh spinach
8 mint leaves
1/8 tsp peppermint extract
1 tbsp raw cacao nibs
3 ice cubes
Combine all of the ingredients in a blender starting with the almond milk and ending with the ice cubes. Blend for 1-2 minutes or until the mixture is smooth throughout.
Anna Gannon
Anna Gannon is a writer and yoga & meditation teacher. She is the community and social media lead at Expectful, a groundbreaking meditation program for pregnancy and parenthood, where she also hosts the Expectful Podcast. She has a bachelor's in physical education and coaching from Queens College. Her work has been featured on The Huffington Post, Yoga Today, The Expectful Blog, and more.