6 Ancient Cooling Practices For When It's Hot AF
Here in New York, where mbg HQ is stationed, we're in the midst of an intense heat wave as we enter the thick of summer. Whether you're in a city, the desert, seaside, or countryside, you can tap ancient cooling practices that have stood the test of time from the archives of ayurveda and traditional Chinese medicine.
According to ayurveda, summer is the season of pitta. Pitta is composed of predominantly fire and water energies, and its main qualities are oily, sharp, hot, and light. "This means you must maintain a pitta-balancing diet and lifestyle in order to keep your skin, body, and mind in top shape," said Shrankhala Holecek, ayurveda expert and founder of ayurvedic-based beauty brand Uma Oils.
The summer season per ayurveda overlaps with traditional Chinese medicine philosophy—sans water. In TCM, summer is synonymous with the fire element. "It's the highest time of yang energy, which is chi or heat, which is the most catalyzing thing in our bodies," said Julie Von, licensed acupuncturist and Ph.D. But we can also experience an excess of fire energy in the summertime, especially if you're prone to overwork without much time to relax (Dr. Von is looking at you, New Yorkers).
Next time you're feeling overwhelmed, too warm, irritable, or uncomfortable and need some quick relief, turn to one (or more!) of these practices and watch as your body starts to respond:
According to Dr. Von, watermelon is a cooling food. "It's true that it's in season, but it also cools heat," she said. If you're sick of plain watermelon, try adding mint, rosemary, and/or olive oil. While you're at it, check out these inventive watermelon recipes.
2. Curled tongue breathwork, or sheetali pranayama.
If you can roll your tongue, give this short pranayama (yogic breathwork) technique a try. Find a comfortable seat; sit with your eyes closed while you find center. Breathe normally for a few grounding breaths. Then curl your tongue and breathe in through the strawlike opening in your tongue. The breeze the breath creates over the tongue has a cooling effect on the entire body. Exhale through the nose. Breathe this way for one or two minutes, stopping if you're uncomfortable, of course.
3. 20 ounces of morning hydration.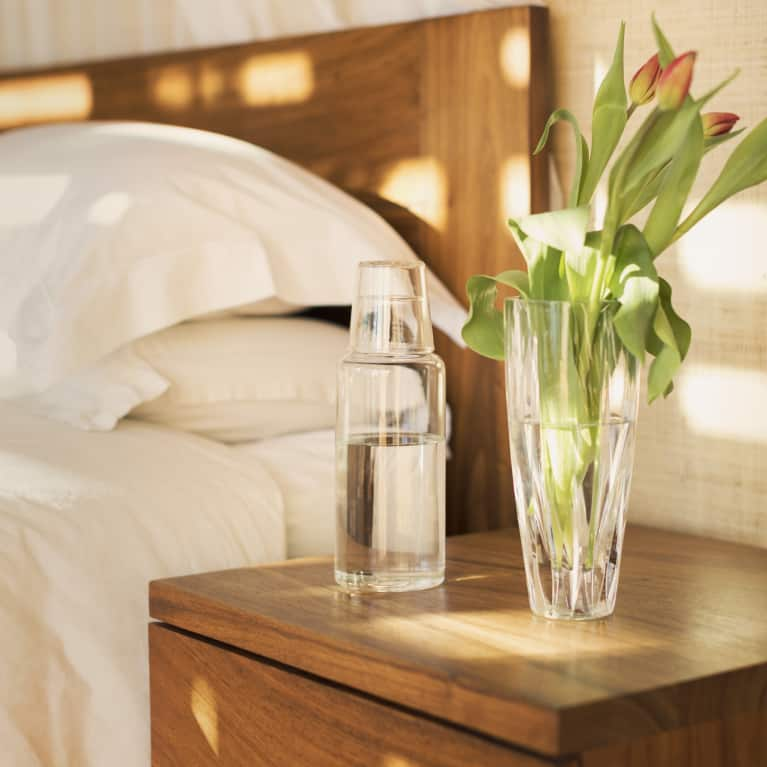 "Morning hydration has the power to change your cellular hydration for the entire day," said Dr. Von. She does her best to drink down 20 ounces of water first thing in the morning.
4. Use aloe vera in your diet and skin.
Holecek swears by cooling aloe vera as a diet staple as well as a skin-soothing treatment. You can break it right off a well-kept plant, purchase aloe fillets, or use aloe vera juice. "I eat aloe vera cut from the leaf; it is a solid gel and mostly tasteless—I sometimes garnish it with rock salt. It's available at my Whole Foods," said Holecek.
5. Avoid inflammatory foods.
"No amount of a cooling practice or breath can keep a poor diet in check," said Dr. Von. Yes, that means your mojito and cold brew are counterproductive if you've been feeling the heat. Alcohol, caffeine, and sugar are temptations deeply entrenched in summer culture, but they're all inflammatory according to Dr. Von. Try going for mint-infused sparkling water, caffeine-free tea, and fresh fruit to satisfy your summery cravings.
6. Shoulder stands or legs up the wall.
Holecek recommends shoulder stands and legs up the wall to pacify pitta energy. They give your heart a boost by helping it filter the blood in your legs and lower body. For other pitta-balancing poses, she recommends fish, boat, and bow poses—all backbends—to pacify pitta energy.
Oh, and don't forget: In addition to these practices inspired by ancient modalities, wear a hat, chill in the shade, and find air conditioning when you can. Stay cool!
Want to make your bedroom cooler in the summer? We've got just the thing.