6 Healthy Snacks & Apps Guaranteed To Stave Off Pre-Thanksgiving Feast Hanger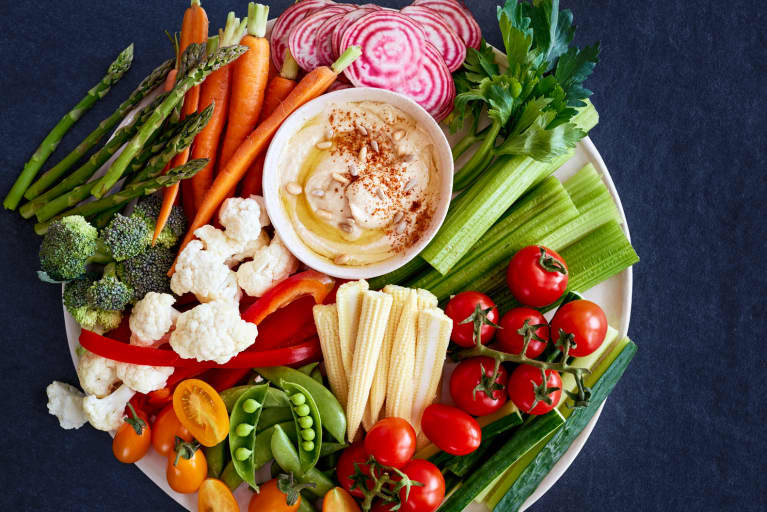 There's a whole lotta love that goes into many people's Thanksgiving dinner (or lunch, depending on the person). But any food leading up to that feast...kind of gets lost in the shuffle. And while you probably should at least consider planning for a healthy Thanksgiving breakfast in the morning, we also like to have something tasty and healthy on hand to snack on while the cooking continues throughout the day. Here are the healthy snacks we're making this year:
1.
Snackable spicy Brussels sprouts
On the off chance that Brussels sprouts aren't on the menu for the main event, these spicy garlic ones are snackable and perfect fuel to keep you going through all that cooking. Not only that, but the simple ingredient list also means you barely need to plan in advance. Grab the recipe here (and feel free to adjust that spice level to your tastes).
This one's pretty obvious, but we're including it nonetheless: a well-balanced cheese board is a perfect grazing option for the day. Follow these five steps for making the perfect cheese board with your own tastes in mind—and yes, it includes how to make it as Instagrammable as possible
If cheese isn't on the menu, might we suggest this vegan grazing board? Hummus, veggies, nuts, olives, fruit—this one requires some special shopping, but the plant-based eaters in the crowd will appreciate the grazing option. Here's the recipe.
4.
Dilly roasted chickpeas
Roasted chickpeas are the ideal make-ahead option for snacking. Their texture also means they're a satisfying crunchy, salty snack that also offers protein and fiber to help fill you up some, so you aren't ravenous when dinner is finally ready. Try these herby ones for the day.
Ever stopped to think that granola doesn't have to be sweet? We didn't, until we came across this recipe, which uses paprika, coriander, fennel seed, and nigella seeds with olive oil to make a tasty, snack-y treat that has just a touch of sweetness to contrast the salt and spice. Try the recipe here.
6. Easy everything crackers
Want to turn your passion for wellbeing into a fulfilling career? Become a Certified Health Coach! Learn more here.