35 Plants, Tools & Books For The Plant Lover In Your Life

mbg Sustainability + Health Director
By Emma Loewe
mbg Sustainability + Health Director
Emma Loewe is the Senior Sustainability Editor at mindbodygreen and the author of "Return to Nature: The New Science of How Natural Landscapes Restore Us."
Looking for a great green gift? We've got you covered with everything the plant lover in your life could need. From plant kits and subscriptions to guidebooks and pocket snippers, these are the goods that plant experts have their sights on right now.
Advertisement
This ad is displayed using third party content and we do not control its accessibility features.
Books: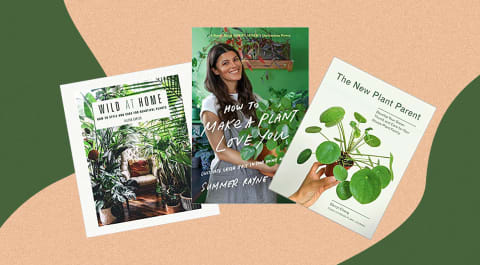 1.
"Wild at Home" by Hilton Carter
This guide to plant care and styling has stayed a bestseller since its spring 2019 release. Penned by plant authority Hilton Carter, it's filled with fun ideas for bringing more greenery into your space. Next stop: Indoor jungle.
Wild at Home: How To Style and Care for Beautiful Plants ($14.53)
Advertisement
This ad is displayed using third party content and we do not control its accessibility features.
2.
"How To Make a Plant Love You" by Summer Rayne Oakes
3.
"New Plant Parent" by Darryl Cheng
Advertisement
This ad is displayed using third party content and we do not control its accessibility features.
4.
"Root, Nurture, Grow" by Caro Langton and Rose Ray
5.
"The Little Book of Cacti and Other Succulents" by Emma Sibley
This compact guidebook rolls through 60 varieties of succulents and how to care for them. Give it to the one who keeps complaining that they overwater their cactuses.
Advertisement
This ad is displayed using third party content and we do not control its accessibility features.
6.
"Plant Tribe" by Igor Josifovic and Judith De Graaff
The ideal coffee-table book for the green devotee, Plant Tribe is packed with gorgeous images of houseplant-filled homes around the world.
7.
"The Gardener's Companion to Medicinal Plants" by Jason Irving
Advertisement
This ad is displayed using third party content and we do not control its accessibility features.
Plants: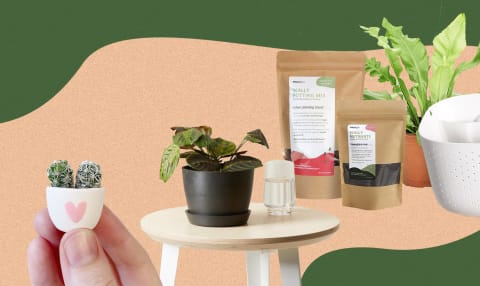 8.
Tierra Sol mini heart cactuses
Your giftee will be feeling the love with this top pick from nature-centered life coach Britanny Gowan. "I love gifting and getting a plant gift that is somewhat unexpected," Gowan says. "Once I received a mini cactus from Tierra Sol Studio, and it was such a thoughtful little piece of planty love."
Tierra Sol Better Together Mini Cactus and Mini Heart Planter ($27)
Maria Failla of Bloom & Grow Radio digs that these package kits include everything a starter gardener could need: planters, plants, soil, and fertilizer. "It's like a one-stop-shop for gifting someone a plant and letting them be a part of the experience by planting it up," she says.
Wally Eco White Plant Kits ($69.99)
10.
Smallhold oyster grow kit
Know someone who has mastered the art of herb gardening? Cultivating mushrooms can be their next conquest, and it's surprisingly easy to do with this grow kit. Simply place your block in a dark spot, mist daily, and twist off for a homegrown dinner star.
Smallhold Blue Oyster Grow Kit ($34)
Acclaimed chef Dan Barber started his seed company, Row 7, to re-imagine the way we grow food. His seeds are bred for flavor first and make for a delicious gift. "The plants are selected for chefs and are a great addition to any urban garden or houseplant person who wants to try their hand at growing food for the first time," says plant coach Nick Cutsumpas. According to him, you can't go wrong with their mini butternut squash or tetra squash.
Row 7 Tetra Squash ($4.95)
12.
Bloomscape outdoor plant kit
For the one looking to carry their indoor plant obsession onto the porch or patio, popular houseplant shop Bloomscape now offers outdoor kits. Each kit contains six young plants (enough to fill two 10-inch planters with colorful blooms), care instructions, and some fertilizer to get you started.
Bloomscape Red Geranium, Purple Calibrachoa, and Yellow Bidens Combination Kit ($45)
According to Maryah Greene, the founder of Greene Piece, the monstera is the plant that "makes people feel like plant parents." You can't go wrong gifting this fan-favorite, which is widely beloved for its unique leaf shape.
The Sill Monstera Deliciosa ($57)
The ZZ is an incredibly low-maintenance variety that's well-suited for beginner planters (just not the ones who have pets!). "I love how wild a ZZ plant will get with its growth," Hilton Carter previously told mbg. "Plus, the dark green waxy foliage is durable, making it a good plant to have in high-traffic areas of your home."
Plantvine ZZ Plant ($21.60)
15.
Living Arrangement terrarium building kit
Building your own terrarium is a superfun craft—and you get a plant centerpiece at the end of it! This kit comes with succulents, a container, soil, moss, drainage rocks, and fun trinkets to customize your planty scene.
Living Arrangement Terrarium Building Kit Complete for Succulents ($46.99)
16.
Succulent Studios succulent subscription
What's better than gifting someone a succulent? Gifting them two succulents, every month. Succulent Studio offers a subscription service that delivers the little lookers right to their door monthly. Choose from 3-month, 6-month, or 12-month plans.
Succulent Studios Gift Subscription ($16.50/ month)
Pots:
18.
West Elm llama planter
Every houseplant deserves its own ceramic llama, no? These planters offer up a whimsical display for all types of greenery and look extra festive when filled with trailing plants.
West Elm Ceramic Llama Planters ($45)
19.
Alfie & Gem basket and plant stand
20.
Terrain glass terrarium
Encourage their creative side by gifting this flat-bottomed droplet terrarium display. It's a blank canvas to fill with the green scene of their dreams.
Terrain Polished Drop Terrarium ($38)
21.
Justina Blakeney ceramic cups
Trust Justina Blakeney of Jungalow fame to create only the chicest of plant displays—including these ceramics in burnt orange, speckled cream, lavender, and blue shades. They're the perfect size for individual blooms or small floral displays, and they can double as pen or makeup holders.
Justina Blakeney Kaya Solid Ceramic Cups ($20)
Grow Lights: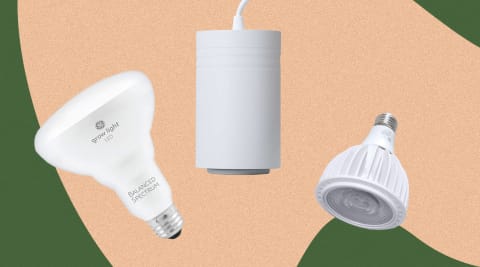 Summer Rayne Oakes of Plant One On Me says that this VITA bulb, which can screw into most floor and desk lamps, is perfect for keeping indoor plants happy during lower-light months. "[It] has a nice color temperature, so it doesn't feel as if you're sitting under a fluorescent light!" she says. "There is also a dimmable feature, in case you want to have it 'turned down' at night."
Vita Grow Light ($74.99)
23.
Aspect hanging grow light
This one costs a pretty penny, but Maria Failla of Bloom & Grow Radio says that its sleek, simple design, 15-year warranty, and customizable lighting make it worth the splurge. "It's a luxury grow light that blends in with your home effortlessly," she says.
Aspect LED Growlight ($149.99)
24.
Bamboo LED grow light garden
Oakes says this bamboo display makes a great gift for chefs who want to grow their own herbs but need a little help in the lighting department.
Gardener's Supply Bamboo Mini LED Grow Light Garden ($159)
25.
Modern Sprout portrait grow frame
This "grow frame" will finally give them the opportunity to treat their most prized plant like the piece of artwork that it is.
Modern Sprout Portrait Growframe ($140)
For those who are new to grow lights, this classic from GE is a tried-and-true. The LED bulb has a balanced light spectrum that's ideal for growing indoor plants as well as tomatoes, cucumbers, peppers, leafy greens, and herbs.
GE Full Spectrum, 9-Watt Grow Light Bulb ($10.88)
Gardening tools: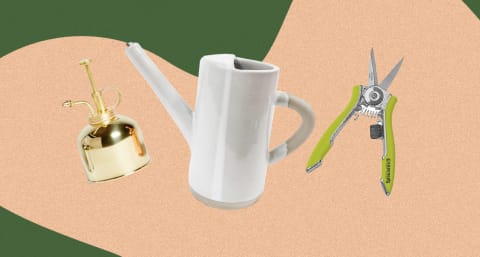 There's nothing like a pair of pocket snips to make you feel like a real gardener, even if all you're snipping are a few yellow leaves from your potted pothos. Oakes prefers these for their size; small enough to fit in any pocket.
Gardener's Supply Company Pocket Snips ($14.95)
28.
BLK + GRN ceramic watering can
Take a semi-annoying chore and make it high fashion with this ceramic watering can that's pretty enough to display once the last drop has been drunk.
BLK + GRN Handcrafted Ceramic Watering Cans ($80)
There's something so satisfying about misting your houseplant's leaves (the ones that appreciate the humidity, anyways), and it becomes even more enjoyable with this stylish vessel.
Horti The Dapper Mister ($25)
30.
Plant propagation station
Finally, an excuse to own your own vial set outside of chemistry class. This five-vial propagation station can sit on a table or be hung on a wall. Combine it with the Root, Nurture, Grow book and pocket snips shared earlier for a complete set for the starter propagator.
CoeurDuSaule Five Tube Plant Propagation Station ($35)
31.
Greendigs watering can
Beautifully designed with a slender spout and handle, this one is as pretty as it is functional.
Greendigs Oasis Watering Can in Gold ($29.99)
Miscellaneous:
All their plant fantasies, distilled in an 800-piece puzzle. This artist-designed jigsaw also comes with glue so they can hang it on the wall for dreamy days to come.
JIGGY Bathing With Flowers ($49)
33.
The Sill plants beanie
With this machine-washable beanie on one's head, no one will ever question where loyalties lie.
The Sill Plants Beanie ($20)
34.
Boy Smells gardener candle
35.
Gardening Gnomes decomposition book
This fantastical notebook begs to be filled with cactus care notes, lavender love letters, and pothos-inspired poetry. Bonus: It's made of recycled paper and printed with soy ink.
Decomposition Gardening Gnomes Decomposition Book ($10)