The Essentials That Belong In Every Minimalist Home

mbg Sustainability + Health Director
By Emma Loewe
mbg Sustainability + Health Director
Emma Loewe is the Senior Sustainability Editor at mindbodygreen and the author of "Return to Nature: The New Science of How Natural Landscapes Restore Us."
We're putting out a "5 Days to Minimalism" series to help you clear clutter from your life really, really quickly. Day 5 is all about adopting a minimalist mindset throughout your home.
Advertisement
This ad is displayed using third party content and we do not control its accessibility features.
Sit back and envision a room that's flooded with natural light and simply curated with a few statement furniture pieces and accessories sprinkled here and there. Can you feel your heart rate slow down a few notches?
More and more research is emerging lauding the physical and psychological benefits of minimalist interiors. Heck, these days there's an entire philosophy devoted to exploring the brain-boosting design called neuroarchitecture. So what is it about minimalism that's so appealing? Science says that surrounding yourself with natural light1 can improve your sleep and boost your physical activity while decluttering your space down to the bare essentials can increase productivity and decrease stress levels.
However, these strides toward simplicity can go too far. Interiors that are overly streamlined may understimulate the brain and cause us to feel emotionally removed from our surroundings. The trick is to find a happy medium between cluttered chaos and stark hospital room—a space that's bright without being blinding, simple without being bland.
We called on leading experts in minimalism, feng shui, and sustainable design to get their top tips on how to achieve this balance. Their room-by-room rituals and shopping lists will help you create a clean space filled with only the essentials.
Ready to make your home a minimalist sanctuary? We thought so.
Living room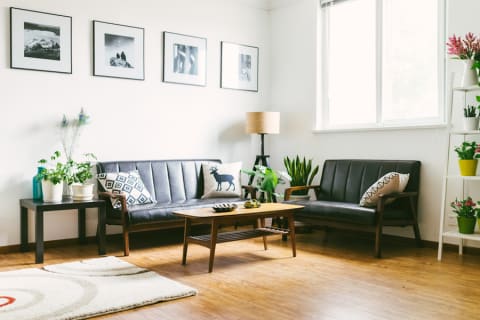 How to clear it out
L.A.-based feng shui expert and founder of Spaces By Sunny, Sunny Fuller calls on this living room clearing routine when she's working with clients:
1. Scan the living room for large items that belong to other areas of the home. (So for example, do a scan for "bedroom" and collect all clothes and shoes together; do a scan for "kitchen" and collect any mugs and dishes together, etc.) Relocate these items to their rightful rooms.
2. Pick up stray paper—phone bills, fliers, work notes—and put them into three piles: "important," "not sure," and "trash." Throw away the trash pile, and put the two other piles in separate boxes or bins to sort through later.
3. Now that you've dug your way out from under clothes and paper, repeat Step 1 for smaller items.
4. Discard magazines that are more than two months old. Display only two to three magazines/books/photo albums on a coffee table and relocate the rest to a bookshelf.
5. Hide away all stray wires coming from the entertainment center. If overrun with media, dump video games/DVDs/CDs into a bin, then select your most often played or watched. Store these in the entertainment center and put the rest to the side to later determine what will be stored elsewhere (or in digital format) and what will be donated.
6. If your flat surfaces are covered by too many decorative items, pick only your favorite couple items to display on each surface and put the rest in a box to sort through later. If you have overwhelming repeat décor (like a scatter of figurines or photo frames on every surface), group these together to display as a "collection." So with photos, you'd consider curating a gallery wall.
Advertisement
This ad is displayed using third party content and we do not control its accessibility features.
How to fill it back up
These are the essentials that Alden Wicker, the eco-blogger behind Ecocult, loves decorating with:
A bamboo portable Bluetooth speaker: I only need one speaker for my whole home because I can tote this thing to any room, and it's wireless, so no cords! Also, House of Marley makes great-quality, eco-friendly, and attractive music accessories. They're my fave.
Succulents: A minimalist room can be a little cold and impersonal unless you add some plants! They filter the air and just make me generally happier. I love succulents because you need to water them only once a week. Low maintenance is one of the best parts of minimalism, right?
A good coffee table book (or three): This is a simple but powerful way to communicate your personality and interests plus bring a little color into the room in the absence of tchotchkes and stuff.
Chandra Fox, the sustainable living guru behind These Native Goods, calls on these items for some Zen:
Modernica planter: You can add some greenery to your living room while keeping true to a minimal and modern aesthetic with this sleek wooden stand and simple white cylinder.
In2Green throw: A living room is a place to gather with friends and family, so it should be cozy and inviting. I love this minimal, neutral throw because it brings that element of comfort and warmth, with just a little pop of color. Plus, it's knit almost entirely of recycled fibers!
Kitchen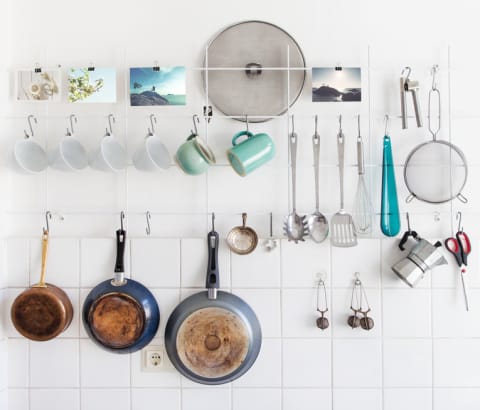 Advertisement
This ad is displayed using third party content and we do not control its accessibility features.
How to clear it out
Here, architect and feng shui expert Anjie Cho shares her top tips for crafting a clean kitchen:
1. Clear off all surfaces. The more things that are on the counter and visible, the more cluttered your kitchen will look and feel. If possible, put things away behind cabinet doors. If you have glass doors, you can paint the backside of the glass or add a frosted film, so you don't see the additional busyness inside the cabinets. I like to give myself a limit of one to three things that I love and use on a daily basis on the counter and one item on the stove.
2. Make a commitment to toss anything that's expired or spoiled. In the pantry, anything that's still edible but you wouldn't cook that week can be donated to a food bank. (Of course, make sure that it's sealed, etc.) Any old dry goods like flours and grains should be checked for vermin. And don't forget the dried spices—those expire too! I compost everything that can't be donated.
3. Decluttering small appliances is usually less painless than it seems! Look at what has never been used and then what hasn't been used in nine months—for instance the, as Alton Brown calls them, "Unitaskers" that serve one purpose and are never really necessary (think cherry pitters, pizza cutters, etc.). These sorts of items are very easy to donate to your local thrift shop.
4. I am a big fan of matching sets. That doesn't mean you can't have a set of beautifully mismatched items, but decide on how many place settings you really need. Four, eight, 12? I like to have beautifully matched place settings including plates, cups, glasses, cutlery, and napkins. I also like to start with items that are easy to replace in case a plate gets chipped or a fork disappears. Take a look at what you have, and you can start by tossing anything that's broken, stained, or chipped.
How to fill it back up
Another feng shui consultant, Amanda Gibby Peters, has some great ideas for simple kitchen staples you'll be using every day:
Water pitcher: Whether used as a vase for fresh blooms, a utensil holder, or a water carafe during meals, a water pitcher is an unfussy way to instill beauty—a scrumptious life force—in a kitchen.
Soup pot: A soup pot suggests nourishment, comfort, and the company of a few good friends. Our love for gathering in the kitchen runs deep, so stoke the stove to life and simmer some good vibes to life. Shui says when we feed many mouths, we cater to abundance. Even better? These good-spirited gatherings chase low vibes out of your space. So, soup it up!
Candlesticks: Fire, in all its forms, is magic. It's the element that loves to celebrate connection and compassion. Candles breathe life into darkness, transmute moods, and draw us into communion with one another. So, if you're looking to feed your joie de vivre, add a couple of candlesticks to your dinnertime ritual. When we linger over meals, our senses recuperate and balance is restored.
Advertisement
This ad is displayed using third party content and we do not control its accessibility features.
Bedroom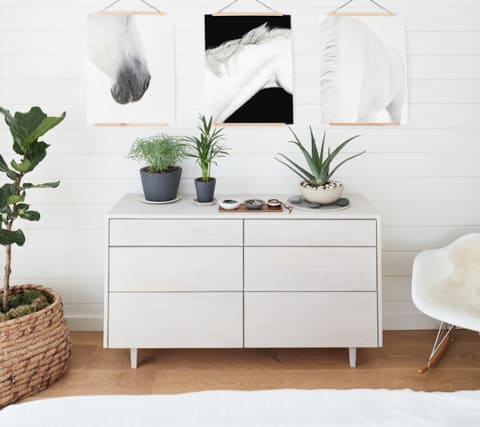 How to clear it out
According to Anjie Cho, the recipe for a Zen bedroom requires only five ingredients: a clear under-bed space, the right bed positioning (more on that here), a few clear quartz crystals, green plants, and minimal decorations.
Advertisement
This ad is displayed using third party content and we do not control its accessibility features.
How to fill it back up
Here are the clean décor options that do have Anjie's stamp of approval:
Buckwheat pillow: I have a cylindrical buckwheat hull pillow in my bedroom that I sleep with every night. I love this simple pillows because not only are they natural, breathable, and cruelty-free, but they are super comfy. It's the only pillow you need, and it's easy to travel with!
Water carafe: Water is essential to life, and I think it's very important to have some of that life energy near you in your bedroom. A water carafe with accompanying cup is a simple, minimalistic way to keep water by you at all times. I love that the two pieces can merge into one to keep things simple.
Small bowl or plate: I have a beautiful small plate on my bedside table to hold my rings and other jewelry when I sleep. Mine was given to me as a wedding gift, so it also holds sentimental value. I suggest finding one you love, as it's a great way to keep your nightstand uncluttered. It also helps keep small things like earrings from getting lost!
Once your bedroom starts taking shape, self-proclaimed "Miss Minimalist" Francine Jay has some advice on how to tackle the closet:
Hanging clothes storage: Since I have a small capsule wardrobe, I don't need much storage. Instead of a dresser, I store folded clothes on a hanging fabric shelf in my closet.
Laundry collector: Remember to keep a designated container for dirty laundry—like a bag, basket, or hamper—so it doesn't end up as clutter on the floor.