Can Livia Firth Green Her Oscar Beauty Routine? Yes!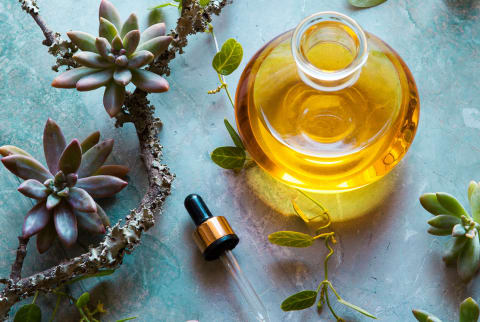 Image by Nadine Greeff / Stocksy
February 25, 2011
The Oscars are just days away and I'm still trying to figure out where I'll watch the show (three of my friends are hosting parties) and scrambling to see as many of the nominated movies as I can before Sunday. I always love watching the night unfold, all of the glamour and the fabulous outfits, and this year I'm particularly excited to see what the stunning Livia Firth (Best Actor nominee Colin Firth's wife) will be wearing. Livia is an expert in eco-fashion, runs an amazing sustainable shop in London called Eco-Age, and writes a column for Vogue.com UK about what she wears on the red carpet, appropriately called "The Green Carpet Challenge."
A couple of months ago I was able to sit down with Livia and chat about all things related to natural beauty, non-toxic makeup, and why making the switch to naturals is important. For many women, personal care is the last hurdle on their quest to live healthier lives; after they have looked at what they are eating and wearing, women usually look next at what they are putting on their lips and cheeks.
During our time together Livia shared many of the same concerns that most women have about making switch to naturals: Will the products look the same as what I'm used to? Will the makeup last? Where can you buy these new products?
In her post for Vogue, Livia shares her red carpet beauty rituals and wonders if she is ready for a "Green Beauty Challenge." My vote is YES!
Evening cleansing and preparation for night
Facewash: Wash your face with organic raw coconut oil as in the morning (apparently, it works miracles and it does not irritate eyes either), or organic sweet almond oil.
Face: Argan oil, as in the morning.
Jessa Blades
Natural Beauty Expert & Herbalist
Jessa Blades is a celebrity makeup artist, natural beauty authority, wellness expert, and herbalist based in Brooklyn and Los Angeles. She is deeply passionate about sharing simple and gentle ways to heal and nurture the body and skin while still looking fabulous.
Inspired by the idea of true healing and wellness, Jessa made the switch to natural, nontoxic beauty products in 2008 and founded her company, Blades Natural Beauty, the same year. Her goal then and now is to provide sustainable beauty routines, pure products, and expert advice for anyone looking to detox their medicine cabinet and heal—instead of hide—their imbalances.
When she's not on set, Jessa uses her 15 years of experience to lead private lessons and group workshops on beautifying from the inside out. She teaches women how to apply makeup, choose natural and healing products, and incorporate herbs and food-based medicine into their lives to heal their skin. As a teacher and a makeup artist, Jessa's mission is to bring the message of self-care and empowerment into the conversation around beauty and healing.
Many of Jessa's favorite natural beauty and wellness products, including her signature line of skin care and her hand-blended herbal teas, are available in her online Self-Care Supply Store and Apothecary.
Jessa has studied with a group of wise and powerful teachers, including Rosemary Gladstar, Peeka Trenkle, Phyllis Light, Hilary Garivaltis, and Nancy Phillips. She has steeped at renowned institutions from The Open Center and Kripalu to Sage Mountain.
Jessa has been featured as one of Glamour magazine's "70 Amazing Eco-Heroes" and chosen as TreeHugger's Best Green Makeup Artist. She has contributed to Vogue, the New York Times, mindbodygreen, Into the Gloss, Style.com, Well Good, Natural Health, Organic Spa, and appeared on the Today show.