These Are The Best Natural Products For Winter Eczema

Contributing Wellness & Beauty Editor
By Lindsay Kellner
Contributing Wellness & Beauty Editor
Lindsay is a freelance writer and certified yoga instructor based in Brooklyn, NY. She holds a journalism and psychology degree from New York University. Kellner is the co-author of "The Spirit Almanac: A Modern Guide to Ancient Self Care," with mbg Sustainability Editor Emma Loewe.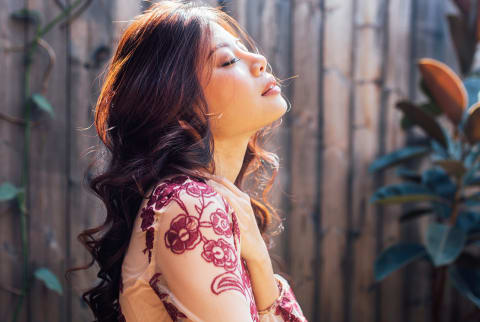 December 21, 2017
It's the most wonderful time of the year...unless you suffer from eczema. The holiday season is full of eczema triggers, making skin anything but smooth during a time we see everyone we know, naturally. But that extra stress; the inflammatory foods; the cold, dry climates; and the scalding showers we take to counteract it all make eczema worse.
Advertisement
This ad is displayed using third party content and we do not control its accessibility features.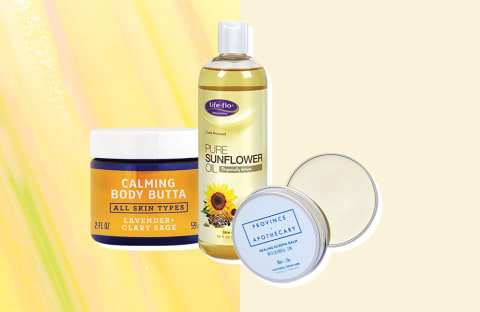 Holistic dermatologist Cybele Fishman, M.D., said that sunflower oil has been found to be one of the best natural remedies for repairing the skin barrier. When using it, be sure that the skin is somewhat damp—as sunflower oil is an occlusive; it traps moisture in the skin, but it can also prevent it from entering when applied to dry skin. She's also seen acupuncture really improve eczema and often refers her patients to get treatment. While she points out that the research is varied at best when it comes to treating the disease internally, too, "I think taking fish oil with high EPA as well as the addition of an omega-6 GLA can be helpful," she said. EPA stands for eicosapentaenoic acid, an omega-3, and GLA stands for gamma-linolenic acid, a beneficial omega-6. Both of these are anti-inflammatory and have shown promising1 results in research that tests whether supplementation is effective and how metabolism of fatty acids2 affects the skin's susceptibility to contracting asthma.
In fact, natural beauty expert Jessa Blades always recommends healing from the inside out to her clients. Blades recommends cutting out wheat, dairy, and sugar and increasing fermented food, probiotics, and bone broth. Sounds easy enough. The tough part? Really taking a good look at your life to examine the root of your stress. "Eczema is not just a topical problem," Blades said. "And for people who are really trying to heal, solely recommending products is unhelpful." When it comes to topicals, though, Blades recommends Fatco products, including this body butta, and Province apothecary eczema balm.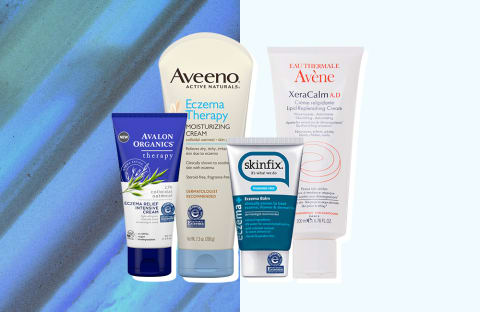 Advertisement
This ad is displayed using third party content and we do not control its accessibility features.
Other companies have targeted their efforts to treating extremely dry skin and eczema—there are more options now than ever before. These products are lauded with four- and five-star reviews across the internet because they're formulated with an understanding of how the skin barrier works. French beauty company Avene makes a fragrance-free lipid-rich cream that's free of eczema triggers, and drugstore brands SkinFix, with its eczema balm, Aveeno's eczema therapy moisturizing cream, and Avalon Organics' eczema relief intensive cream produce products specifically formulated to help eczema this time of year. Using a combination of stress management techniques, removing inflammatory foods, and using the right topical products are your best bets for relief.
For more dry skin tips, check out the star ingredient that should be in all of your body care this winter.
Want to turn your passion for wellbeing into a fulfilling career? Become a Certified Health Coach! Learn more here.
Advertisement
This ad is displayed using third party content and we do not control its accessibility features.