The 10 Nontoxic, Bold Lip Colors To Wear This Winter
Contributing Wellness & Beauty Editor
By Lindsay Kellner
Contributing Wellness & Beauty Editor
Lindsay is a freelance writer and certified yoga instructor based in Brooklyn, NY. She holds a journalism and psychology degree from New York University. Kellner is the co-author of "The Spirit Almanac: A Modern Guide to Ancient Self Care," with mbg Sustainability Editor Emma Loewe.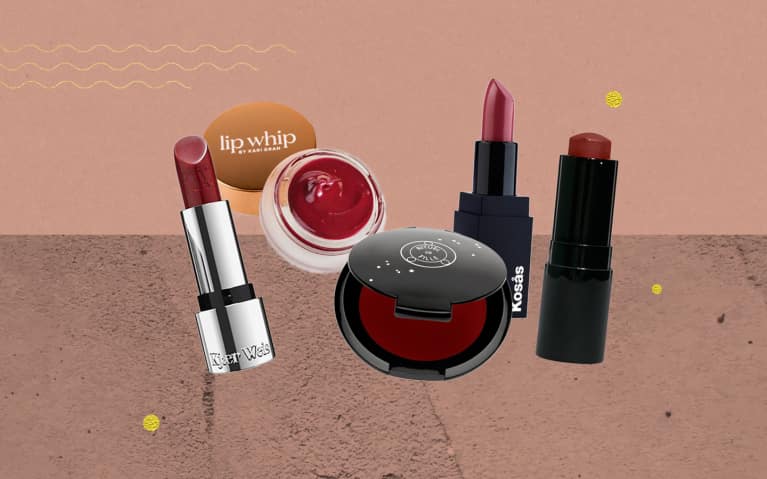 Our editors have independently chosen the products listed on this page. If you purchase something mentioned in this article, we may
earn a small commission
.
It's the most wonderful time of the year…to experiment with wearing lip color! There's something about holiday festivities that makes dressing up less of a "to-do" and a fun opportunity to play with different shades and pigment levels that might feel unnatural or intimidating during other times of the year. And there's a shade for everyone. Here are our favorite nontoxic, highly pigmented finds you'll want to wear well beyond the holidays. Don't forget to prep your lips before applying bold lip color—starting with a nourished, exfoliated base will make your lips look smooth and will extend the color wear.
Burt's Bees Satin Lipstick in Crimson Coast
Since it exploded in popularity well over a decade ago, Burt's Bees is a classic go-to for all things lip-related. It also happens to be one of mindbodygreen's favorite natural drugstore brands. The satin lipstick is no exception. It's ultra-moisturizing thanks to raspberry seed and moringa oils, and the Crimson Coast shade wears particularly bold, veering into '90s territory. The good kind.
Satin Lipstick in Crimson Coast, Burt's Bees, $9
Henné Organics Luxury Lip Tint in Intrigue
A cult-favorite buildable tint, Henné is a brand that focuses entirely on lip care. After many requests from their customer base, they've finally branched out into color. Intrigue is a warm brick red that layers well for color that's barely there or pretty pigmented, and hydrates the lip with a blend of oils, coconut, jojoba, castor, and vitamin E.
Luxury Lip Tint in Intrigue, Henné Organics, $21
Alima Pure Lip Tint in Calla
Calla is a rosy mauve shade with undertones of plum, which makes for a lovely daytime look or pairs perfectly with a more intense smoky eye in the evening. With essences of peppermint and natural plant oils like pumpkin seed, sunflower, jojoba, olive, and cocoa butter, this tint is functional—it's equal parts moisturizing, therapeutic, and gorgeous.
Lip Tint in Calla, Alima Pure, $14
Rituel de Fille Inner Glow Crème Pigment in Nymph
A little of Rituel de Fille's Nymph goes a long way. A true red that's actually buildable is hard to find—most of them are too emollient to build or super-pigmented and don't need any building. Use your finger to apply for a stained look or a lip brush to achieve an opaque red lip. This formula can be worn as a blush (and technically it's safe for eyeshadow), too. The "nymph" shade is exclusive to Credo Beauty; get it while it lasts!
Inner Glow Crème Pigment in Nymph, Rituel de Fille, $29
Kjaer Weis Lipstick in KW Red
With this cool, jewel-toned red, there's no question that Kjaer Weis lipstick is a luxury product. It's made with rosehip oil, shea butter, jojoba oil, and castor oil, but don't let that fool you—the pigmentation is potent. Yes, the initial purchase is pricey, but it's worthwhile if you like KW's shades: The weighty silver case is meant to be refilled and reused over and over again. (There's a reason KW won mindbodygreen's Earth-Friendly beauty award earlier this year!) Refills are $20 less expensive than the original purchase, which offers customers a significant incentive to refill and reuse the case.
Lipstick in KW Red, Kjaer Weis, $56
Kosas Lipstick in Electra
My personal favorite go-to nontoxic lipstick, Kosas is reminiscent of the lipsticks you'd purchase at Sephora before natural and organic makeup was accessible—it's that good. Made without parabens, phthalates, mineral oil, propylene glycol, phenoxyethanol, and synthetic fragrance, Kosas lip color is less emollient than the rest on this list, but it feels fantastic on the lips. You don't have to worry about it traveling anywhere else. Electra is a red that tends to look warmer on warm skin tones and more pink or deep magenta on cooler ones, and works with a wide range of skin types.
Lipstick in Electra, Kosas, $28
Jane Iredale Triple-Luxe Long-Lasting Naturally Moist Lipstick in Joanna
A beautiful plum shade with pink undertones, Jane Iredale's lipstick has a subtle shine finish that's not glossy or matte but somewhere in between. Packed with moringa oil, ginger extract, green tea extract, and moisturizing oils and waxes, it nourishes and smoothes out the skin and works on nearly all skin tones. Bonus: Vanilla and blackberry offer a hint of fragrance and flavor.
Triple-Luxe Long-Lasting Naturally Moist Lipstick in Joanna, Jane Iredale, $35
Ilia Beauty Colorblock Lipstick in Rumba
Ilia's newest lipstick line is updated with a formula that's still nontoxic and provides longer wear than its original one. Packed with nourishing plant oils and waxes like shea, cocoa seed, and mango seed butter, the lipstick glides on easily, treats the lips, and stays put. Rumba is a true oxblood tone that looks stunning on a wide range of skin tones.
Colorblock Lipstick in Rumba, Ilia Beauty, $28
Ere Perez Beetroot Cheek and Lip Tint
Made with vitamin E, rose extracts, and beetroot, the classic stain can be used on cheeks and/or lips for a long-lasting flush. As with most stains, color can be worn quite sheer or layered for a more intense look—either way, it goes on matte. It comes in two colors, a warm poppy red, "joy," and Barbie pink, "fun." Not surprisingly, it's Ere Perez's most popular 2-in-1 product.
Beetroot Cheek and Lip Tint, Ere Perez, $25
Kari Gran Lip Whip in Suji Red
This pot of creamy lip color can be used as a translucent glossy stain or be worn layered for a statement lip. A ruby red, it's made with only nine ingredients, and most of them are organic. We love the fresh peppermint smell—it's the cherry on top of a truly versatile lip product.
Lip Whip in Suji Red, Kari Gran, $24