Crystal expert
By Heather Askinosie
Crystal expert
Heather Askinosie is an author and leading influencer on the power of crystals.
January 16, 2017
One day, I asked one of my girlfriends what her No.1 beauty secret was. She looked me straight in the eyes and said, "Anger is aging, so I try not to get angry anymore. I can't afford the potential wrinkles. It's just not worth it."
The minute I heard her say that, a light bulb went on in my head. She was right; beauty comes from the inside out. I went home that night and started a new regime. It was one that I didn't have to research.
Jade rolling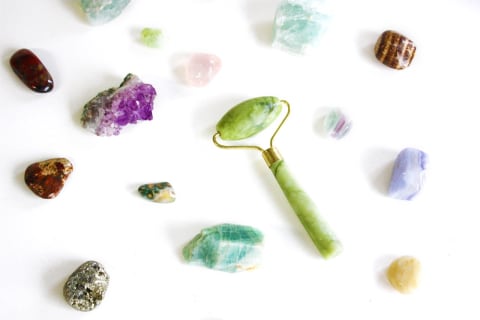 I love my Jade Roller; jade, which has been highly regarded by Chinese royalty for centuries, is a magnesium-rich mineral. Magnesium—like the kind found in Epsom salt, used for muscle relaxation baths—reduces inflammation. With each roll, up and down, back and forth, over my face, I state out loud, "I release all anger and negativity and unresolved emotions that I have stored in my face."
After 10 minutes of jade rolling and spiritually clearing away tension and stress from my face, my complexion is noticeably brighter. I can see why magnesium was originally touted as the original chill pill. The muscles in my face feel relaxed, and my skin glows. I think my friend was right—anger and unexpressed emotions are aging.
Stress-busting crystal masks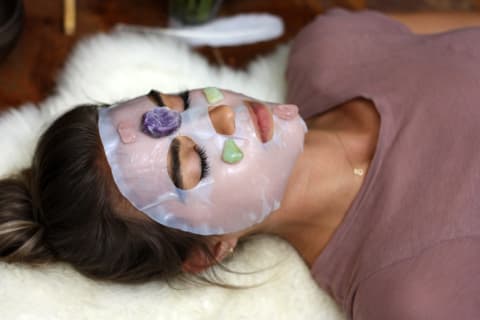 I work with crystals every day. Crystals are made up of minerals, and minerals are vital to maintaining healthy skin through a healthy spirit. I start by washing and exfoliating with The Bonafide Scrub from the Goddess of Skin. It contains ground amber—not a mineral but a resin—which is believed to have healing powers when it touches the skin, helping to ease stress and aid in clearing any unwanted negative energy.
When I need an extra boost of stress relief, I place a sheet mask over my face and add a grid of lepidolite, rose quartz, and aquamarine crystals. Lepidolite is used to address and rid feelings of anxiety. I use it in combination with the anger-dispelling qualities of aquamarine to assure that I am combating all points of negativity. Then with the loving energy of rose quartz, I blanket my face in soft, soothing vibrations.
Good vibes inside and out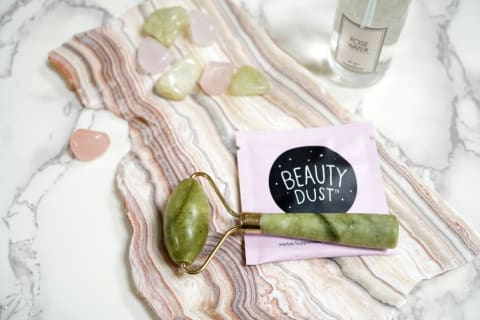 Ultimately, beauty is in the eye of the beholder, so the most valuable item in your beauty bank will always be a healthy sense of self. For skin that is as vibrant as your spirit, self-love, self-respect, and positivity are three rejuvenating qualities you should never go without.

Heather Askinosie
Crystal expert
Heather Askinosie is an author, a leading influencer on the power of crystals, and co-founder of Energy Muse Jewelry. She is also the author of two books on crystals, CRYSTAL365 and Crystal Muse. For nearly 30 years, she has been studying the scientific and spiritual aspects of energy. She has had the privilege of studying with the best healers from all over the world, who have passed down ancient teachings on how to utilize energy technology in the upcoming millennium. Askinosie is a seeker of truth, working to extract as much information as possible, to translate it into simple tools that can be used in everyday life. These tools empower and educate individuals on how to use them to attract everything you want in life.