Finally, 4 Natural Products That Will Make Your Clothes Smell Like Flowers & Butterflies

mbg Sustainability + Health Director
By Emma Loewe
mbg Sustainability + Health Director
Emma Loewe is the Senior Sustainability Editor at mindbodygreen and the author of "Return to Nature: The New Science of How Natural Landscapes Restore Us."
January 18, 2019
We all have our own barometer for the smell test. You know, the one you do when deciding whether or not you can get away with wearing something again without washing it.
Well, turns out there's an ever-growing category of products that'll help you extend the wearable life of a garment quickly and pretty naturally, using plant-based ingredients like essential oils. Before you write these off as unnecessary, think about the fact that they can save you a world of time and coveted laundry space, which helps the environment in the end too.
Advertisement
This ad is displayed using third party content and we do not control its accessibility features.
The act of washing and rewashing your clothes is more water- and energy-intensive than you might expect. Though the typical U.S. washing machine is becoming more efficient thanks to federal standards limiting the amount of water they can use, the newer ones still require between 13 and 23 gallons of water a load. And the average household runs them about 289 times every year (!)
Consider lightening your physical and metaphorical load by checking out these four healthy clothes spritzes to use between washes. They won't give you that fresh-from-the-dryer snuggly warm feeling, but they have basically everything else covered.
1. Fabric Fresh, The Laundress
Created to evoke the ultimate "clean laundry smell," this spray blends scents like lily of the valley and jasmine with sweet musk, sandalwood, and citrus. It's a nice, fresh spritz for clothes as well as musty air—plus it's plant-based and free of petroleum, phosphate, phthalates, and artificial colors.
The Laundress Fabric Fresh Classic 8 fl oz ($16)
2. Probiotic Air + Fabric Refresh, Counter Culture
This one is more than just a good smell: It contains 13 probiotic cultures packed with bacteria that break down stains and smells. It comes in two scents, lemongrass and geranium, both derived from essential oils. Created by a mom looking for household products that she could safely use around her young daughter, Counter Culture's line of "probiotic cleaning tonics" also includes an all-purpose cleaner and cleaning concentrate—all powered by beneficial bacteria.
Counter Culture Probiotic Air + Fabric Refresh ($6.99)
3. Room Freshener Spray, Mrs. Meyers
Mrs. Meyers is super transparent for a company of its size and scope. On their website, you'll find a glossary of all the ingredients they use and what they use them for. The brand's room refresher spray, which also works on clothes (though you may not want to use it on delicates), is 94 percent naturally derived—and easily found in lots of stores across the country.
Mrs. Meyers Lemon Verbena Room Freshener Spray 8 oz. ($5.49)
Advertisement
This ad is displayed using third party content and we do not control its accessibility features.
4. Re-Wear Dry Wash Spray, Love Home and Planet
A new brand from Unilever, Love Home and Planet, offers up plant-based fabric, dish, and surface care products made from plant-based ingredients and packed in recycled plastics. The idea is that small acts of love for the planet add up to something bigger. Though it won't drop nationwide until March, we can confirm that their fabric spray leaves clothes feeling fresh like they're from the wash.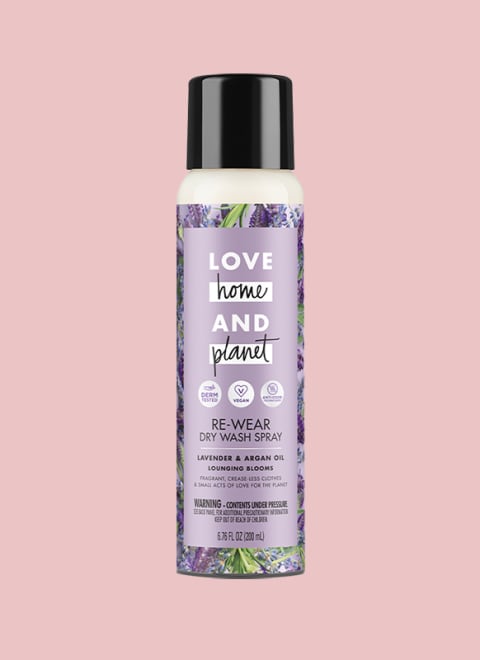 Love Home And Planet
Advertisement
This ad is displayed using third party content and we do not control its accessibility features.