11 Products That Support Your Pet's Natural Diet
mbg Contributor
By Caroline Muggia
mbg Contributor
Caroline Muggia is a writer, environmental advocate, and registered yoga teacher (E-RYT) with a B.A. in Environmental Studies & Psychology from Middlebury College.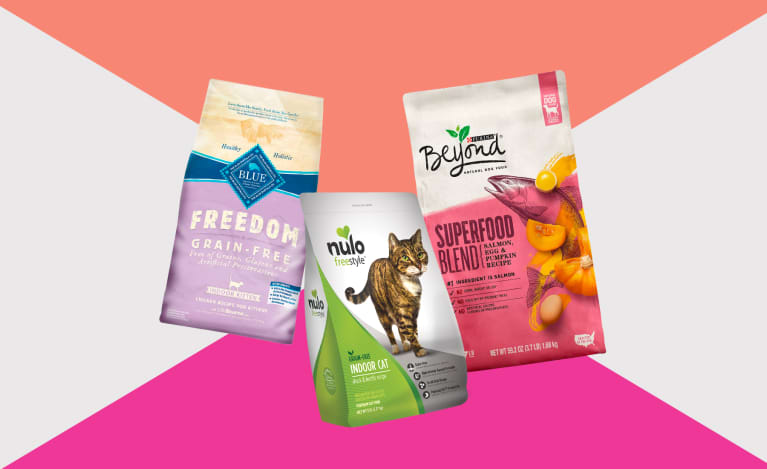 Our editors have independently chosen the products listed on this page. If you purchase something mentioned in this article, we may
earn a small commission
.
We know it can be overwhelming choosing food for your pet. There are many products to choose from, and it can be difficult to figure out which ones will be best for your furry friend. Ultimately, when it comes to your pet's health, you want products that you can trust. With natural brands popping up at purveyors like Whole Foods Market more and more, it's getting easier to make sure your dog or cat is eating real foods with functional benefits that support its natural diet. And with big brands jumping in, like Petco, which has committed to removing food and treats containing artificial colors, flavors, and preservatives for dogs and cats by this May, accessibility to great choices is widening.
We've rounded up our favorite all-natural recipes that support your pet's original diet of a variety of meats. These recipes include nutrient-dense veggies and fruits for a balanced and nutritious diet.
Castor & Pollux Pristine Chicken Turkey & Lentil Recipe
Castor & Pollux is focused on making sure your pet is eating high-quality organic foods that are sustainably and ethically sourced. Their grain-free, free-range chicken, turkey, and lentil recipe is made with responsibly raised meat and organic produce grown without pesticides. This food is formulated without corn, soy, wheat or gluten, so your pet is getting maximum nutrition in every bite.
PRISTINE Grain-Free Free-Range Chicken, Turkey & Lentil Recipe, Castor & Pollux, $44.99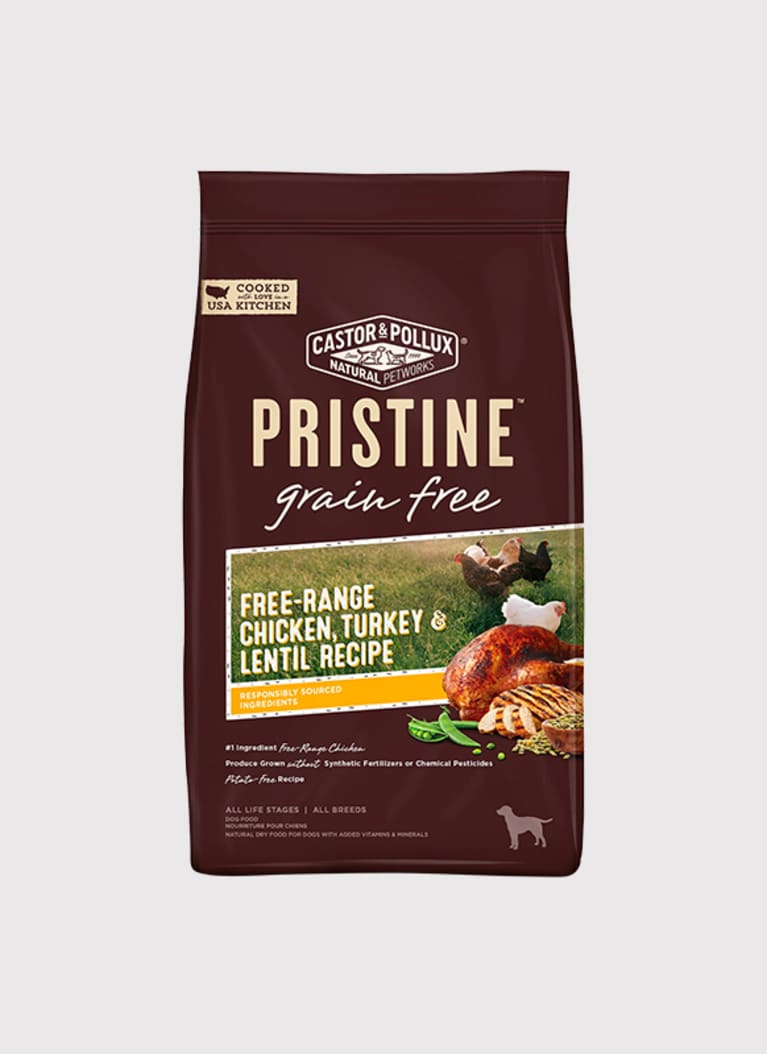 meg doty / mbgcreative
ACANA Paleo With Fresh Wild Boar, Turkey & Rabbit
ACANA's paleo formula includes 60 percent fresh and local wild boar, turkey, and rabbit and 40 percent vegetables like chickpeas. pumpkins, and green peas. You won't find any grains, potato, or gluten; instead, your pet will be nourished with essential vitamins and minerals that mirror your dog's biological diet. ACANA's science-backed formulas center around their biologically appropriate philosophy, which is to feed dogs with the quantity, freshness, and variety of meat they are adapted for.
ACANA's Paleo With Fresh Wild Boar, Turkey & Rabbit, ACANA, $81.39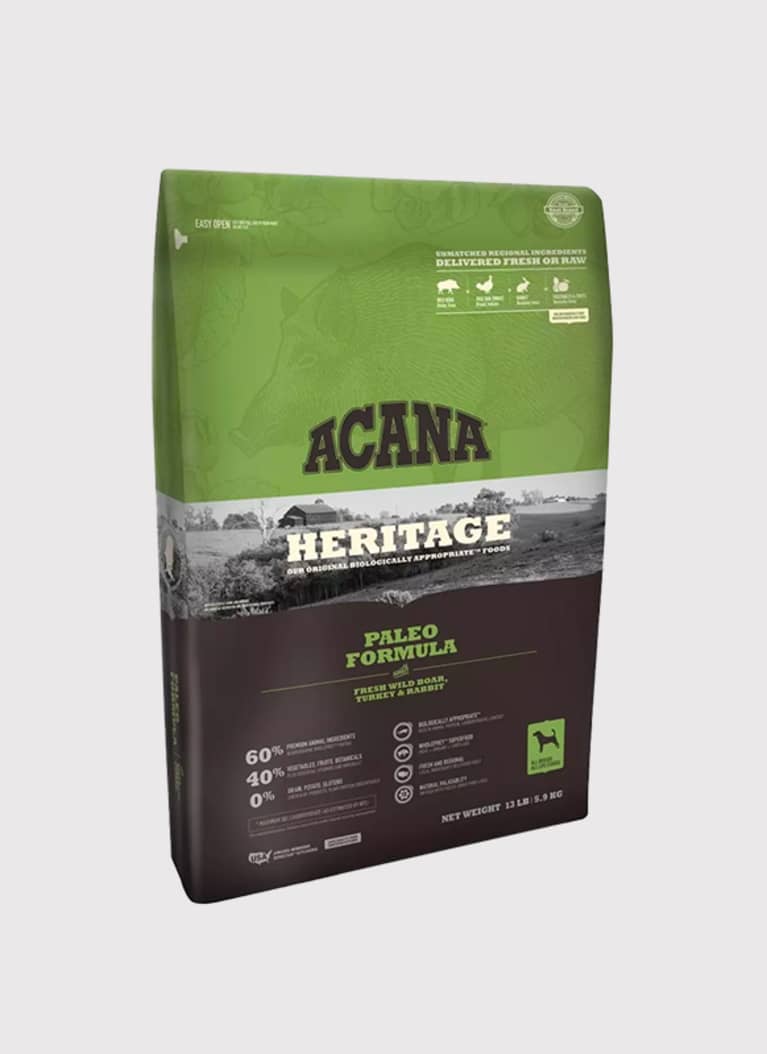 meg doty / mbgcreative
Orijen Fit & Trim
When looking for food for your dog, you'll want to be on the lookout for biologically appropriate blends, meaning, the food satisfies a dog's original diet. This is one rich in a variety of fresh meats. Orijen's Fit & Trim dog food is a great place to start as it features fresh free-run chicken, turkey, nest-laid eggs, and wild-caught fish. It's 85 percent meat and 15 percent fruits and vegetables like kale and apples. It's packed with vitamins, minerals, amino acids, and botanicals to support digestion and cleanse the liver.
Orijen Fit & Trim Biologically Appropriate For Dogs, Orijen, $37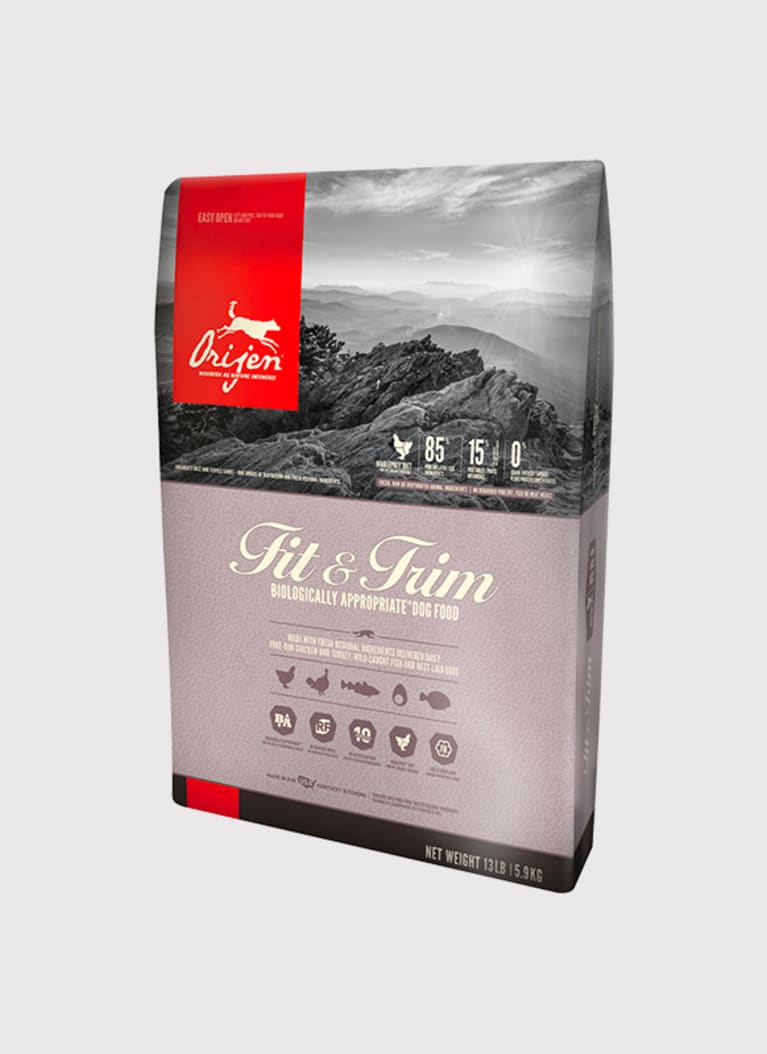 meg doty / mbgcreative
BLUE Freedom Grain-Free Indoor Chicken Recipe
This BLUE Freedom chicken recipe from Blue Buffalo is perfect for your new kitten. It's formulated with high-nutrient and high-protein ingredients like deboned chicken, carrots, sweet potatoes, and peas, so your kitten can grow strong and healthy. It also features blueberries and cranberries and leaves out grains and gluten so that your kitten is receiving only the best natural ingredients in every bite. This formula supports your kitten's brain and eye development, muscle growth, immune system, and heart and eyes. Rest assured your kitten is in good hands with this nutrient-dense food.
BLUE Freedom Grain-Free Indoor Chicken Recipe, Blue Buffalo, $20.99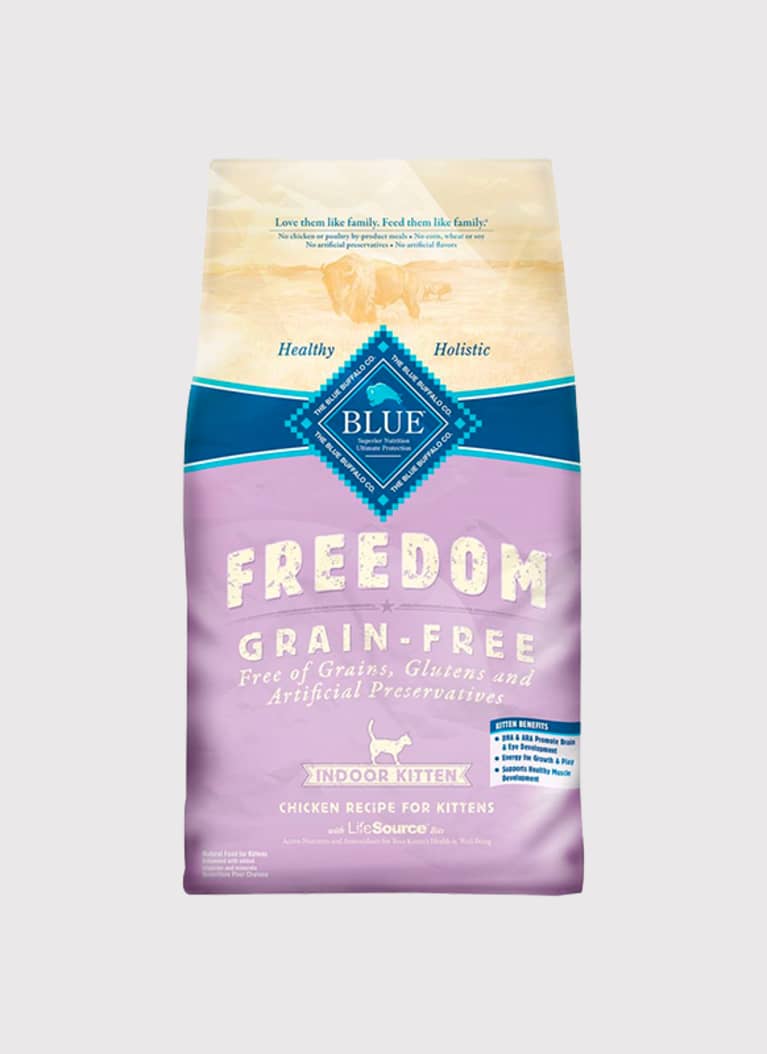 meg doty / mbgcreative
Nulo Freestyle Duck & Lentils Grain-Free Indoor Dry Cat Food
Nulo's duck and lentils grain-free cat food will be your cat's new favorite meal. It's protein-packed with real meat like duck, chicken, and turkey so your cat can build healthy, strong, and lean muscles. This nutritious blend is fueled by probiotics to help support your cat's gastrointestinal health and includes antioxidants and vitamins that promote a healthy heart. Every bite contributes to your felines overall health with a balance of animal-based protein, fats, and fiber. Your cat will feel and look great!
Nulo Freestyle Duck & Lentils Grain-Free Indoor Dry Cat Food, Nulo, $42.99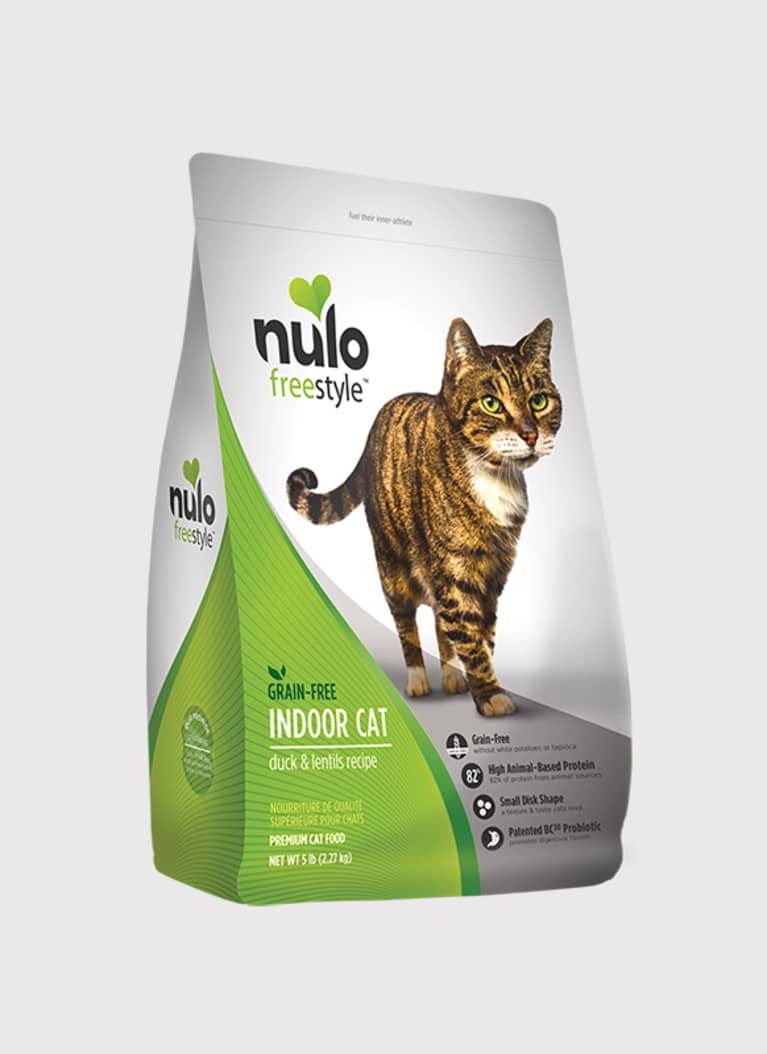 Nulo
Instinct Raw Frozen Bites Beef Recipe
This beef recipe from Instinct The Raw Brand is exactly what it says it is: raw. Instinct decided to go raw to give dogs a diet with maximum nutrients in the form they are meant to have it in. This formula features whole foods like raw beef, apples, carrots, and sweet potatoes, which benefit strong bones and muscles and support digestive and immune health. Instinct uses only real meats and whole fruits and vegetables, and all of their recipes are made without grain, corn, wheat, soy, and potato, so your dog is getting its protein straight from the source.
Instinct Raw Frozen Bites Real Beef Recipe, Instinct The Raw Brand, $14.99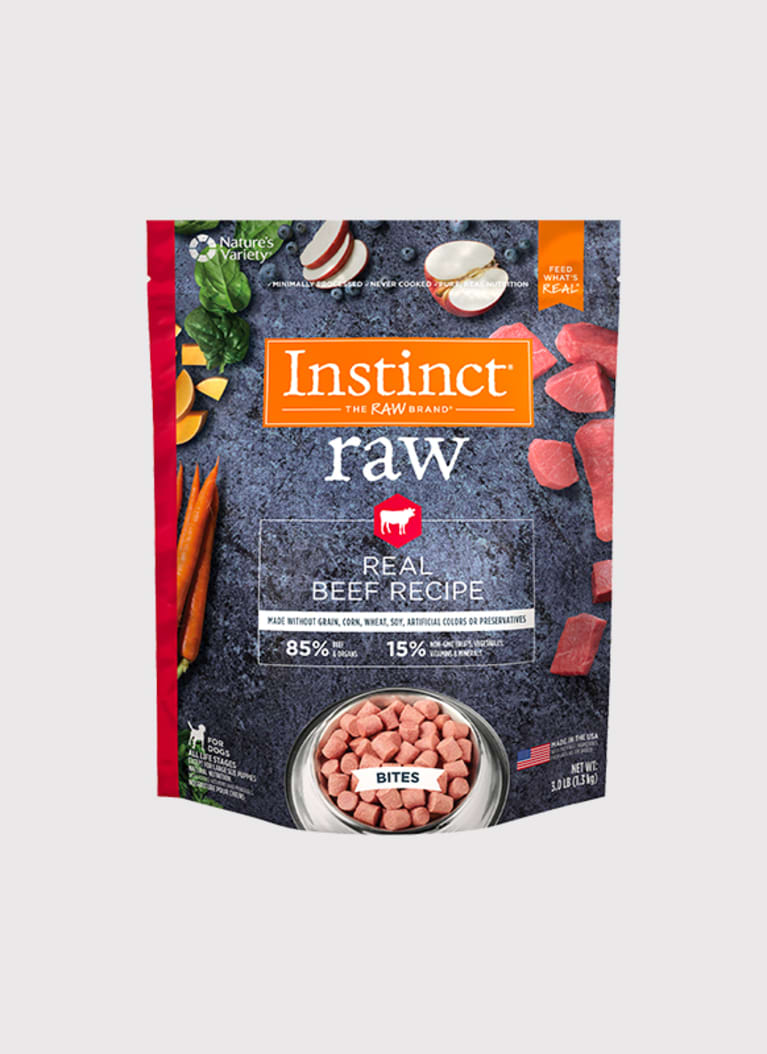 meg doty / mbgcreative
Wellness Complete Health Deboned Chicken Meal
Wellness' complete health deboned chicken recipe is optimal for your adult cat as it features deboned chicken, omega fatty acids, and vitamins and minerals to support your pet at this stage in life. Each of the ingredients is chosen for their nutritional and functional benefit. In addition to chicken, this formula includes high-fiber ingredients like tomato, apples, and bananas, and cranberries to help rid the urinary tract of harmful bacteria. This 100 percent grain-free recipe will support your cat's immune system and promote healthy joints.
Wellness Complete Health Grain-Free Adult, Wellness, $32.29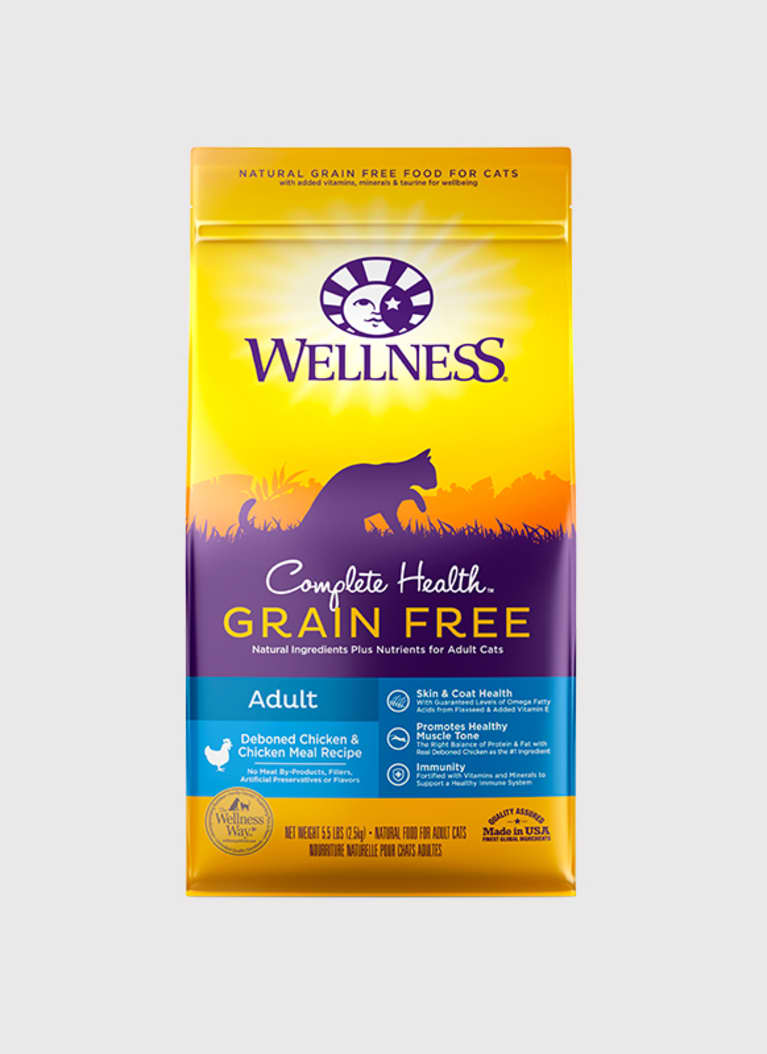 meg doty / mbgcreative
Purina Beyond Dry Dog Food Superfood Blend
This superfood blend is made with all-natural ingredients and is high in vitamins and minerals. It features salmon, egg, and pumpkin for a high-protein and high-fiber recipe. It's free of corn, wheat, soy, artificial flavors, and preservatives, so you can be sure you're giving your dog ingredients straight from the earth. Beyond goes above and beyond and consults pet nutritionists to develop recipes of the highest standard in quality and responsibility. Each ingredient has a purpose, and that is to support your dog's health every step of the way.
Purina Beyond Dry Dog Food Superfood Blend Salmon, Egg & Pumpkin Recipe, Purina Beyond, $26.90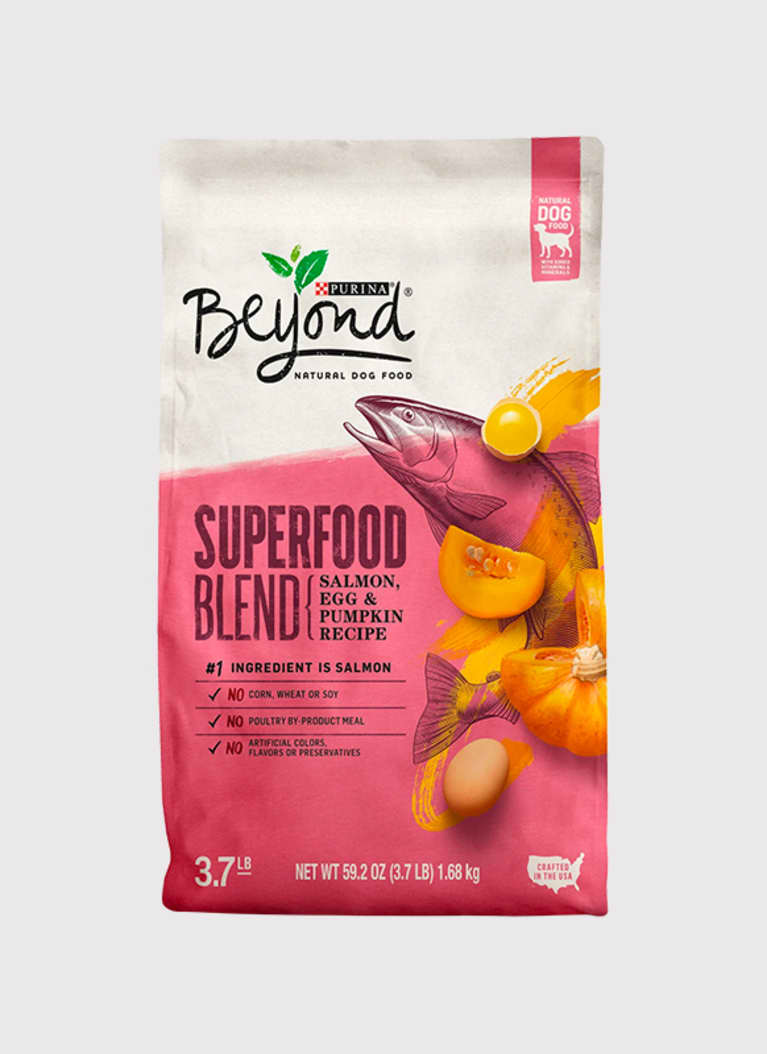 meg doty / mbgcreative
Simply Nourish Dog Food
This chicken and brown rice recipe from Simply Nourish features natural whole ingredients and is high in vitamins and minerals. Its main ingredient is real deboned chicken, which helps support a healthy heart and body. The formula includes only the finest sourced ingredients. In addition to chicken, it also includes fruits and vegetables like carrots, pumpkin, and blueberries. This recipe will help your dog build strong muscles and keep its heart healthy. Simply nourish your dog with this tasty meal.
Simply Nourish Adult Dog Food Chicken & Brown Rice, Simply Nourish, $25.29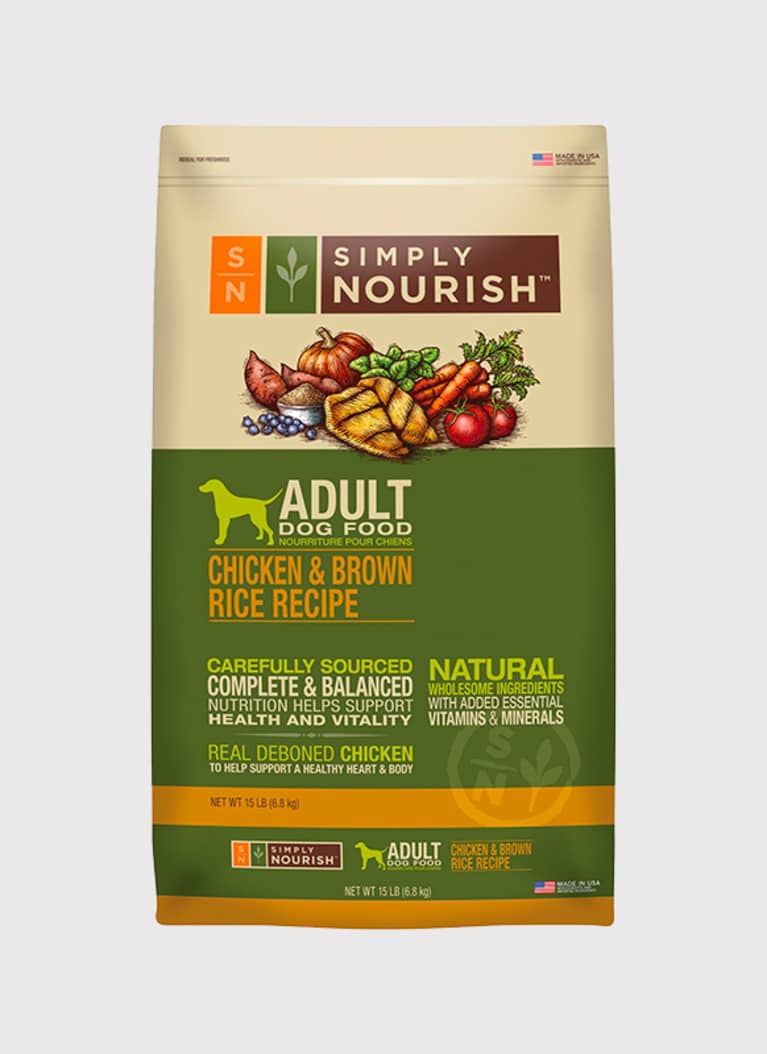 meg doty / mbgcreative
Freshpet Nature's Fresh Cat
Your cat is in good hands with Freshpet's grain-free chicken and ocean whitefish recipe. It includes ethically raised fresh chicken and antioxidant-rich vegetables like peas, carrots, and spinach. Freshpet uses local ingredients when possible, and all their meat is antibiotic-free and sourced and raised humanely. This high-protein, balanced and nutritious meal is the perfect option to support your cat's health. It's tasty, easy to consume, and, of course, healthy.
Freshpet Nature's Fresh Cat Grain-Free Chicken & Ocean Whitefish, Freshpet, $9.99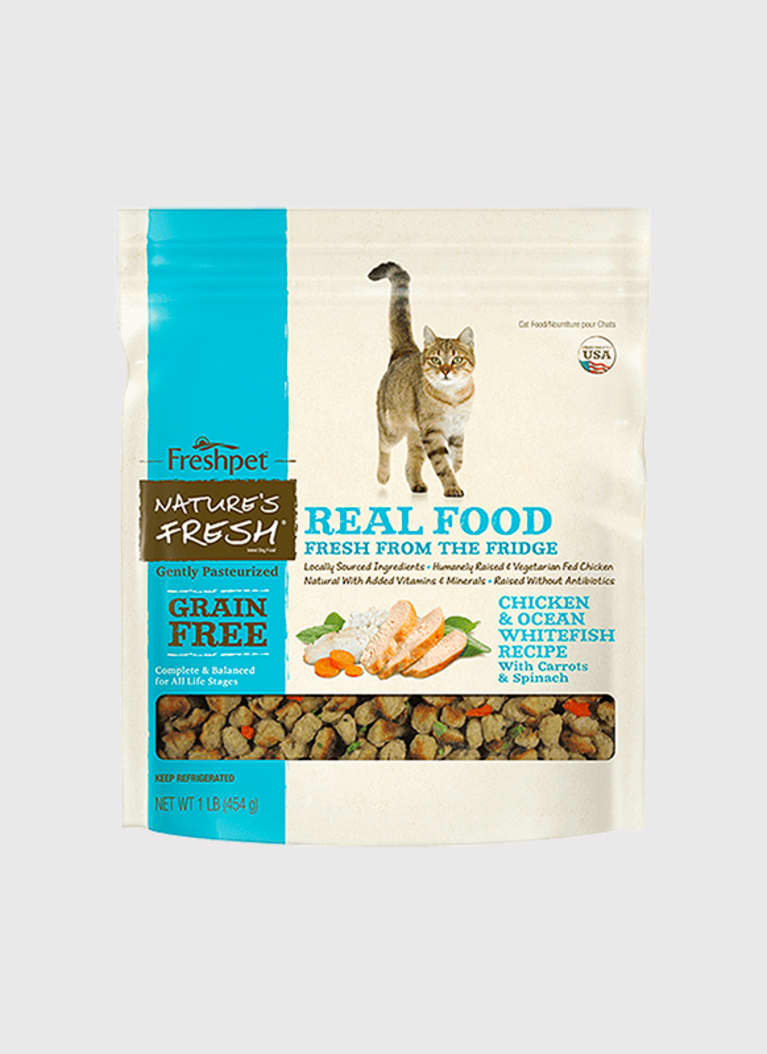 meg doty / mbgcreative