Chickpea Crêpe (Farinata) with Mushrooms and Artichokes
Our editors have independently chosen the products listed on this page. If you purchase something mentioned in this article, we may
earn a small commission
.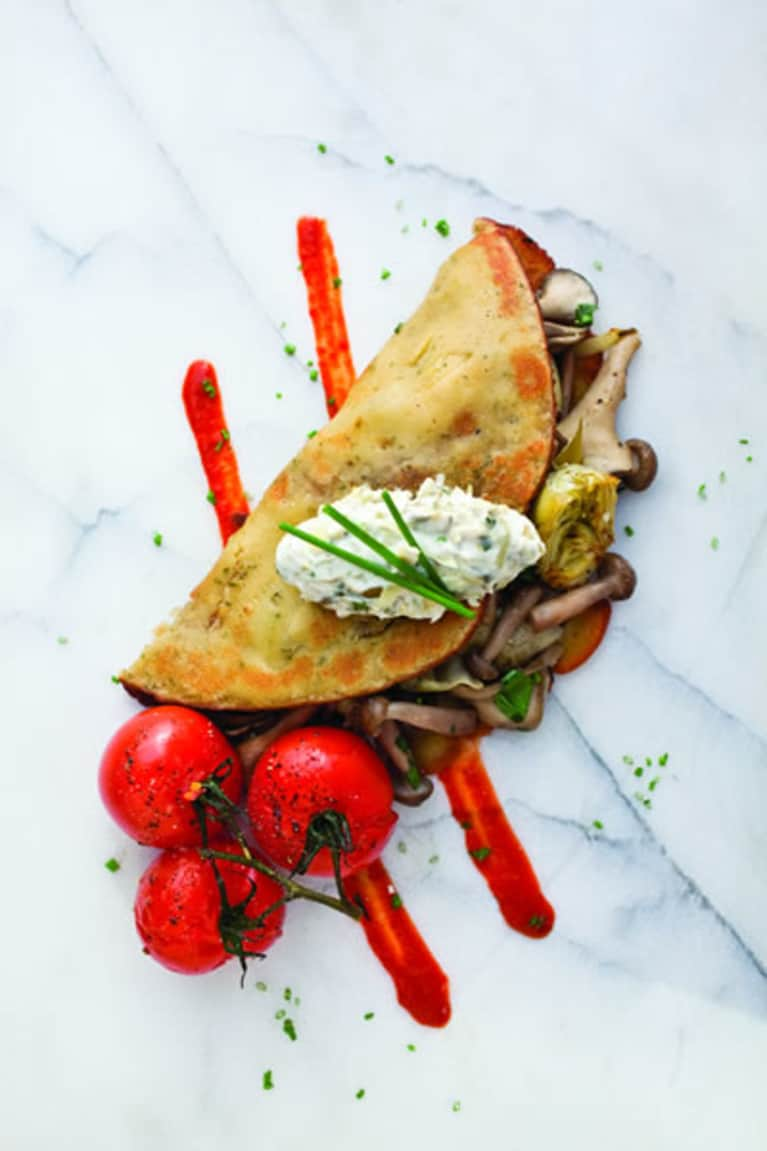 This is the Crazy Sexy version of Italy's popular chickpea crêpe -- one of Chad's most popular brunch items in his European restaurants. Chickpea flour is gluten-free and particular high in folate. Folate helps our bodies produce and maintain new cells, making it especially important for pregnant ladies and growing babes.
Chickpea Crêpe (Farinata) with Mushrooms and Artichokes
Artichoke Aioli
1 cup raw cashews, soaked in water for 4 or more hours to soften
1/8 cup water, to blend
1 tablespoon olive oil
1 1/2 teaspoons apple cider vinegar
2 1/4 teaspoons lemon juice
1 1/2 teaspoons agave
1 clove garlic
1/2 teaspoon sea salt
1/4 cup jarred artichoke hearts, coarsely chopped
2 tablespoons chopped tarragon
2 tablespoons chopped parsley
1 1/2 tablespoons minced shallot
1 tablespoon lemon zest
1 1/2 cups water
1/2 cup olive oil
1 teaspoon sea salt
Freshly ground black pepper, to taste
1 1/3 cups chickpea flour
2 tablespoons chopped fresh rosemary
8 ounces cherry tomatoes (on-the-vine is best)
3 sprigs fresh thyme
1 tablespoon olive oil
Sea salt, to taste
Freshly ground black pepper, to taste
2 tablespoons Earth Balance or other vegan butter
1 1/2 cups loosely packed wild mushrooms, preferably chanterelles, or baby bellas
2 garlic cloves, minced
2 tablespoons minced fresh chives
1. Prepare Artichoke Aioli: In a high-speed blender, blend cashews, water, olive oil, vinegar, lemon juice, agave, garlic, and salt until smooth. Add water as needed to reach desired thick, mayo-type consistency. Move mixture to bowl and whisk in artichoke hearts, tarragon, parsley, shallots, and lemon zest.
2. Preheat the oven to 300°F.
3. Prepare Farinata Batter: In a blender, combine water with the oil, salt, pepper, and chickpea flour. Blend until smooth. Add more flour, if necessary, until the mixture is the consistency of pancake batter. Lastly add the fresh rosemary and pulse, to ensure there are pieces of rosemary scattered in the batter. Set aside.
4. Prepare Roasted Tomatoes: Put the tomatoes and thyme on a baking dish and drizzle with a bit of oil. Season with salt and pepper to taste, and toss to lightly coat the tomatoes. Roast in oven for about 10 minutes, until the tomato skins crack.
5. Prepare Mushrooms: Place a large sauté pan over medium heat. Melt the vegan butter, being careful not to let it burn. Add the mushrooms and garlic and sauté until the mushrooms have released their liquid and the pan is almost dry, about 4 minutes. Gently stir in the chives and remove from the heat.
6. Prepare Farinata: Place a crêpe pan or griddle over medium heat and add enough vegan butter to lightly coat the bottom. Ladle about 3/4 cup of the Farinata Batter into the center of the pan. Tilt the pan to spread the batter into a thin circle. The crêpe should be thinner than a pancake in order to be able to fold it later. Cook until golden brown on the bottom, about 3 to 4 minutes, then flip it over and brown the other side. Set aside on a plate and cover to keep warm while you cook the remaining crêpes, using the rest of the batter and more vegan butter as necessary. Remember when making crêpes, it's very common for the first one or two to not turn out so well while the pan is heating to the right temperature.
7. Serve: Cover half of each crêpe with a heaping spoonful of the Mushrooms, drizzle with 2 tablespoons of the Artichoke Aioli, and then fold it closed. Garnish with a dollop of Artichoke Aioli, some Roasted Tomatoes, and freshly ground black pepper. Serve immediately.
Excerpted from Kris Carr's Crazy Sexy Kitchen