Why Every Highly Sensitive Person Needs An At-Home Altar (And How To Make Your Own)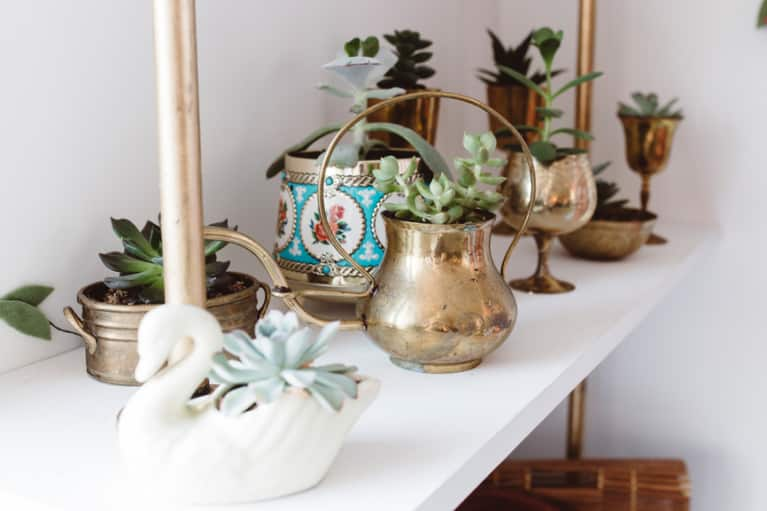 Many spiritual teachers recommend crafting sacred space in the home in order to encourage balance, relaxation and overall mental health. And it makes sense, since our living spaces often influence our state of mind. Think about it: When you look at a messy room in your home, you might get down on yourself, as if you are not enough because you allow this type of clutter.
Creating a sacred space such as a meditation altar or corner for at-home yoga can inspire massive shifts in mood, mental health, and overall success—particularly for those who easily absorb energies of others or are highly sensitive. Follow these five simple steps to customize your own calming sacred space at home:
Successful interior design requires planning. First, mull over what you want your sacred space to reflect. Sensuality? Tranquillity? A bit of nature? Then, decide where you will place your sacred space. You can keep yours in a garden, office, bedroom—anywhere really. However, if you place it in a room that you share with a spouse or roommate, take their opinion into account too and consider making it a joint effort. Next, decide on a color scheme that is significant to you.
If you decide to purchase new interior decor items, determine how much you are willing to spend. Then, wrap up the planning phase by decluttering the space, donating old or unwanted items.
2. Add a few comfort objects.
I'm not recommending becoming a hoarder, but keeping a few comfort objects in your space can really make it your own. A comfort object could be an old jewelry box, a cozy pillow, a family heirloom or an important object from your childhood. Owning objects like these and keeping them in your sacred space is a way for you to feel safer and more relaxed at home.
3. Make your sacred space smell amazing.
After you've located some comfort items, choose a few smells that will tantalize your senses. A scent you enjoy brings about a soothing quality and allows you to relax and detach from a hectic day. Look for aromatherapy oils, room sprays and scented candles at your local grocery or home goods store. I especially love spraying rosewater, as it's a simple way to add romance to any room.
I've also recently experimented with smudging and have found it to be an effective way to clear negative energy from a space. Science even agrees that burning herbs releases negative ions into the air, resulting in a more positive mood.
4. Research interior design tricks.
Professional designers are often able to create the illusion that a space is expansive and expensive using a few quick tricks. For instance, placing investment pieces in the middle of a space creates the illusion that it's more refined. Adding color to window trims and mirrors to the walls can make a space feel lighter. If you follow interior design accounts on Instagram, you've probably seen that light walls are very popular right now, too, as they make rooms appear larger. Keep a few of these in mind as you craft your sacred space. Add a mirror or two, paint dark surfaces in lighter tones, and play with higher-end items.
Finally, top off your altar or meditation corner with personal touches, like photos you've taken, artwork you've painted, or poetry you've written. They could include objects that reflect your spiritual tradition, such as a cross or small statue. Keeping books you enjoy is also a good idea, as long as you keep them organized. Finish it off with fresh flowers to invoke peace and prosperity.