The Case For Clutter: Why I Love Being A Maximalist In A Minimalist World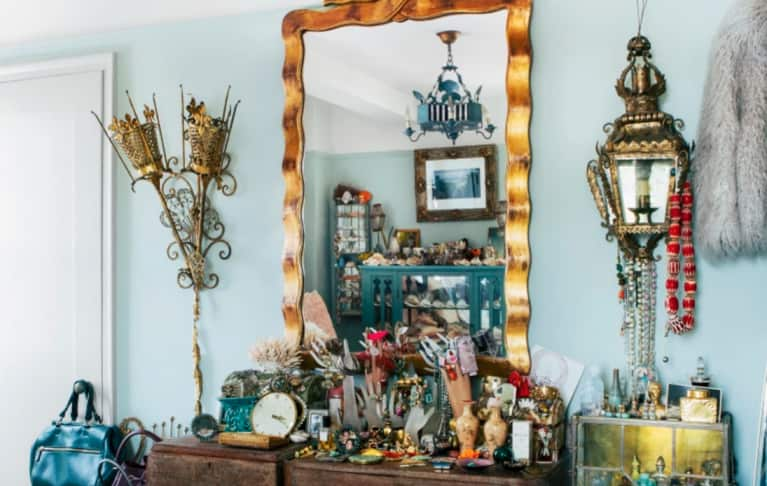 A few weeks ago, mindbodygreen shared skin care icon Linda Rodin's secrets for inside-out beauty. And once we peeked into the Rodin Olio Lusso founder's routine, we couldn't take our eyes off of her crowded, colorful, dazzlingly daring apartment. Here, Linda makes the case for maximalism and explains what makes her space so special.
I've been living in my Chelsea apartment for about 35 years, and I've always been a "more is more" type of person when it comes to décor. Maybe it's because of my mother—she was a stylish interior decorator who owned a charming, very tiny antiques shop. Growing up, I was always surrounded by beautiful objects that told their own unique stories mixed with her own indelible style. It was a very eclectic mix of everything.
Fast-forward to today, and every object I own holds a special meaning, whether it connects me to my memories or its beauty simply brings a smile to my face and a joy to my eyes.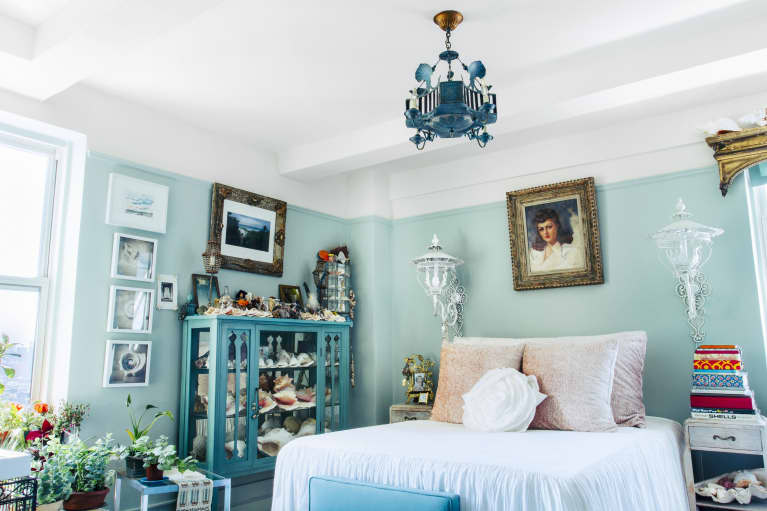 The ones with sentimental value—photographs taken by my late sister, the 1939 portrait of my mother when she was 20 years old hanging above my bed—all of these are the most special to me. The plants, trinkets, and furniture that compose my external landscape all come from my internal landscape. The outside reflects the inside. A wonderful example is my shell collection. When I look at these unique and wildly gorgeous mollusks, I can totally remember the beach I was on, the place I was staying at the time. I can smell the sea air and transport myself right back to those wondrous times.
Minimalist interiors seem to be all the rage these days, but I don't see them as holding the same capacity for personal expression. I love having many things to look at that take me somewhere else. It's like traveling to me, yet I'm home with the memories of where I've been, who I was with, why that object appealed to me. It's the same feeling I get when I'm watching an old black-and-white film. I'm flooded with memories of wonderful times gone by. I'm sentimental and nostalgic. My home expresses my past and my present.
I'm a Pisces and my space speaks to this love of all things water. I have created an aquatic fantasy of sorts, and it's not minimalist in the least. My walls are painted a very pale turquoise, like the Caribbean Sea, and the floors are painted white. I feel as though I'm always by the ocean, and I'm surrounded by shells that I collect passionately. It's dotted with plants that speak to the progression of my green thumb (I had trouble keeping greenery alive until about two years ago when I suddenly got the hang of it). Now, I must have 50 plants that I nurture. I love my succulents and my orchids, and every green creature in between. It takes a lot of time, but I love every moment. I talk to my plants like old friends.
To anyone who has tried to live more minimally and found the paring-down process to be discouraging, know that it's fulfilling to live with beauty and memory. I've always found that surrounding myself with objects feels like an embrace, and this warmth translates when guests come over. It's like entering someone else's world. It's always interesting seeing friends' reactions to my little home.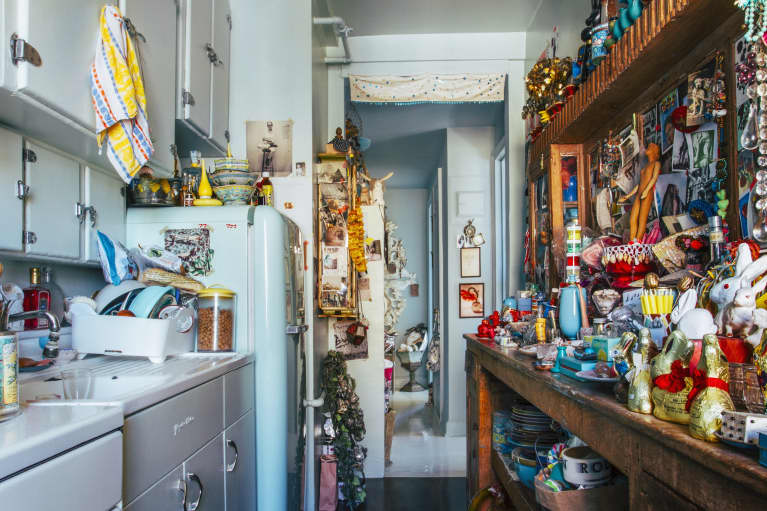 I remember one afternoon in particular, when a dear friend of mine, who is 95 years old and totally "gets it" and knows I'm a total homebody, came over to visit. She took one look at my apartment and said, "Ah! Now I understand why you never want to leave your home. You've got all of your best friends right here." And that's it in a nutshell. My friends are here and they give me joy and keep me company. With my doggy Winky by my side, home is clearly where my heart is.