He Says, She Says: The Fitness Routine That Transformed This Couple's Relationship, In Their Own Words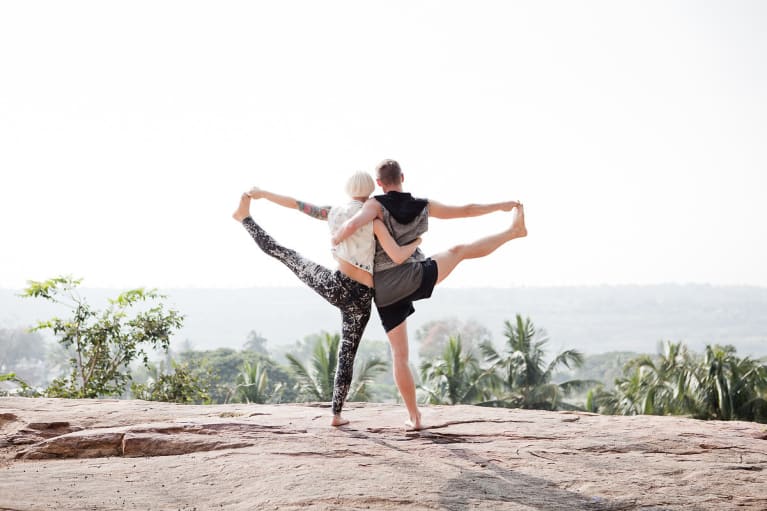 When my partner Melissa first invited me to yoga, I was so nervous. I'd only been a few times in my life, and I was reluctant to go because I just didn't think I was very good at it. "I'll let it be her thing," I told myself. But with some careful coaxing and a big smile on her face, she convinced me to go. Now, after months of going together nearly every week, the benefits have been outstanding—I can't believe how much closer we've grown.
Here are the changes I've noticed in our relationship since Melissa and I started doing yoga together.
There's nothing more satisfying than seeing my partner in her happy place.
Good relationships are about compromise. With a background as an endurance athlete, I'm certainly more comfortable going cycling or for a run, but the first time that I saw how happy yoga made Melissa, I was happy too. I remember the first time very clearly. I felt like I was watching performance art when she moved, and I could tell she was in a state of complete flow. Seeing her in her element made me happy.
We have extra time to bond.
As car-free New Yorkers, we walk about one mile to yoga together. Melissa is great about scheduling the time for us to walk so we're not rushed, and those 15 minutes that we set aside to walk are amazing for holding hands, having great conversation, laughing, and moving together in the fresh air. When class is over, we often grab a quick lunch together. I've found that creating a "mini event" out of yoga has made that time really valuable.
We can walk into yoga stressed out with our minds full of things on our to-do list, but when we walk out we're more grounded, centered, and relaxed. The pause together is such an incredible way to take time out, and it helps us remember what's important in life.
Yoga has helped us pause to realize that our relationships are so much more important that the hustle. Those things are just a facade—they just feed our ego. I can't fully explain how it happens, but I know that we both seem to come out of yoga more grateful for each other, for our lives, and for the day in front of us.
I also remember the first time I begged Brock to join me for yoga. He was timid and told me that it really wasn't his thing, but with a little convincing, he joined me on the mat. Now, we walk to my favorite studio laughing, talking, and holding hands, and it's one of my favorite times of the day—a time to simply focus on moving our bodies and feel a little peace.
Here's what I've noticed since Brock and I started doing yoga together.
As a former ballerina, my childhood relationship with my body was a difficult one. When I finally found yoga at age 21, it was a safe haven—a place where my body got to move, sweat, and lift me up. Seeing Brock step into the studio and have a hard time touching his toes, I was worried that maybe bringing him to yoga with me was a mistake.
I was so wrong! After that very first class, I saw the light in his eyes: He had caught the yoga bug. He talked about it the whole walk home. He couldn't believe it was such a good workout, and he knew it was going to be a great addition to his running.
Our practice has given us time to pause.
One of the things I've noticed since practicing with Brock is that we now take the time to pause and think before we speak so we don't say things we regret. Yoga teaches us to take a pause after we breathe in and before we breathe out. I believe that pausing has helped us immensely in creating a greater understanding of each other in times of disagreement.
Intentions have been a game-changer
Upon the start of class, most teachers ask you to think of an intention, which acts as a metaphor and translates your practice off the mat and into your life. Brock and I have discussed our intentions, and most of the time for me they are about trusting the universe and letting go of things we can't control.
Every once in a while, our intentions line up, and after class there's a feeling that our bond is unbreakable, something shared that is so deep and transitional that it's almost tangible. To me, that's priceless.
This article is co-written by Brock Cannon and his partner, Melissa Petitto.
Want more fitness inspiration? Find out why these famous runners lace up their sneakers every day, and take a look at the most beautiful day hikes in the world.