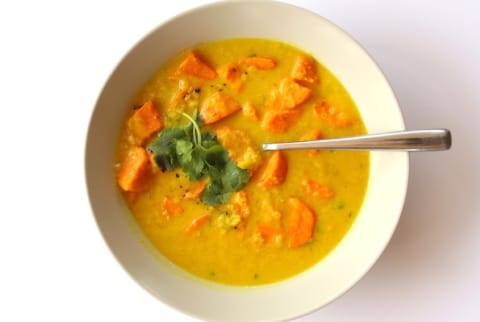 September 27, 2014
I love making this soup, and I can't help but smile as the warming turmeric lends its sunny yellow hue into the pot. Plus it only takes 20 minutes start to finish.
As fall officially begins, this nutritious, vegan-friendly soup is the perfect thing to serve when you're snuggling up on the couch with the biggest blanket you own!
Yam, Lentil & Ginger Soup: Perfect For Fall!
1 cup red lentils, rinsed and picked through
5 garnet yams, peeled and roughly chopped
2 Tbsp. of fresh turmeric, grated or finely diced
4 Tbsp. ginger, grated or finely diced
1 Tbsp. of organic coconut oil
6 cups of organic chicken or vegetable stock
1/4 cup of organic coconut milk
1 bunch of fresh cilantro, finely chopped
1 tsp. of salt
Black pepper to taste
Pick through the lentils, just to make sure that there isn't any sediment. Those pesky little rocks are no fun on your teeth.
Melt the coconut oil on a medium heat, add in the grated turmeric, ginger and lentils. Sauté for a 3-5 minutes until fragrant, then add in the yams. Toss until well coated and slightly caramelized.
Pour in stock, bring to a gentle boil and then simmer until lentil and yams are soft enough to easily squish with the back of your spoon.
Take the soup off the heat and mix in coconut milk and cilantro.
Season to taste and serve.

Erica Chidi
Doula, Author & Co-founder of LOOM
Erica is a doula, health educator and author. She is an inherent activist, empowering people around reproductive health and guiding thousands of people in their transition from pregnancy to parenthood in her practice and through her book, Nurture: A Modern Guide to Pregnancy, Birth, and Early Motherhood.

Erica began her work in San Francisco, volunteering within the prison system working with pregnant inmates. She went on to build a successful doula and reproductive health coaching practice in Los Angeles.
Her company, LOOM, exists to provide education and inclusive community that empowers people throughout the reproductive, pregnancy, and parenting experience.