This Is Why Everyone Should Strength Train At Least Once A Week

NASM-certified Personal Trainer
By Nora Tobin
NASM-certified Personal Trainer
Nora Tobin is a NASM-certified personal trainer living in Santa Barbara, California. She created the Fulfillment in 3 program and is a health and wellness partner to Marriott International Luxury Brands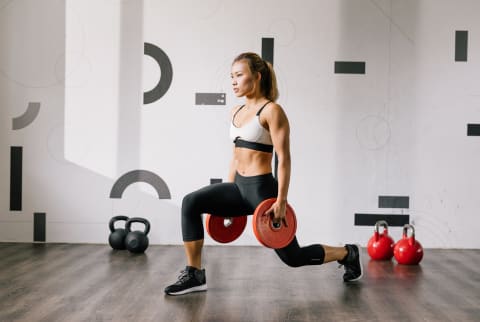 Image by Felix Hug / Stocksy
May 6, 2019
I used to subscribe to the notion that strength training was going to make me "bulky." Little did I know I was missing out on one of the best ways to tone up, ignite my metabolism, and improve my posture.
As soon as I incorporated at least one day of total body strength training per week, I quickly noticed a difference in my shape and in the way I carry myself. (Yes, even once a week can have an impact!) I saw physical results, like a tighter physique and increased strength, but even more so, I reaped psychological benefits. I feel better mentally and physically than I ever have, and that's, in part, thanks to strength training.
Here are the top reasons you (and everyone you know) should strength train, too.
Strength training elevates your metabolism. 
Strength training raises excess post oxygen consumption (EPOC). This is important to all of us since this process can raise your metabolism for up to 24 hours after your workout concludes. This change allows the body to burn fat more efficiently throughout the day while securing sustained energy. Additionally, lean muscle improves posture, sculpts the physique, and protects our bones.
It can help you beat sugar cravings.
Another big advantage of working out with weights is improving glucose metabolism. Strength training boosts the number of proteins that take glucose out of the blood and transport it into the skeletal muscle. This gives the muscles more energy and lowers overall blood-glucose levels. The body's insulin response will be lowered, which limits rapid blood sugar spikes. Not only is this important for beating cravings, but it also keeps our bodies from holding on to unnecessary fat.
Sitting all day? Strength training reduces the negative effects.
A strong foundation (aka a strong body) helps take pressure off the joints. When we sit for long periods of time, we lose activation in our core and glutes. This leads to added pressure in places like the lower back. In order to avoid this issue, it is incredibly beneficial (and imperative) to strengthen these muscle groups—that way these muscles can support the body at all times, even in passive situations.
So if you haven't given strength training a try, you now have three solid reasons to get started. Grab a friend, grab some weights, and watch your life and body change before your eyes.
Want to turn your passion for wellbeing into a fulfilling career? Become a Certified Health Coach! Learn more here.

Nora Tobin
NASM-certified Personal Trainer
Nora Tobin is a NASM-certified personal trainer living in Santa Barbara, California. She is a health and wellness partner to Marriott International's luxury brands and The Ritz-Carlton Yacht Collection. Her company hosts luxury retreats, executive summits, and keynotes globally. Nora is also a Performance Enhancement and Nutrition Specialist, yoga instructor, and columnist. She's received advanced certifications in helicopter, cliff, scuba and ocean rescue. She also hosts daily live yoga classes on her Instagram, open to all levels.