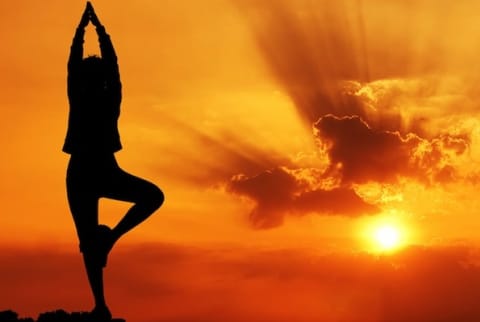 Photo by Shutterstock.com
June 6, 2013
I completed yoga teacher training through YogaWorks in December of last year. I still haven't taught a public class. And I'm okay with that.
On our first day of training, we went around the room and introduced ourselves. We also said whether or not we actually planned to teach yoga. At the time, I think I said, maybe.
Advertisement
This ad is displayed using third party content and we do not control its accessibility features.
As the weeks passed and the training became more intense, I told myself I'd be teaching at the end of it all. Why spend every weekend for three months completely immersed in something I love so much as yoga, and not share my knowledge once it's all said and done?
As my life post TT continues, I'm settling back in to a routine (with a lot more time on my hands). I realize my teacher training experience was so incredibly valuable on so many levels, that even if I never taught a public class in my life, I could be happy with that.
When I practice yoga now, I feel more intelligent in my movements and alignment. It's because I AM more intelligent. I make educated decisions during my asana, and don't feel like a loser if I come into child's pose or take a restorative backbend instead of full Urdvha Danurasana.
I acknowledge when I'm doing something incorrectly. I use props if I know it will help me get into a pose. I ask the teacher for help. I finish when I know my body is telling me to be done. These are all the things I didn't do before teacher training. I'd just push and push myself and look around the room and compare myself to other yogis, and get mad if my skill level wasn't the same.
Besides the physical benefits, the mental "alignment" I took away from teacher training is far greater than anything I could have imagined. We were taught very early on that in Patanjali's Yoga Sutras, he barely makes a mention of asana at all. "Yoga", in that sense, is almost entirely mental. The philosophy of staying mindful, finding quiet, and listening to your breath in any instance of life is truly priceless.
I still have a goal to teach yoga at some point, and good things are stirring up for me these days. But if it falls through, I'll press on. Whether that means finding a place to share my knowledge, or just reminding myself of all that I learned when I'm both on and off my mat.
Advertisement
This ad is displayed using third party content and we do not control its accessibility features.

Rebecca Seed
Rebecca is a certified yoga teacher based in Los Angeles, having completed her 200-hour training through YogaWorks. Growing up in New England as a competitive figure skater, Rebecca has used her yoga practice to quiet the ego and calm the breath. She loves music almost as much as she loves yoga, and finds herself at concert venues all over LA throughout the year. You can find her on Twitter and Instagram @SeedYoga.