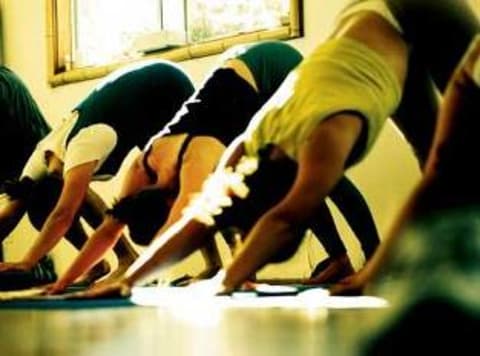 "When I was a boy and I would see scary things in the news, my mother would say to me, 'Look for the helpers. You will always find people who are helping.'" ~ Mr. Rogers
In New York, there's a fairly prescriptive road for the multitude of new yoga teachers that this city creates every month. Get your training, continue to take classes at that studio, become an apprentice to find a mentor, take more training, hope to sub, go to auditions for open spots, teach a community class, and then hope somewhere down the line you get some semi-permanent spot on the roster. This idea works just fine for some teachers. It wasn't going to work for me. I want to use my yoga teaching to broadcast my message. This prescriptive path felt more like narrow-casting to people in the city who can afford $15 to $30 per class. I wanted more reach to people who would never set foot inside a yoga studio for a variety of reason. That's how yoga is going to really turn this world in a better direction. We have to go where there's need.
Advertisement
This ad is displayed using third party content and we do not control its accessibility features.
I do believe that we have a better shot at creating a better world if more people take up yoga and meditation. This means taking a teaching path that takes me to the masses. Stress is literally killing us, ruining our relationships, and preventing us from rising to our potential. Yoga and meditation give us a way to process stress and get rid of it, unblocking the road into our own personal power and awakening. The awareness that it generates is going to save us, our neighbors, and our planet. I teach for a very selfish reason – I want to live in a world that's better than the one we live in now. Yoga is a map to get there.
About the time that I completed my yoga teacher training, I boarded the subway to find a homeless man seated across from me. He had fallen asleep in a soft, flopped over shape, his bag of pretzels spilling onto the floor. I had the thought that those pretzels might be his dinner so I leaned over to put the bag into his lap so he wouldn't drop anymore. I looked up to see my entire bench starring at me as if I had committed some crime. "This," I thought, "has got to change."
It was at that moment that I realized I had something to offer in my teaching – I could set an example for a kinder existence that included bringing people into the fold who have become so disenfranchised from society. Through my yoga I do believe I can transform a community's mindset, one small block at a time. I could start a movement that used yoga to help people get their lives back on track. And to do that my students will be found not in posh studios, but within the very buildings that I walk by every day. On the subway, on the blocks I traverse every day. They are my neighbors, and they need me.
Advertisement
This ad is displayed using third party content and we do not control its accessibility features.