The Decades-Old Recovery Practice Athletes & Dancers Swear By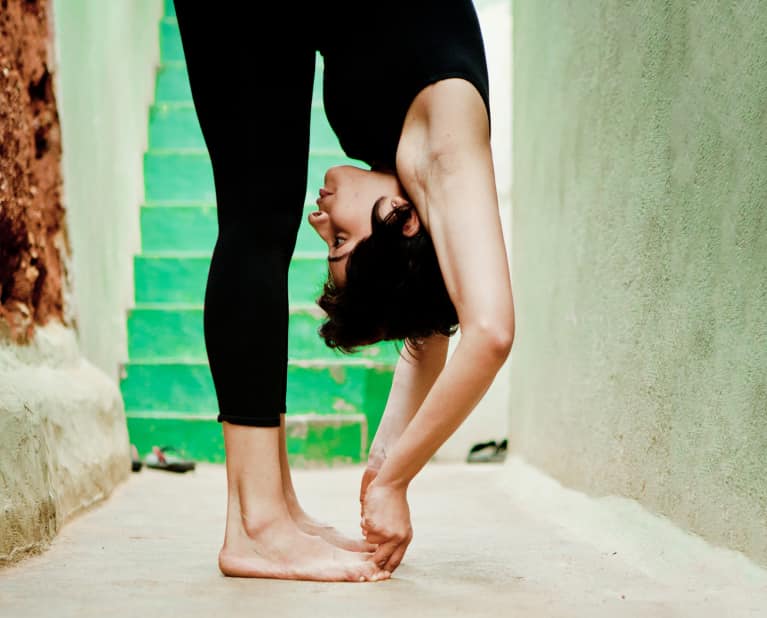 Whether you're recovering from an injury or you're looking to improve your mobility and athletic performance, the little known active recovery method gyrotonics is a must-try. Founded in 1942 by Romanian ballet dancer and swimmer Juliu Horvath, the gyrotonic recovery method isn't as buzzy as cryotherapy or stretching. But the unique equipment and movements involved in this practice—it's been called "yoga for dancers"—help decompress the joints and sync movements with the breath.
Juliu Horvath had a sound reason for developing the gyrotonic method: After moving to the United States to dance with the New York City Ballet and Houston Ballet, he found himself with career-ending injuries: herniated discs and a torn Achilles tendon. So he came up with the Gyrokinesis Method, or "yoga for dancers." The Gyrokinesis Method is practiced with minimal equipment (a mat and a chair), while the gyrotonic method (which is more common) goes a little heavier on the equipment with tools like jumping stretch boards, archways, and leg extension units.
Regardless of which method you choose, both incorporate aspects of more well-known recovery methods like yoga, tai chi, and swimming. While the Gryokinesis Method can be done on a mat at home, there are gyrotonic-specific studios where you can practice the gyrotonic method with various forms of equipment. Gyrotonics most closely resembles Pilates from the outside, especially when machines get involved. The wooden machine with pulleys—called a pulley tower combination unit—looks a tad similar to a Pilates reformer. And while there are no asanas involved, the breathing techniques used as practitioners practice fluid movements with pulleys and weighted discs more strongly resemble yoga and tai chi.
"Gyrotonics is essentially a way of doing rehab involving weight training and strengthening," explains Dr. Dennis Cardone, chief of primary care sports medicine at NYU Langone Orthopedics. "This type of rehabilitation combines resistance training with specific body motions that can be related to a specific sport. For example, tennis players could practice a swinging motion in combination with resistance training."
Who should practice gyrotonics?
The short answer? Everyone. As long as you're doing them correctly, gyrotonics are an excellent way to take stress off the joints and become more familiar with exactly how your body works. But as with most things, it's important to consult a professional—especially when you're first starting out.
"Before beginning gyrotonics (or any exercise program, for that matter), you should be evaluated by a qualified health care practitioner," says Nicholas M. Licameli, physical therapist at Professional Physical Therapy. "For the most part, any type of exercise can be 'good' or 'bad,' depending on the individual."
While everyone is different, gyrotonics can be compared to yoga in terms of its intensity. "Gyrotonics use a flow of fluid movements that take the body up to and through its end ranges of motion," continues Licameli. "While this may be a great way to improve mobility and range of motion in some individuals, be aware of existing pathologies of nerves, joints, and soft tissues. You don't want to make any existing problems worse!"
As long as you take proper precautions, give gyrotonics a try. Your muscles and joints will thank you.
Want other recovery ideas? Find out exactly what you should be doing on rest days.