10 Things Nutritionists Eat For Breakfast

mbg Fitness Contributor
By Gabrielle Frank
mbg Fitness Contributor
Gabrielle Frank is a freelance health and fitness writer living in New York City.
Breakfast may be the most important meal of the day, but it's also the most challenging. Getting ready for work is a race against the clock for most of us — whether you overslept, your workout ran late, or you spent too long in the shower, breakfast is typically the last thing on your mind. Which is why we asked seven nutritionists, two physicians, and one health coach what they cook up on busy mornings. Steal their tricks and start making breakfast happen more often.
Matcha Latte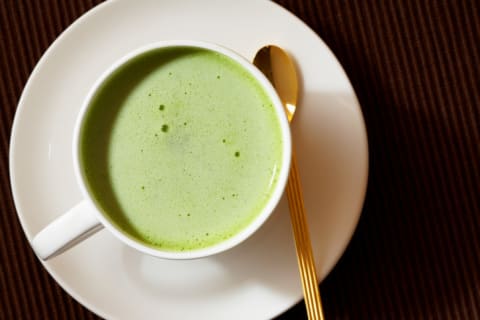 "I look for satiating breakfast options that fit into my busy schedule," says Elissa Goodman, a holistic health coach. "One of my favorite weekday breakfasts is a 'meal replacing' matcha latte. I use the same principle as bulletproof coffee (adding grass-fed butter), yet I make it with antioxidant-rich matcha green tea instead of coffee. I add Bulletproof MCT oil (or coconut oil) for healthy fat and satiation. Matcha energizes without the coffee 'crash,' and the coconut provides brain fuel for a productive day!"
Photo courtesy of Getty Images
Oatmeal With Spinach, Tomatoes, And Onions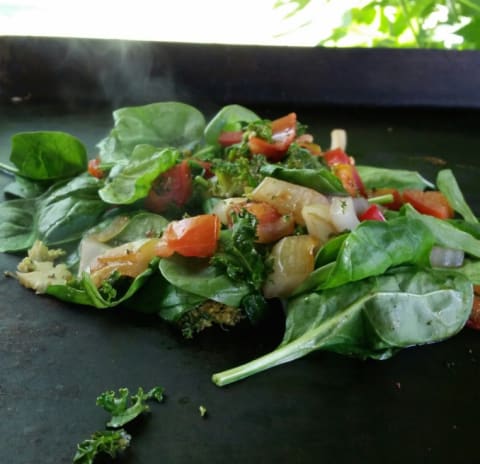 "I have a few go-to breakfasts that I rotate through," says Mikaela Reuben, culinary nutritionist and health consultant. "I'll have oatmeal with sautéed spinach; tomatoes and caramelized onions; or Greek yogurt with mixed berries and homemade granola, nuts, seeds, bee pollen. Or I'll make beets, herb cheese with heirloom tomatoes, and sliced avocado with gluten-free crackers."
Photo courtesy of Getty Images
Blueberry Smoothie
"During the week, I always start my day with a smoothie that is packed with wild organic blueberries, unsweetened coconut milk, and my parsley vegan protein powder," says Robin Berzin, a physician and health coach who specializes in women's nutrition and health. "It keeps me full until lunchtime!"
Photo courtesy of Getty Images
Dinner For Breakfast: Salmon or Chicken With Veggies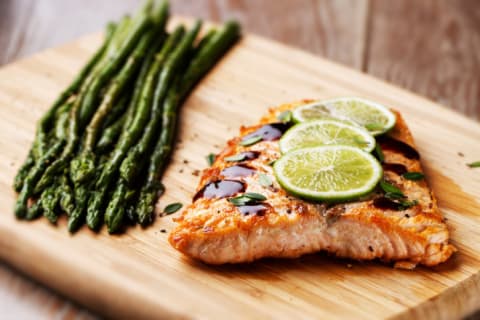 "Most mornings, I don't even have time to scramble an egg," says Dr. Kellyann Petrucci, a naturopathic physician and certified nutrition consultant. "That's why I'm a big fan of eating 'dinner for breakfast' on weekdays. I'll cook an extra piece of salmon or chicken and lots of extra veggies at night, warm everything quickly on the stove the next morning, and enjoy my leftovers with a cup of bone broth. Stews, chili, and soups make a great breakfast, too. And I occasionally do a 'mini-fast' and skip everything but the bone broth, because it's a myth that you need to eat breakfast every morning."
Photo courtesy of Getty Images
Steel-Cut Oatmeal With Fixings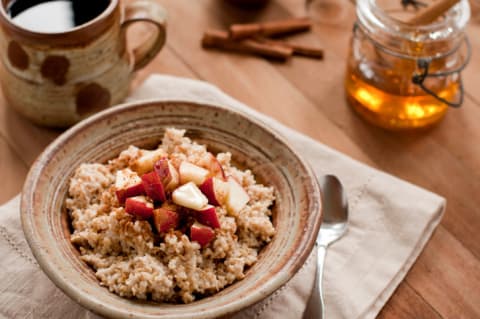 "My favorite go-to breakfast is a bowl of steamy hot oatmeal. I prefer a mix of steel-cut and old-fashioned," says Bonnie Taub-Dix, RDN, owner of BetterThanDieting.com and author of Read It Before You Eat it. "Here's what I mix in: a swirl of almond butter, ¼ thinly sliced fresh apple, a teaspoon of chia seeds, a sprinkle of cinnamon or cocoa. The almond butter and chia seeds stabilize blood-sugar levels, boost protein, and add healthy fat to keep me feeling satisfied till lunch."
Photo courtesy of Getty Images
Green Smoothie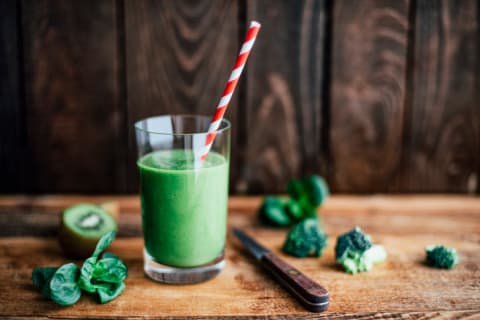 "Lately I've been throwing together a green drink," says Rachel Meltzer Warren, MS, RDN, and author of The Smart Girl's Guide To Going Vegetarian and blog. "Here's my favorite recipe: frozen banana, almond or coconut milk, tahini, one date or dried fig, handful of kale or spinach, and cinnamon. It's sweet and soothing, and the greens give it an extra kick that just works — and I love starting the day with one serving of leafy greens already down!"
Photo courtesy of Getty Images
Greek Yogurt With Granola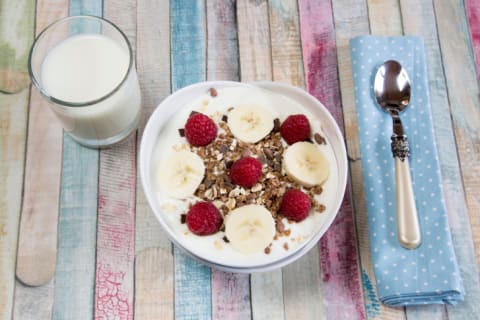 "I like buying individual containers of Greek yogurt — the light 80- or 100-calorie portions," says Emily Hein, RDN and author of the blog Zen & Spice Nutrition. "I add a scoop of granola, chopped almonds, and freshly sliced strawberries. I'll mix it all up at home and eat it on the way to work. During the week it's hard for me to sit down and eat breakfast, so this on-the-go option works great!"
Photo courtesy of Getty Images
Buckwheat Pancakes With Fruit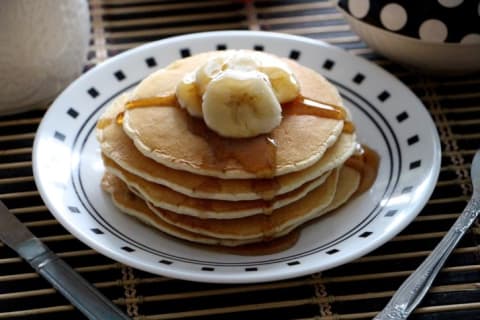 "I eat pancakes almost every morning — buckwheat pancakes with blueberries, banana, almond butter, and maple syrup," says Robyn Coale, RD and author of the blog The Real Life RD. "If it's not pancakes, I'll have oatmeal with banana and peanut butter along with a green smoothie made with Vega One, frozen banana, almond milk, and frozen spinach."
Photo courtesy of Getty Images
Smoothie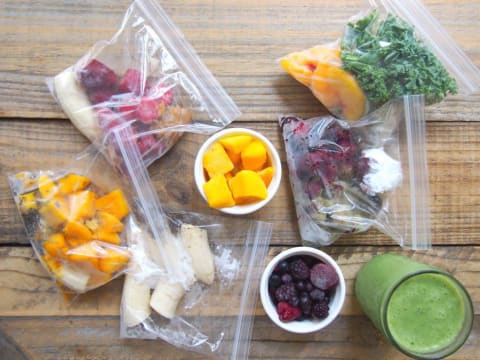 "A few days a week, I wake up early for a workout and I need something quick to eat before," says Rachael Hartley, RD and author of the blog Avocado A Day Nutrition. "So I started making freezer smoothie bags, with all of the ingredients I need for a smoothie all in one place (1½ cups of fruit and extras like kale, spinach or avocado, chia seeds, and more). All you do is pop the frozen smoothie ingredients into a blender, add unsweetened almond milk, and blend. It takes less than two minutes!"
Photo courtesy of Rachael Hartley
Whole-Grain Toast With Over-Easy Egg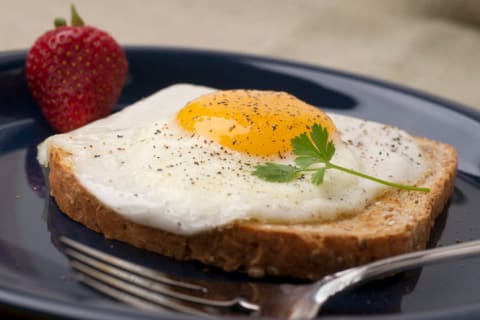 "My go-to breakfast is a piece of whole-grain toast with an over-easy egg," shares Jenna Braddock, RDN and author of the blog Make Healthy Easy. "I like that eggs are easy to prepare, affordable, and full of nutrition. I also make a fruit and vegetable smoothie almost every single day. I like starting my day with a big punch of produce because it makes achieving five to seven total fruits and vegetables way more achievable. Some of my favorites to include in my smoothie are strawberries, blueberries, pineapple, kale, celery, beets, and ginger."
Photo courtesy of Getty Images
Cover image courtesy of iStockphoto
For more tips on how to navigate difficult food situations, check out these stories:

Gabrielle Frank
mbg Fitness Contributor
Gabrielle Frank is a freelance health and fitness writer living in New York City. She's written for publications like MORE Magazine, Cosmopolitan, EverydayHealth.com, and Women's Health.