This Closed-Loop Cleaner Is Made Almost Entirely Out Of Food Waste
mbg Sustainability + Health Director
By Emma Loewe
mbg Sustainability + Health Director
Emma Loewe is the Senior Sustainability Editor at mindbodygreen and the author of "Return to Nature: The New Science of How Natural Landscapes Restore Us."
February 4, 2020
Peep the ingredients of the cleaning products under your sink, and you'll find that most of them list water first; some of them could be up to 90% water by weight. In an effort to make products that are more compact and less resource-intensive to ship, some sustainably minded home and beauty brands are now pioneering a push toward waterless concentrates. Ambrosia, the parent company of a new line of cleaners called veles, is taking a different approach.
Instead of nixing water in their product altogether, they're reverse-engineering its base liquids and active ingredients out of—wait for it—food waste.
Advertisement
This ad is displayed using third party content and we do not control its accessibility features.
Under the leadership of co-founders Amanda Weeks and Brett Van Aalsburg, the New York–based company partnered with local waste haulers to collects food waste from corporate cafeterias around Manhattan and deliver it to their Newark facility to be broken down. An estimated 45 trillion gallons of water go into the food that Americans throw out annually, and over the course of years, the veles team discovered how to tease it out using an acid fermentation process. They essentially separate the waste into four usable ingredients—water, acetic acid (the building blocks of a vinegar), lactic acid (an antibacterial agent), and alcohol (a disinfectant)—which is then turned into an all-purpose cleaner that's 97% food waste. The other 3% is natural fragrance.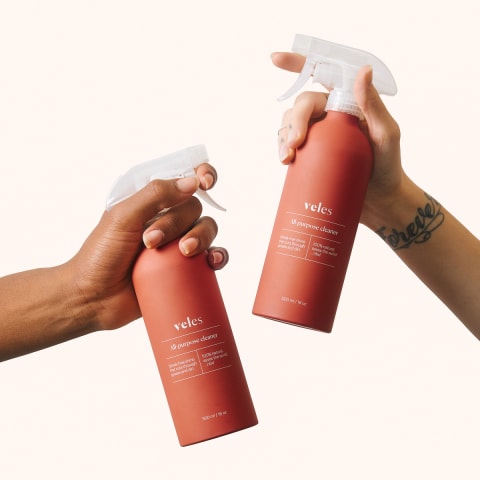 Beyond being an awesome science experiment, this production method comes with environmental benefits. Since everything is created under one roof, ingredients don't need to be shipped across the country from various manufacturing facilities. The ingredients are also locally sourced and as natural as what you'll find on a salad bar—but don't worry, thanks to an essential oil blend, your all-purpose cleaner won't smell like Caesar dressing. And while one product won't solve the mounting food waste crisis, it can help drum up interest in waste as a raw material and keep a small portion of it out of the landfill. (One reason U.S. recycling systems are in jeopardy is that there's not enough demand for organic and non-organic waste.)
"When treating waste as a resource, you can reduce overconsumption of both resources and greenhouse gas emissions from landfills. A double negative, if you will," Weeks tells mbg.
Starting this week, you can find the closed-loop cleaner, packaged in recyclable aluminum, on the veles website. It comes in at $20 a pop—pricy for what it is, but the company will soon launch refills at around half the cost, and they're hoping that the price will continue to go down as they scale. The goal is to ultimately set up manufacturing facilities in cities around the U.S. where food waste is in abundance (so basically, everywhere). And they're not stopping at cleaning products. With this process, food waste could get a second life across industries and applications.
"We want to make this approach available for products that already exist rather than just making new stuff for people to buy," says Weeks.
Advertisement
This ad is displayed using third party content and we do not control its accessibility features.